Woody Harrelson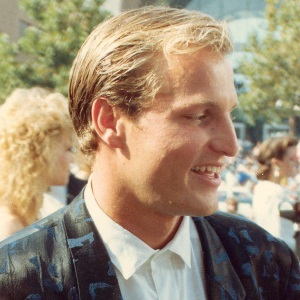 Photo by Alan Light
Born in Midland, Texas, July 23, 1961, Academy Award-nominated and Emmy Award-winning actor Woodrow Tracy Harrelson is better known as Woody Harrelson the actor and playwright. He is the son of Diane and Charles Voyde Harrelson. Woody spent his childhood in Midland until he moved to his mother's native city, Lebanon, Ohio in 1973 when he was twelve. Woody worked as a woodcarver at Kings Island amusement through much of his high school at Lebanon High School.
Woody's father Charles Harrelson disappeared from Woody's life in 1968 when the actor was just seven years old, leaving Woody's mother Diane to raise Woody and his two brothers. Afterward, the elder Harrelson killed a Texas grain dealer and received a 15-year sentence. In 1979 Texas drug lord Jimmy Chagra hired Charles Harrelson to kill someone who stood in his way. Chagra forked over $250,000 because he faced a life sentence for drug smuggling. Chagra was scheduled to go before U.S. District Judge John H. Wood Jr. in El Paso, Texas. Harrelson was convicted for the murder and a judge handed down two life sentences to Charles Harrelson in 1981.
Harrelson is widely known for his work on the NBC sitcom Cheers. He played bartender Woody Boyd, from Hanover, Indiana. For this role, Harrelson was nominated for five Emmy Awards, winning once in 1989. Harrelson attended Hanover College in Hanover, Indiana, where he joined the Sigma Chi fraternity.
While still working on Cheers, Harrelson restarted his film career. His first movie had been Wildcats, a 1986 football comedy with Goldie Hawn. He reunited with Wesley Snipes (who also had debuted in Wildcats) in the box-office hit White Men Can't Jump and the box office bomb Money Train.
In 1993, Harrelson starred opposite Robert Redford and Demi Moore in the drama Indecent Proposal, which was a box office success, earning a worldwide total of over $265,000,000. He then played Mickey Knox in Oliver Stone's Natural Born Killers and Dr. Michael Raynolds in the Michael Cimino film The Sunchaser. In 1996, he starred in the comedy Kingpin for the Farrelly brothers.
In 2007 Woody Harrelson co-starred with fellow Midland County native Tommy Lee Jones in the movie "No Country for Old Men"
In 2009, Harrelson received significant praise for his performance as Captain Tony Stone in The Messenger. In what many critics considered to be his best role, Harrelson was nominated for a Satellite Award, an Independent Spirit Award, a Golden Globe Award, a Screen Actors Guild Award, and an Academy Award for Best Supporting Actor. Harrelson has also won the Best Supporting Actor award in the 2009 National Board of Review award ceremonies and received accolades from various critics' societies.
In 2011, Harrelson snagged the coveted role of fan-favorite drunk Haymitch Abernathy in the big-screen adaptation of The Hunger Games.
Harrelson co-stars in the 2019 Netflix film The Highwaymen. The film follows Frank Hamer and Maney Gault (played by Kevin Costner and Woody Harrelson), two former Texas Rangers who attempt to track down and apprehend notorious criminals Bonnie and Clyde in the 1930s.
In November 2019, Harrelson starred in Roland Emmerich's blockbuster movie Midway, playing Admiral Chester Nimitz.