William Curry Holden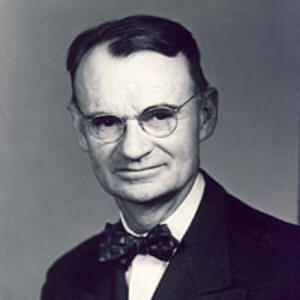 Image included in accordance with Title 17 U.S.C. Section 107.
Also known as Curry Holden was a noted historian, archeologist, educator and author. In 1937 he became the first director of the Museum of Texas Tech University in Lubbock Texas. He authored or coauthored, often with J. Evetts Haley, more than twelve books and forty-two articles and pamphlets in professional and commercial journals.
Born July 19, 1896, Holden was one of three sons born to Robert Lee Holden and Grace Holden née Davis in Coolidge, Texas. Both families moved west to Colorado City, Texas, and after 1907 the Holdens farmed near Rotan, Texas, where William completed high school in 1914.

In the summer of 1914 he obtained teacher certification at the now-closed Stamford Junior College in Stamford, Texas. At first, he was refused jobs because he was "too spindly", in 1915 he became the only teacher for 47 students in nine classes at the one-room schoolhouse in Pleasant Valley. He organized a literary club and basketball teams and led the students to victory in the county interscholastic meeting.

Holden studied Texas history under Professor Joseph A. Hill at West Texas Normal College (now West Texas A&M University) in Canyon, Texas, during the summers of 1917 and 1918. During World War I, Holden served in the Eighty-sixth United States Army Infantry at San Antonio.

In 1929, Holden joined the faculty of Texas Technological College (now Texas Tech University) to teach history and anthropology. He remained there for more than four decades, becoming chairman of the history department in 1936, dean and director of anthropological, historical, and social-science research in 1938, and in 1945, dean of the Graduate School, a position that he retained until 1950. He launched accredited programs in four doctoral fields, including history. He received the Distinguished Faculty Emeritus Award of the College of Arts and Sciences and, in 1965, was named Distinguished Director Emeritus of the Museum at Texas Tech University. Holden Hall, the original location of the museum and now used for classrooms and offices, was named in his honor in 1972. This was the first such honor accorded to a living member of the faculty. A bronze bust of Holden, created by Lubbock sculptor Glenna Goodacre, was unveiled in the museum rotunda.
William Curry Holden died on April 21, 1993, at the age of ninety-six.
Reference: