Jul-04-07
A Salvadoran army lieutenant accused of murdering six Jesuit priests, a Sierra Leone Prince suspected of crimes against humanity, an alleged mass murderer from Peru and an Argentinean accused of torture and murder are joining hundreds of alleged human rights violators from 26 countries to be expelled from the U.S.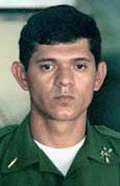 Late last month, Gonzalo Guevara-Cerritos was returned to El Salvador. He was a former Salvadoran army lieutenant convicted of participating in the Salvadoran military's 1989 massacre of six Jesuit priests. Guevara was arrested by ICE at a motel near the UCLA campus in October 2006 after the agency received a tip about his possible whereabouts. Guevara illegally entered the United States in January 2005 and had been working as a janitor in Los Anglos.
Prince Solomon Knox, a native of Sierra Leone suspected of committing crimes against humanity in Liberia was convicted April 4 in federal court for lying about his involvement with armed rebel groups to falsely gain entry to the U.S. as a refugee. A resident of St. Louis, Mo., he entered the U.S. in 2004 as a refugee through a program to admit Liberians living in the Ivory Coast. When Knox's criminal case, including any incarceration, is complete he will be placed into deportation proceedings.
Recently in Miami, ICE arrested Telmo Ricardo Hurtado-Hurtado on visa fraud charges. According to Peruvian military court documents, the ex-Peruvian Army platoon commander lead the massacre of 69 villagers during a 1985 military raid in an area known as a stronghold of the Shining Path guerilla group. In connection with the same investigation, ICE officers in Baltimore, Md., arrested Juan Manuel Rivera-Rondon on administrative charges. He is also a former Peruvian Army officer who allegedly participated in the same massacre.
Following the conclusion of their criminal cases, Hurtado and Rivera will be placed into removal proceedings with the goal of returning him to Peru, where they will be turned over to local authorities to face charges for their roles in the 1985 killings.

In The Plains, Va., ICE agents arrested Ernesto Guillermo Barreiro. He is accused by federal prosecutors in Argentina of being personally responsible for the torture and death of several individuals considered political opponents of the 1976-1983 ruling dictatorship. Barreiro faces U.S. criminal charges of visa fraud. Following the conclusion of criminal cases, Barreiro will be placed into removal proceedings with the goal of returning him to Argentina, where he will be turned over to local authorities.
To date, ICE has initiated nationwide more than 800 human rights related investigations or removal cases from more than 26 countries.