Famous People from Dickens County, Texas.

The Unknown Cowboy from Dickens County, Texas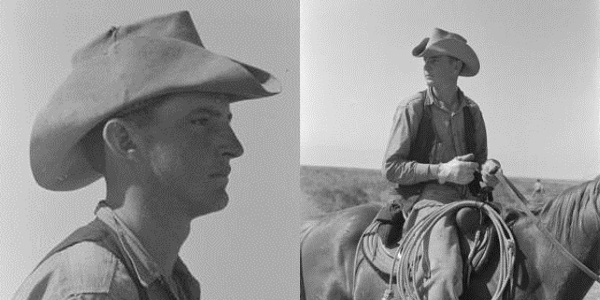 Do you recognize this West Texas cowboy? His image has appeared in hundreds of magazines and newspapers all over the world. In 1939, he was working on a ranch near Spur, Texas when a photographer with the Farm Security Administration took these pictures. The photos appeared in popular national magazines and newspapers across the country without naming the cowboy. While his image is famous, all that is known about the young cowboy is that he was working on the SMS Ranch in Dickens County when FSA photographer Russell Lee took the photos. The title of the photo on the right is, Cowboy on horse with equipment on cattle ranch near Spur, Texas. The photo on the left did not have a title.

Russell Lee was one of eleven photographers who were hired to document the plight of poor farmers and ranchers as part of the Farm Security Administration (FSA) in an effort to combat American rural poverty. Many of the most famous Depression-era photographers were fostered by the FSA project. The project made 250,000 images of rural poverty. Fewer than half of those images survive and are housed in the Prints and Photographs Division of the Library of Congress. You can view images of early ranch life in Texas in their Texas Ranch Collection
on eBay. The collection has over 100 old photos from ranches across Texas depicting early life on ranches across the country.
What's your Favorite Book about a Texas County, Town, Person or Place? Here's our best reads list County by County