Tommy Lee Jones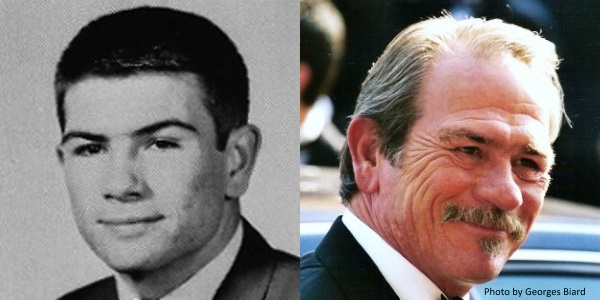 Jones was born September 15, 1946 in San Saba, Texas and raised in Rotan and Midland, Texas. He attended elementary school in Rotan Texas and went to high school at Robert E. Lee High School in Midland. Jones won a scholarship to St. Mark's, an elite prep school in Dallas. His mother, Lucille Marie (née Scott), was a police officer, school teacher, and beauty shop owner, and his father, Clyde C. Jones, was a cowboy turned oil field worker. His parents were married and divorced twice. Jones had a difficult adolescence and suffered physical abuse from his father according to interviews he gave later in life.
Jones was Al Gore's roommate at Harvard for four years where he was an English literature major, became an all-Ivy offensive guard on the football team. After graduation, he moved to New York and then to Hollywood in 1975 to further his career as an actor.
His career soared over the next two decades with Jones appearing in nearly three dozen film and television projects. One of his most loved films is the 1989 mini-series Lonesome Dove where he co-starred with Robert Duvall. The 1993 film The Fugitive sealed Jones' place as an A-list actor. Within the next year Jones starred in three more major box office hits; Natural Born Killers, The Client and Blown Away.
In 2007 Jones co-starred with fellow Midland County native Woody Harrelson in the movie "No Country for Old Men"
Jones' Texas roots run deep. He is a dedicated horseman and owns a 3,000 acre ranch in his San Saba County birthplace.
Jones is set to star with Brad Pitt in an upcoming deep space epic according to Hollywood writer Mike Fleming, Jr. The futuristic sci-fi epic Ad Astra is set to begin production in September 2017.