Famous People from Midland County Texas
Tommy Franks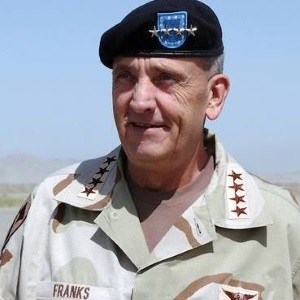 Born June 17, 1945, Tommy Franks is the adopted son of Ray and Lorene "Pete" Parker Franks. He attended Midland High School and graduated from Robert E. Lee High School in Midland, Texas one year ahead of First Lady Laura Bush and attended the University of Texas at Austin. He dropped out of college after two years and decided to give himself a "jolt" and joined the United States Army in 1965.
His service in Vietnam earned him six awards for Valor and three Purple Hearts. That assignment was the start of a long and distinguished career that would take him from one world hot spot to another – from West Germany at the height of the Cold War to the Demilitarized Zone in Korea, to the deserts of Arabia—where he gained the knowledge and experience that would prepare him for the leadership role that would mark his place in the annals of American history.
General Franks lead the attack on the Taliban in Afghanistan in response to the September 11 attacks on the World Trade Center and The Pentagon in 2001. He also led the 2003 invasion of Iraq and the overthrow of Saddam Hussein.
Since his retirement from the military in 2003, General Franks has traveled the world, speaking on leadership, character and the value of Democracy. His autobiography, American Soldier debuted as No. 1 on the New York Times Best Sellers list in August 2004.
Resources:
American Soldier by Tommy Franks (Amazon)