Texas Estates with $10,000 or more in Unclaimed Money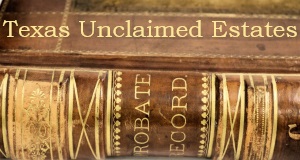 Estates with $10,000 or more in unclaimed money due beneficiaries and heirs total $7.6 Million Average estate in this list has $30,283 in unclaimed money.
NOTE: This report is provided free with the sincere hope the rightful heirs will claim their inheritance. It is not an offer for housing or credit. The word estate as used here, refers to assets left by deceased people to their heirs and is not a reference to real estate. There is a link at the bottom where you can search by individual deceased name and file a claim for unclaimed property with the Texas Comptroller.
You can also browse our list of unclaimed estates by county, browse the list of unclaimed estates with $1,000 or more, or search by individual name and make a claim in the direct link to the Texas unclaimed property site at the bottom of the list.
| | | |
| --- | --- | --- |
| Estate O Jerrie | $761,590 | Port Lavaca |
| Estate of Marion Margaret Peters | $309,148 | Mckinney |
| Estate of Louise Turnage | $226,485 | Sherman |
| Estate of Premlata Saigal | $166,571 | Plano |
| J Dell Barber Estate | $141,618 | Abilene |
| Estate of Larisa Kushnerova The | $140,410 | Plano |
| Florrie Harris Estate | $128,347 | Irving |
| Estate of Virginia Huffman | $123,423 | Sherman |
| Margie Beth Newbrough Estate | $122,052 | Big Spring |
| Estate of Jimmy Alwert | $119,656 | Richardson |
| Estate of Fred U Renfro III | $111,785 | Midland |
| Estate of Lucia J Massinger | $92,726 | Dallas |
| Estate Of John Day | $79,260 | Killeen |
| Estate of Bobby E Johnson | $73,429 | Midland |
| The Estate of Marco Collazo | $73,180 | Dallas |
| Frank G Nix Estate | $72,316 | Midland |
| Estate of Tatum Jaelyn Davila | $64,000 | Killeen |
| Estate of Wayne Catching | $63,757 | Amarillo |
| Ralph Giaccone Estate | $58,862 | Brenham |
| Estate of Florrie P Harris | $58,000 | Irving |
| Estate of Stanley P Oberst | $57,621 | Richardson |
| Estate Richard Gayda | $57,356 | Georgetown |
| Leta C Harrison Estate | $56,637 | Plano |
| Estate of Jorge Rico | $56,116 | San Antonio |
| Estate of Donald A Harris | $55,775 | Duncanville |
| Estate of Connie Jo Hobbs | $52,341 | Lubbock |
| Glenn R Bull Estate | $52,134 | Florence |
| Estate of Edward Tempest | $50,390 | Plano |
| Estate of Alma S Trueheart | $50,008 | San Antonio |
| Carlos Rodriguez Estate | $50,000 | Brownsville |
| Fernando Ortiz (Estate) | $50,000 | Spearman |
| George Neria Jr Estate | $48,593 | El Paso |
| Estate of Wijesuriya P Dayawansa | $46,719 | Dallas |
| Estate of James C Mitchell | $46,233 | Irving |
| Joel R Butler Estate | $43,135 | Richardson |
| Estate of Dale G Chichester | $41,992 | Texarkana |
| Betty Ford Estate | $41,256 | Midland |
| Estate of Chun Cha Exum | $40,753 | Corpus Christi |
| Estate of Vanessa Salinas | $39,972 | Borger |
| Doyle Wayne Mcleroy Estate | $39,950 | Early |
| Estate Of Harriet Jensen | $39,542 | Snyder |
| Don Smith Estate | $35,871 | Gilmer |
| Charles David Head Jr Estate | $35,427 | Plano |
| Estate of Perletta Fields | $35,000 | Dallas |
| Estate of Mr Joe E Mireles The | $34,500 | Corpus Christi |
| Helen B Mcafee Estate | $34,454 | Plano |
| Mae Whitfield Estate | $33,659 | Richardson |
| Estate of Jacob A Roberts Miller | $30,137 | Cedar Park |
| Estate of Rodney Killiom | $30,005 | Alvin |
| Estate of Lydia Soto | $30,000 | Plano |
| Estate of Dean G Robinson | $29,891 | Sherman |
| Marie Bryson Estate | $29,739 | Cross Plains |
| Estate of Mary Louise Erickson | $29,661 | Taylor |
| Estate of Geraldine Lucas | $29,320 | Irving |
| Estate of Jennifer D Williams | $29,231 | Houston |
| Estate of Miriam Sharman | $29,215 | San Antonio |
| Estate of Hubert Eggleston | $28,491 | El Paso |
| Phetkeo Phetkeo(Estate) | $28,441 | Odessa |
| Estate of Ricardo R Martinez | $28,273 | San Antonio |
| Gregory Glynn Estate | $28,065 | El Paso |
| Estate of William Winfield Dom | $27,558 | Sherman |
| Shields Estate of Roy | $27,396 | Frisco |
| Estate of Naomi Hogan | $27,282 | Odessa |
| Ofelia Parga Estate | $27,000 | San Antonio |
| Lillie C Schlinke Estate | $26,780 | Taylor |
| Frank G Nix Estate | $26,202 | Midland |
| Estate of Mildred Lofton | $26,184 | Garland |
| Estate of Julian Moussu | $26,001 | Irving |
| Mary Evelyn Holcombe Estate | $25,947 | Lufkin |
| Lois G Williamson Estate | $25,894 | Midland |
| Dietz Linda Estate Of | $25,819 | Fulton |
| John A Merideth Estate | $25,693 | Cedar Park |
| Estate of Kinsela O Rigs | $25,672 | Dallas |
| Estate of Rozalyn Rigsby | $25,672 | Dallas |
| Estate of Bruce D Bailey | $25,530 | Spearman |
| Clemit N Cathey Estate | $25,461 | Sherman |
| Estate of Joseph Ortego | $25,436 | Dayton |
| Estate of Carlos C Gil Sr | $25,413 | El Paso |
| Estate of Darrell Mcinroe | $25,377 | Idalou |
| Estate of Ronald Ray Keim | $25,079 | Poteet |
| Estate of Cothell D Brown | $25,000 | Dallas |
| Estate of James R Boles | $25,000 | Odessa |
| Estate of Cecile Wiseman | $25,000 | Garland |
| Estate of Alberto Gonzales Sosa | $25,000 | Midland |
| Estate of Alberto Gonzalez Sosa | $25,000 | Midland |
| Estate of Arthur W Carothers The | $24,202 | Corpus Christi |
| Jerry Estate D Alford | $24,177 | Duncanville |
| C Estate of Edwin L Frankenstein | $23,827 | San Antonio |
| Raymond L Grace Estate | $22,809 | Mckinney |
| Estate of Eugene F Holland | $22,725 | Corpus Christi |
| Estate of Malada Tull | $22,563 | Wolfforth |
| Estate of Armondo C De Leon | $22,005 | Brownsville |
| Diane Bowe Estate | $21,318 | Amarillo |
| Darren Gene Moore Estate | $21,283 | Amarillo |
| Frank G Nix Estate | $21,250 | Midland |
| Estate of Kenneth Morse | $21,207 | Killeen |
| Tiffany J Geronzin | $20,407 | Tye |
| Estate of Wilma Jenkins | $20,358 | Odessa |
| Estate of Gwendolyn Hargrove | $20,113 | Dallas |
| Fernando Ortiz (Estate) | $20,000 | Spearman |
| Estate of Rowland Beers | $19,966 | Richardson |
| Frederick Rimmer Fowler Estate | $19,897 | San Angelo |
| Frederick Rimmer Fowler Estate | $19,897 | San Angelo |
| Estate of Benita Harmon | $19,822 | Midland |
| John H Clendenen Estate Jr | $19,581 | San Antonio |
| Estate of Mary Barry | $19,509 | El Paso |
| Patsy Adams Archer Estate | $19,454 | Sachse |
| Judith Michaud Estate | $19,259 | Georgetown |
| Estate of Jesus M Muniz The | $19,158 | Midland |
| Estate of Herman Wilson | $19,053 | Lubbock |
| Estate of H E Anderson | $19,040 | San Antonio |
| Estate of Edward Rivera | $19,000 | Angleton |
| Estate of Edward Rivera | $19,000 | Angleton |
| Estate of Greg Ballou | $18,955 | Bells |
| Estate of Greca Bretto Weaver | $18,503 | Killeen |
| Tina Dickens Estate | $18,362 | San Antonio |
| Wayland T Pope Estate | $18,361 | Abilene |
| Ralph Giaccone Estate | $18,143 | Brenham |
| Cypress Creek Estate | $18,000 | Dallas |
| W Bill T Stapler Estate | $17,938 | Killeen |
| Estate of Harold Jones | $17,826 | Smithville |
| Estate of Patsy Abro | $17,746 | Midland |
| Estate of Terry A Wells | $17,649 | San Antonio |
| Ernest A Riedel Estate | $17,559 | Brenham |
| Estate of Jesus E Moreno | $17,488 | San Antonio |
| Juana M Falloon Estate | $17,471 | Leander |
| Jean Prince Estate | $17,315 | Midland |
| Estate of Sarah Lee Gibbs | $17,290 | Rosharon |
| Lois G Williamson Estate | $17,254 | Midland |
| Estate of Wilma Baylor | $17,247 | Orange |
| Estate of Chadwick A Rideau | $17,220 | Houston |
| Estate of Doris M Aplin | $17,125 | Irving |
| Estate of Charles Huddleson | $17,012 | Wylie |
| Estate of Dolores K Zierath | $16,779 | El Paso |
| Albert D Dowell Estate | $16,523 | Marble Falls |
| Stockton Estate Account | $16,398 | Brownfield |
| Vernon Naylor (Estate) | $16,057 | Gilmer |
| F Bailey Estate | $16,035 | El Paso |
| Estate of Norman Wehrl | $16,002 | Gladewater |
| Estate of Margarita Tarin | $15,712 | El Paso |
| Chapman Cooper Estate Of | $15,695 | Amarillo |
| Harding White Estate | $15,663 | Belton |
| Iris N Matthews Life Estate | $15,624 | Georgetown |
| Estate of Alden Luce | $15,619 | Bandera |
| Estate of Roy K Shields | $15,449 | Frisco |
| William H Frazier Estate | $15,381 | Mckinney |
| Estate of Robert C Loftice | $15,254 | Celina |
| Estate of George Kamel | $15,119 | Midland |
| Estate of Thomas G Langer | $15,085 | Dallas |
| Estate of Carolyn Morris | $15,022 | Ames |
| Estate of Ovidio Gonzales | $15,003 | Beeville |
| Estate of Leonard Ramos | $15,000 | Midland |
| Johnny Odell Finley(Estate) | $14,957 | Plano |
| Estate of Dennis A Smith | $14,690 | Garland |
| Estate of Joann Mcfarland | $14,682 | Pleasanton |
| Beulah Jones Geren Estate | $14,379 | San Antonio |
| Estate of James R Watts | $14,202 | Irving |
| Estate of Charles E Pratt | $14,065 | Corpus Christi |
| W Bill T Stapler Estate | $14,063 | Killeen |
| Estate of Tony Barrera | $13,957 | San Antonio |
| Estate of Jerry Carpenter | $13,898 | Pampa |
| Donald Henley Estate | $13,812 | San Antonio |
| Estate of Delores Swartwood | $13,738 | San Antonio |
| Estate of J R Smith | $13,670 | Sherman |
| Estate of Jack L Fulton | $13,555 | Corpus Christi |
| Chloe Liddell Estate | $13,434 | Prosper |
| Roslyn R Taylor Estate | $13,343 | Dallas |
| Estate of Bernard B Whitney | $13,298 | Carrollton |
| Lois G Williamson Estate | $13,282 | Midland |
| Estate of Karl J Heine | $13,168 | Alvin |
| Wm Miller Estate | $13,143 | Poteet |
| Lucia J Massinger Estate | $13,118 | Richardson |
| Estate of Wanda Ann Kohler | $13,115 | Georgetown |
| Estate of Juana Castillo | $13,081 | Lubbock |
| P C Maxwell Estate | $13,058 | Irving |
| Estate of Donald Magnuson | $13,006 | El Paso |
| Delores Graham Estate | $12,998 | Temple |
| Estate of Ruth Steglich | $12,931 | El Paso |
| Estate of Rodney Herring | $12,921 | Texarkana |
| Estate of Dorothy M Andreassen | $12,847 | Garland |
| Estate of Fred Novak | $12,802 | Johnson City |
| Estate of Antonio Gallegos | $12,750 | Clint |
| Estate of Harold C Thurman | $12,697 | La Feria |
| Estate of Grace M Laird | $12,564 | Dallas |
| Rosa L Belcher Estate | $12,507 | Lyons |
| Edward C Green Estate | $12,500 | Temple |
| Estate of Myrtle F Walker | $12,485 | Hutchins |
| The Estate of Park | $12,442 | Irving |
| Estate of Elfage Brown | $12,402 | Richardson |
| Willie Calvin Brown Estate | $12,370 | Dayton |
| O M Watson Jr Estate | $12,179 | Midland |
| Estate of Lucia Lopez | $12,097 | San Antonio |
| Estate of Naomi D Blaize | $12,081 | Dallas |
| Estate of O Quinn Cairo I | $12,058 | Abilene |
| Freddie L Williams Estate Of | $12,042 | Odessa |
| Dorothy Drennan Estate | $12,029 | Big Spring |
| Kenneth Cox Estate | $11,974 | El Paso |
| Chapman Cooper Estate Of | $11,750 | Amarillo |
| Estate of Kim Bailey | $11,664 | El Paso |
| Estate of Sylvia Alewine F | $11,659 | Amarillo |
| Estate of Sam Nichols | $11,648 | San Angelo |
| Estate of Dorothy H Brenner | $11,500 | Fritch |
| Estate of Paulette Williams | $11,489 | Carrollton |
| Estate of Jack Lanee | $11,477 | Garland |
| Sam Ares Estate | $11,460 | Odessa |
| Estate of Larry Davis | $11,353 | Garland |
| Estate of Dorothea Yarbrough R | $11,353 | El Paso |
| Estate of Lucille Baker | $11,337 | Abilene |
| Estate of Sylvia S Knight | $11,275 | San Antonio |
| Bonnie Gilstrap Estate | $11,255 | San Antonio |
| Billy Carter Estate | $11,104 | Dallas |
| Garay-Escobedo Sylvia Estate | $11,100 | Garland |
| Estate of Esther Muery | $11,090 | Duncanville |
| Estate of Lemone R Ards | $11,089 | Garland |
| Milton Estate | $11,000 | Midland |
| Lillian Jackson Estate | $10,910 | Rockport |
| Gloria J Barecky Estate | $10,903 | Corpus Christi |
| Estate of Helgi Tamm Tamm | $10,865 | Harlingen |
| Eugene Estate Hunter | $10,861 | El Paso |
| Maria G Martinez Estate | $10,800 | San Antonio |
| G L Rowsey Estate | $10,761 | Taylor |
| Fabian Ross Estate | $10,756 | Big Spring |
| Estate of Ruth A Piland The | $10,755 | Georgetown |
| Arville E Pierce Estate | $10,741 | Wylie |
| Estate of Freda Cavin | $10,699 | Freeport |
| Gregorio C Gloria Estate | $10,697 | San Antonio |
| Willard H Walker Estate | $10,693 | Corpus Christi |
| Estate Of Phillip Hermesmeyer | $10,639 | Clarendon |
| Alta Downeygiles Estate | $10,638 | Aransas Pass |
| Estate of Harry P Gutierrez | $10,618 | San Antonio |
| Estate of Francis Goodman | $10,569 | San Angelo |
| Henry Rodriguez Estate | $10,528 | Midland |
| Estate of Tc Klink | $10,470 | Bastrop |
| Estate of Leonore Sibert | $10,386 | San Antonio |
| Estate of Rita J Landry | $10,382 | Daisetta |
| Estate of Glendean Young | $10,340 | Whiteface |
| Estate of Mae Whitfield | $10,329 | Richardson |
| Rowena Seth Estate | $10,240 | Midland |
| Estate of James W Moore Jr | $10,192 | Midland |
| Estate of William Philips | $10,134 | Palestine |
| Estate of Dorothy J Hance | $10,056 | Lubbock |
| Estate of Harvey Jackson | $10,055 | Killeen |
| Estate of Amanda Muller | $10,039 | Paradise |
| Estate of Melba E Coates | $10,000 | Balch Springs |
| Estate of Beverly R Lee | $10,000 | Mckinney |
| Estate of Leticia Perez | $10,000 | Brownsville |
| Estate of Natha | $10,000 | El Paso |
| Ethel Hastey Estate | $10,000 | El Paso |
| Estate Of Mary Jimm Floyd | $10,000 | Snyder |
| Estate of Kay Skillern | $10,000 | Pittsburg |
| Estate of Fernando Ortiz | $10,000 | Spearman |
| Estate of Leticia Ortiz | $10,000 | Spearman |
| Estate of Robert Victorino Jr | $10,000 | Alpine |