A Line in the Sand: Confronting the Threat at the Southwest Border
HOUSE COMMITTEE ON HOMELAND SECURITY - Interim Report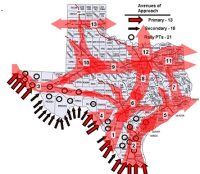 Texas Draws Line in the Sand Against Drug, Human Smugglers
In a political advertisement, Texas Governor Rick Perry said, "If the federal government won't protect our borders, Texas will!"
According to a recent report by the Department of Homeland Security, the lone star state is off to a good start.
In response to the increasing criminal activity and violence along the Texas-Mexico border, the State of Texas, in partnership with the Federal government, recently launched Operation Rio Grande, an initiative to increase border security. Under Operation Rio Grande, Texas has conducted targeted, short duration, and high intensity regional operations that integrate local, State and Federal law enforcement.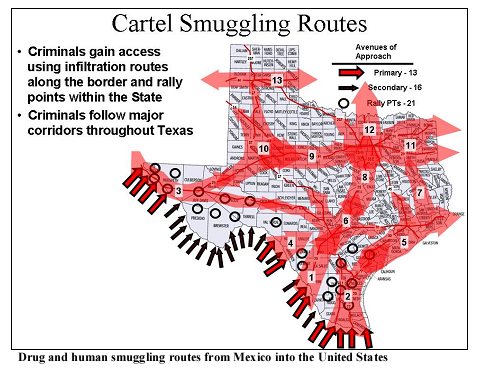 The Texas border security strategy includes four key areas of focus:
Increasing patrols and law enforcement presence

Centralizing command, control and intelligence
operations

Increasing State funding and deployment of State resources for border security

Making better use of technology to fight border crime.
By focusing on these areas, Texas has been able to mount an aggressive defense which has significantly reduced crime in areas of operations; and substantially decreased transnational drug and human smuggling enterprise activities between Ports of Entry.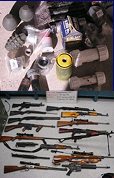 Confiscated Weapons
Additionally, Texas has utilized a number of new tactics and strategies to achieve a reduction in crime on the border. A cornerstone of this new strategy has been the use of Joint Operations Intelligence Centers (JOIC) and a Border Security Operations Center (BSOC).

During the respective operations, crime in the border regions decreased anywhere from 30% to 75% in the targeted areas. This reduction was sustained even after the operation ended as local, State and Federal agencies continue to implement lessons learned and best practices. The net effect of these efforts is that Texas is developing the capability to curtail border-related criminal enterprises.
For more on the Texas initiative, please read Texas Border Security Initiatives