Swisher County Unclaimed Estates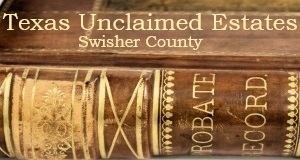 These deceased residents of Swisher County Texas left a total $22,902 in Unclaimed Money for their heirs. Know the Heirs? Please Share or Tag your Family and Friends from Tulia, Kress and Happy Texas to let them know they can collect it from the Texas Comptroller's Office. It is my sincere hope that someone here will be able to claim their inheritance.
NOTE: This report is provided free with the sincere hope the rightful heirs will claim their inheritance. It is not an offer for housing or credit. The word estate as used here, refers to assets left by deceased people to their heirs and is not a reference to real estate. There is a link at the bottom where you can search by individual deceased name and file a claim for unclaimed property with the Texas Comptroller.
Know the Heirs? Let them know
| | | |
| --- | --- | --- |
| Nelson Borchardt Estate | $6,256 | Tulia |
| Jerry W Taylor Estate | $2,240 | Tulia |
| Estate of Laverne Cook | $1,609 | Tulia |
| Rosaline Clark Estate | $1,523 | Tulia |
| Estate of J Frank Peery | $1,454 | Tulia |
| Richard Willingham Estate | $1,303 | Kress |
| N D Redmond Estate | $1,247 | Tulia |
| Dorman Curtis Estate | $1,140 | Tulia |
| Estate of Judy Adams | $1,000 | Tulia |
| Estate of Rebecca A Hatcher | $1,000 | Tulia |
| Estate of Judy C Adams | $1,000 | Tulia |
| Marion Mouser Estate | $469 | Happy |
| Esther B Wallingford Estate | $333 | Tulia |
| Estate of Ewel Jones | $293 | Kress |
| Estate of Norma J Liles | $234 | Tulia |
| Clarence Todd Estate | $177 | Tulia |
| Estate of Ewel Jones | $148 | Kress |
| Estate of Oralia Mora | $144 | Kress |
| Marion Mouser Estate | $126 | Happy |
| Estate of Charles O Thompson | $123 | Tulia |
| Marion Mouser Estate | $118 | Happy |
| Estate of Bettie P Rutledge | $114 | Happy |
| Marion Mouser Estate | $109 | Happy |
| Estate of Charles O Thompson | $105 | Tulia |
| Estate of Chavez Yolanda M | $104 | Tulia |
| Louisa R Gonzales Estate | $78 | Tulia |
| Estate of J D Ayres | $65 | Tulia |
| Marion Mouser Estate | $62 | Happy |
| Estate of Rosa Mcbride | $55 | Tulia |
| Estate of Kay F Young | $55 | Tulia |
| Joseph Harry Brown Estate | $50 | Tulia |
| Estate of Guadalupe Moreno | $48 | Tulia |
| Van Bonds Estate | $35 | Tulia |
| Van Bonds Estate | $31 | Tulia |
| Joseph Harry Brown Estate | $31 | Tulia |
| Estate of Jose Hinojosa | $25 | Kress |