Sonny Cumbie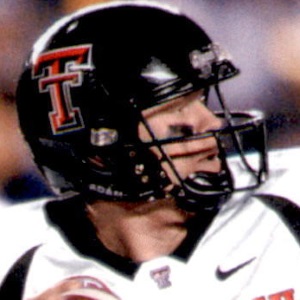 Born Sonny Jack Cumbie August 8, 1981 in Abilene Texas, Cumbie was the starting quarterback for Texas Tech in Lubbock Texas during the 2004 season, where he led the nation in passing and total offense, a win in the 2004 Holiday Bowl, and MVP honors for the game. In 2009, Cumbie began his coaching career at Texas Tech as a graduate assistant under head coach Mike Leach where he was in charge of the defensive scout team and coaching the quarterbacks.
Cumbie attended Snyder High School in Snyder, Texas, and was a three-sport letterman in football, basketball, and baseball. He was coached by David Baugh, the son of quarterback Sammy Baugh. In football, as a senior, he won first team All-District honors, Honorable Mention All-South Plains honors, and was named the District MVP. He walked on at Texas Tech, where he had enrolled as a student. Cumbie was on the scout team during the 2000 season, and earned a scholarship to be on the team prior to the 2001 season.
In 2004 Cumbie led the Raiders to 7 Regular season wins. He finished the regular season as the national leader in passing yards and passing offense, and became the third straight Red Raider quarterback to lead the nation in passing.
After completing his college career, Cumbie was not drafted in the 2005 draft but was signed as a free agent by the Indianapolis Colts and later released. In 2006. Cumbie then joined the Los Angeles Avengers in the Arena Football League. He started 12 games his first season as a rookie, and won Rookie of the Year. Cumbie was invited back to the NFL by the Baltimore Ravens and signed a free agent contract in 2006 but was released. He returned as the Avengers starting quarterback in 2007.Cumbie led the Avengers to the playoffs while throwing for 83 touchdown passes and 4,370 yards.
From 2005 to 2008 Cumbie was a color commentator for the Texas Tech Football Radio network for 3 seasons, shortly before joining the Tech coaching staff.
After the AFL folded in 2009, Cumbie joined the San Angelo Stampede of the Indoor Football League as the head coach and director of player personnel. Cumbie then became the starting quarterback for the team and led the team to the playoffs and a playoff win.
Cumbie spent the past seven seasons as the offensive coordinator at TCU. He fills the vacancy left by former Texas Tech offensive coordinator. On December, 21 2020 Texas Tech named Sonny Cumbie its new offensive coordinator.