Somervell County Unclaimed Estates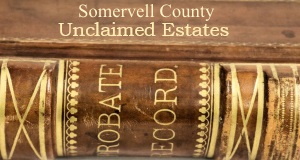 Unclaimed estates in Somervell County, Glen Rose and Nemo Texas have $18,721 due heirs and beneficiaries. Often as a result of insurance death benefits and mineral royalties, this can happen when assets are found after probate or when estates are not probated.
NOTE: This report is provided free with the sincere hope the rightful heirs will claim their inheritance. It is not an offer for housing or credit. The word estate as used here, refers to assets left by deceased people to their heirs and is not a reference to real estate. There is a link at the bottom where you can search by individual deceased name and file a claim for unclaimed property with the Texas Comptroller.
| | |
| --- | --- |
| Know the Heirs? Let them know | |
| | | |
| --- | --- | --- |
| Estate of Linda Salazar | $3,557 | Glen Rose |
| Estate of Lula F Strickland | $3,000 | Glen Rose |
| Estate of James Daniel Garland | $2,574 | Glen Rose |
| Earnest L Daughety Estate | $2,547 | Glen Rose |
| Estate of Robert Gutierrez | $1,591 | Glen Rose |
| Estate of Ryan Darby | $1,152 | Glen Rose |
| Estate of Kelly J Becker | $1,000 | Glen Rose |
| Estate of Karry Lawson | $1,000 | Nemo |
| Estate of Karry Lawson | $1,000 | Nemo |
| Estate of Virginia Bise | $440 | Glen Rose |
| Estate of Elsie M Conway | $232 | Glen Rose |
| Estate of Charles H Bowers | $116 | Glen Rose |
| Estate of William L Witt | $116 | Glen Rose |
| Sid Knight Estate | $86 | Glen Rose |
| Virginia Estate of Wakefield | $80 | Glen Rose |
| Estate of Patricia J Hart | $44 | Glen Rose |
| Estate of Julie Wheeler | $43 | Glen Rose |
| Estate at 3665 Fm 56 S | $40 | Glen Rose |
| Estate of Julie B Wheeler | $39 | Glen Rose |
| L D Faulkner Estate | $38 | Nemo |
| Estate of Colleen Daughety | $26 | Glen Rose |