Simple Title Search Could Have Saved Two Lives
by Robert Franco
| 2008/08/12 |
Reprinted with permission from www.sourceoftitle.com
Carmel Valley, California, is a beautiful place. I was fortunate enough to spend a year in nearby Monterey in the early 1990's. Sadly, last year it made headlines for a tragic double homicide that could probably have been prevented with a simple title search. A neighborly property dispute escalated to gun fire when a boulder was placed at the end of driveway blocking a carport. The alleged murderer is now on trial and the prosecution is attempting to admit a tardily performed title search into evidence.
In January 2007 John Kenney, the shooter, attempted to end a long standing property line dispute with his neighbors, Elizabeth and Mel Grimes, by placing a large boulder on a 10-by 4-foot of dirt partially blocking the VW bus of the Grimes'. Kenney claimed that he set the boulder there, at his attorney's advice, to protect his property rights. Expecting trouble, he called the Sheriff's office on the day it was delivered. The Sheriff's deputies arrived as the delivery truck was leaving and when it appeared that the delivery was made without incident, they left the scene.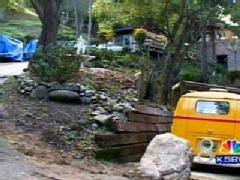 The defense has claimed that Kenney may have been acting in self-defense. Elizabeth Grimes told a police dispatcher that her husband was trying to break the boulder with a sledge hammer. If Mel Grimes was wielding a sledge hammer during a heated argument, Kenney may have felt threatened.
In a separate civil suit, which was later dismissed, Kenney sued the estate of the late Grimes for allegedly vandalizing his property and attacking him while he took pictures of them trespassing. Elizabeth was said to have grabbed a camera that was hanging around his neck. As further evidence that Kenney had a legitimate fear of the Grimes, the defense sought to introduce Elizabeth's blood alcohol level of .06 at the time of the shooting. There was also evidence that a witness had heard Elizabeth yell at her husband to "leave him alone."
The 911 tape paints a very different picture, however. Elizabeth could be heard clearly begging the operator to send help. Kenney is heard telling Grimes to "Get off my property," to which she replied, "You shut up. Get out of our lives." The prosecution also claimed that Kenney could be heard saying "Welcome, Elizabeth. Welcome to hell."
Then, there was a rustling noise followed by two gun shots and someone moaning. Elizabeth was screaming, then two more shots. The 911 call ended with the couple exchanging their final "I love you" to each other, then a fifth shot. Clearly a tragedy.
The murder case against Kenney has been plagued by delays. With all of the media attention, the defense had been seeking a change of venue. Because Mel Grimes was a prominent local attorney the defense has tried to have the judges and prosecutor recused because they knew the victim well. Finding impartial jurors has also been quite challenging. The last delay came when the prosecutor was removed for health reasons and the charges were dismissed and refiled with a new prosecutor.
The most recent news came when a title search, complete just a couple weeks ago, revealed that the Grimes had an easement across the disputed land, about the size of surfboard. According to an article in Monterey County's The Herald, Grimes' Access to Land Legal, the parties knew of the easement.
Prosecutor Berkley Brannon said a "simple title search" on Kenney's property showed the Grimeses had a right to cross the rectangular piece of land to get to their carport, which they had done for years.

He said the search, completed two weeks ago, also showed Kenney's real estate agent had inquired about the easement and that Kenney signed documents signaling his knowledge when he closed escrow on the Hitchcock Canyon Road property in 1999.

...

Brannon said he'd not yet received the results of a title search on the Grimeses' neighboring property, but believed they would have known about it as well. Mel Grimes brought the property in 1995.

If true, he said, it could explain why they ignored repeated demands by Kenney and his attorney at the Fenton & Keller law firm to stay off the property.

What is not clear, and what he's not been able to ask because of attorney-client privilege, Brannon said, is why that attorney did not order his own $500 title search before concluding that the disputed land belonged to Kenney and recommending he place a barrier on it.

Another attorney who represented Kenney, Nick Cvietkovich, told The Herald that a lawyer at Fenton & Keller instructed Kenney that if he did not erect a barrier, the Grimeses could claim a "prescriptive easement" to the land at the top of their shared driveway.
A spokesperson for Fenton & Keller said that he could not comment because of the ongoing attorney-client privilege. Of course, the defense is attempting to have the title search excluded from evidence as irrelevant.
"None of this has anything to do with my client's property," he said. "It has to do with him being attacked."
The judge has not yet ruled on the admissibility of the title search.
I have agree with the prosecutor. Why would Kenney's lawyers have advised him to place the boulder on the disputed land without first doing a title search to make sure that he was within his rights to do so? Had they conducted a title search, and advised Kenney that the Grimeses were within their rights to use that land, Kenney may not have been happy about it, but the situation might not have escalated into such a deadly feud.
Furthermore, Grimes was an attorney and, even if he was unaware of the easement, he most certainly knew how to go about finding out whether his use of the property was legal. Why didn't he respond to Fenton & Keller with a letter explaining that he had an easement? That also could have de-escalated the situation.
It would seem that the first step in any boundary dispute between neighbors would be to obtain a proper title search to determine the parties legal rights. In this case, it came way too late and may have needlessly contributed to two deaths.
Click Here to read or post comments about this article
Need a Lawyer? LegalMatch allows you to present your case, and respond only to lawyers who want to help you. It's Free & Confidential.
About the Author
Robert A. Franco has been in the title industry for nearly 20 years in the state of Ohio. The owner of VersaTitle, a full service abstracting and title company, and the founder and president of Source of Title, Franco has dedicated much of his professional career to the land records industry.