Sammy Baugh was born on a farm near Temple, Texas March 17, 1914. When he was 16, the family moved to Sweetwater, Texas and he attended Sweetwater High School where he played quarterback for the Sweetwater Mustangs.

After high school, Baugh attended Texas Christian University where he threw 587 passes in his three varsity seasons for 39 touchdowns. Baugh was named an All-American in 1935 and 1936. In the spring of his senior year, Redskins owner George Preston Marshall offered Baugh $4,000 to play with the franchise. As expected, Baugh was drafted in the first round of the 1937 NFL Draft by the Washington Redskins. He signed a one-year contract with the Redskins and received $8,000, making him the highest paid player on the team. Baugh had what many consider to be the greatest single season performance by a pro football player during 1943 in which he led the league in passing, punting and interceptions.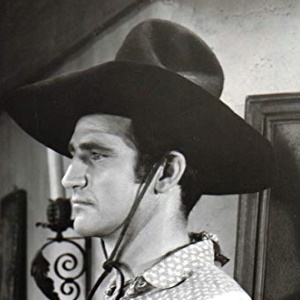 It was inevitable that a big, strong, good-looking athlete would attract attention in Hollywood, and in 1941 Republic Pictures approached him about starring in a serial for them. He liked the idea and signed up for King of the Texas Rangers. In 1941, he made $6,400 for starring in a 12-week serial as a dark-haired Texas Ranger named Tom King. The episodes ran in theaters as Saturday matinees and was a rousing success. Republic wanted Sammy to make more of them, but although he said that he had fun doing it, acting was not something he was particularly interested in and he turned down the offer. He wanted to go back to playing football. Robert Duvall patterned the role of Gus McCrae in the television series Lonesome Dove after Baugh, particularly his arm movements, after visiting him at his home in Texas in 1988.

In 1952 Baugh retired from professional football after 16 seasons with the Redskins. He was inducted into the Professional Football Hall of Fame in 1963. Although he didn't play football again, he did coach college and pro teams He became head coach at Hardin–Simmons University where he compiled a 23–28 record between 1955 and 1959. Baugh was the first coach of the New York Titans of the American Football League in 1960 and 1961 compiling a record of 14-14. He was an assistant at the University of Tulsa in 1963 under head coach Glenn Dobbs. At Tulsa, he coached All-American quarterback Jerry Rhome. In 1964, Baugh coached the AFL's Houston Oilers and went 4–10. Baugh retired from the sport in 1968.

After retiring from football, Baugh and his wife Edmonia Smith moved to the the Double Mountain ranch near Rotan Texas, where they had four boys and a girl. Edmonia died in 1990, after 52 years of marriage to Baugh, who was her high school sweetheart. According to his son, Baugh derived far more pleasure from ranching than he ever had from football, saying that he enjoyed the game, but if he could live his life over again, he probably wouldn't play sports at all.

Baugh's health began to decline after the death of his wife. During his last years, he lived in a nursing home in a little West Texas town called Jayton, in Kent County Texas.

Sammy Baugh died on December 17, 2008 after numerous health issues, including Alzheimer's disease at Fisher County Hospital in Rotan, Texas. He is interred at Belvieu Cemetery in Rotan. He was the last surviving member of the inaugural 1963 class of the Pro Football Hall of Fame.