Allegations of Official Misconduct
County Recorder Resigns, Takes Federal Plea Deal
by David Bloys
May-19-08
Cuyahoga County Recorder Patrick O'Malley has a problem with women. He says they ruined his life and destroyed his career. He also had a problem with Web sites - those he visited and the one he maintained for the county. O'Malley's guilty plea last Thursday is shedding light on the arrogant official's 20-year career and how problems with women, web sites and patronage brought it all to an abrupt end.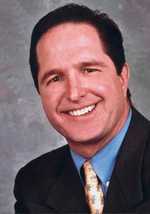 Patrick O'Malley
The charges of importing and transporting obscene materials O'Malley pleaded to carry a maximum penalty of up to five years in prison and a $250,000 fine. The actual sentence in the case will be determined by a court hearing scheduled in August.
The investigation into O'Malley has been ongoing since FBI agents first seized personal computers from O'Malley's home in 2004 after his ex-wife tipped federal authorities to possible crimes.
O'Malley's lawyer, Ian Friedman, declined to detail the nature of the computer images that led to O'Malley's plea. He said the images did not include child pornography but said O'Malley's computer contained adult images that jurors may have considered legally obscene.
"There is certain material that crosses the line," Friedman said. "I can't comment on the exact nature. I think it will be debated at sentencing."
Prosecutors told U.S. District Judge David Dowd during the hearing that O'Malley accessed the images through an America Online account between February 1998 and November 2004. The charge states that, on or about Feb. 18, 1998 through Nov. 10, 2004, O'Malley used an "interactive computer service for the carriage in interstate and foreign commerce of numerous obscene, lewd, lascivious and filthy pictures, writings and other matters of indecent character, all in violation of Title 18, United States Code, Section 1462(a)."
It isn't known what charges were taken off the table during O'Malley's negotiations. According to The Plain Dealer the obscenity charge is used almost exclusively when defendants negotiate with investigators and then plead guilty.
In the past few years the county recorder and Democrat leader with a reputation for brawling, both politically and on the street, has been plagued with problems that question his ethics.
Problems with women
In July 2004 O'Malley was arrested on a misdemeanor charge of domestic violence against Vicki, his second wife. The case was thrown out but Ms. O'Malley said her ex-husband used political connections to get a special July 4 holiday hearing in order to get out of jail early.
In November, FBI agents raided O'Malley's Chagrin Falls home. The search warrant said agents were looking for evidence of a business deal that O'Malley helped broker and images of child pornography. Two personal computers belonging to O'Malley were confiscated. The incident might have gone unnoticed until Vicki made the records public by placing information about the search in her Ohio Lottery personnel file thus tipping the media.
O'Malley's problems with women continued the following year when ex-girlfriend Marion Rivera called police in two suburbs, over a few days, complaining that O'Malley was verbally abusive to her.
O'Malley said he caught Rivera cheating and threw her out. He vowed to quit dating for a while. "Women have ruined my life and career," he said.
But that didn't stop him from asking Cathy Luks to lunch at a popular political hangout in January 2008 shortly after she filed to run against him for Cuyahoga County recorder. Midway through their 75-minute meeting O'Malley offered Luks a $50,000-a-year job in his office if she dropped out of the race. Luks, a former North Royalton mayor, may have been aware of O'Malley's history of offering jobs for political favors. She refused his offer and documented the conversation with a recorder hidden in her pocket and later provided the tape to local media.
With the county recorder's seat now empty, the county Democratic Party must find a replacement to fill his seat and run for election against Luks, a Republican, in the November general election. Other than judges, there are currently no elected Republican leaders in Cuyahoga County government. For now, O'Malley's chief of staff Tom Roche is running the recorder's office until and unless the county commissioners appoint an interim candidate
"It doesn't matter who the Democratic machine comes up with. There can no longer be one-party rule if there is to be accountability," Ms. Luks said, in an interview with the Plain Dealer.
Problems with Workers
Last month The Plain Dealer exposed widespread problem with worker patronage in O'Malley's office. A review of his 2007 payroll showed he gave out nearly three dozen jobs, with a combined payroll of $1.4 million, to politically connected people and their family. The day after The Dealer reported widespread patronage was exposed at his office, O'Malley's staff set off on a review of the spending and employment numbers of fellow Democratic officeholders.
O'Malley's inquiry focused on County Auditor Frank Russo, Treasurer Jim Rokakis and Engineer Robert Klaiber, according to e-mail between county workers.
O'Malley's probe turned up very little that might help him with his patronage problems. It showed the number of workers at the auditor's office was 5 percent higher in 2007 than in 1997, engineer jobs decreased by 35 percent and treasurer jobs dropped 18 percent. O'Malley's recorder positions climbed 19 percent. in the same period according to budget office numbers.
"I can't say how he planned on using that information," Sandy Turk, the county budget director said. "I can't even say why he selected those individuals."
Last month, The Plain Dealer reported at least a third of the employees on O'Malley's 2007 recorder payroll landed their jobs through political connections, including ward leaders and precinct committee members who helped him gain the recorder's job in 1997. The story also said, O'Malley employs nearly twice as many people as the Franklin County recorder.
Russo wasted no time ordering an immediate inventory of computer equipment in O'Malley's former office. Russo issued the order the day after O'Malley resigned. The reason: O'Malley barred county workers from conducting an annual state-mandated review of the equipment. The ban goes back at least four years.
"They rudely threw [my staff] right out." Cuyahoga County Information Services Center Director Dan Weaver recalled on Friday. "It didn't surprise me, knowing his personality."
Problems with Web Sites
While O'Malley was busy viewing obscene materials on his private computer, the County Web site developed and designed by O'Malley's office and outsourced to Broma Information Technology is obscenely displaying private information belonging to Cuyahoga County citizens and allowing data mining companies to download the sensitive information in bulk for resale.
According to O'Malley's site, the information is "provided to allow the citizens of Cuyahoga County, and the world, access to information housed at our office." But in 2006, employees with the county web site acknowledged that unnamed companies were using 'bots' (automatic retrieval programs) to mine the site and then reselling the data to unknown parties worldwide.
B.J. Ostergren warned the public that the Cuyahoga County Recorder's office was trafficking in sensitive citizen data through the county Web site. Ostergren operates a consumer advocate site called The Virginia Watchdog where she documents major breaches of private information by county and state run web sites.
In November 2007 this very active watchdog focused her attention on the Cuyahoga County Recorder's Web site and announced, "if you know where to look, you can find thousands of Social Security numbers. "The Cuyahoga County Web site should be shut down immediately since it's spoon feeding criminals and has been for years," she said. (See Virginia Watchdog Takes a Bite Out of Ohio)
Cuyahoga County officials ignored Ostergren's warning as well as pleas from local citizens to purge their sensitive data. Even today, it remains very easy for anyone, from anywhere in the world, to view Social Security numbers contained in images of deeds, mortgages and tax liens the county provides online. What you won't find are references to O'Malley's embarrassing term in office.
In a move that belies the usually cumbersome and slow-moving nature of any government body, it only took a few hours to purge the Cuyahoga County Web site of any picture or mention of the former Cuyahoga County official. Except for his signature and official seal which appear on many of the documents, references to O'Malley have been removed.
O'Malley isn't the first official to ignore public concerns about government Web sites and the role they play in organized identity theft. The issue of government Web sites obscenely displaying citizens Social Security numbers swept candidates in and out of office in 2006. Voters sent a clear message that ignoring their need for security is dangerous for political futures.
This was particularly apparent in Ohio where Secretary of State J. Kenneth Blackwell was sued in March of 2006 for exposing thousands of Ohio residents Social Security numbers on the Secretary's website. Blackwell was making a bid for the Ohio Governor's position at the time. Hamilton County Clerk of Courts Gregg Hartman was the Republican nominee on the fast track to fill Blackwell's position.
Hartmann learned the hard way that voters are more concerned with having their privacy protected than having elected officials serve the wishes of businesses outside their jurisdiction. Democratic candidate Jennifer L. Brunner produced a plan that promised to stop the outsourcing of confidential information to private contractors and return the responsibility of protecting Ohioans' private information to Secretary of State employees.
Brunner ran televised ads exposing the Blackwell breach and showing over 100 victims of identity theft entering a courtroom to testify against criminals who had used Hartman's website to steal their identities. Brunner defeated Hartman by a margin of 55%. Blackwell, the republican hopeful in the gubernatorial race, received only 36.65% of the vote against Democratic candidate Ted Strickland's 60.54%
Potential Flight Risk?
O'Malley's troubles with women, Web sites and workers may have led to his guilty plea and resignation but court records and sources close to the story hint that he may also be a potential flight risk. WKYC Channel 3 News reported Thursday that O'Malley plans to leave the country. During the plea hearing Judge David D. Dowd Jr. released O'Malley on a $100,000 unsecured bond but required him to surrender his passport.
If O'Malley does leave the country, he won't be the first county official to run from justice when faced with serving time in a federal prison.
Last February former Texas Hidalgo County District Clerk Omar Guerrero was captured by Mexican State Police in Reynosa, Mexico where he had been hiding for two and a half months after a warrant was issued charging the Republican clerk with sexual crimes. The warrant charged Guerrero with sexual assault and with retaliation against a fifteen year-old-girl. Guerrero allegedly had sex with the young girl numerous times and the victim claims he threatened to use his political position to harm her and her family if she reported the assaults.
Five months after Guerrero's capture, Missouri State Police launched a statewide manhunt former Butler County Clerk John Dunivan, 60, who disappeared after being accused of sexually abusing two children under 12 years of age. When the state police manhunt failed to produce Dunavan, A U.S. magistrate in St. Louis issued a warrant for "unlawful flight to avoid prosecution."
Dunivan is still on the run and was featured last month on Fox TV's popular series America's Most Wanted.
O'Malley has a problem with women, web sites and patronage. The American people have a problem with elected officials who use their elected position to exploit the people who elect them.