Texas Estates with $10,000 or more in Unclaimed Money
Estates with $10,000 to $761,590 in unclaimed money due beneficiaries and heirs. Average estate in this list has $31,242 in unclaimed money . . . View the List - Make a Claim
Abstractor Forums
Professional Title Abstractors
LinkedIn group where professional real estate title abstractors discuss the unique challenges faced by land title professionals who physically visit the courthouse. Participants must show they are dedicated to providing a level of complete accuracy that can only be achieved at the courthouse.
American Real Estate Professionals
Christy Baughman Lynn's Facebook group designed to connect USA based title abstractors and other real estate professionals from across America.
Robert Franco's website features news, networking and conversation of interest to abstractors, real estate title vendors and title examiners.
This page is less about the business side of title abstracting and more about the passion for history abstractors have. Focuses on the rich and often little known history of the counties we serve. If you have a passion for history please visit.
FEATURED TEXAS PROPERTY AUCTION
Potter County Experts
Amarillo, Texas
No one knows Potter County real estate, title search and court records better than the people who are in the courthouse everyday working directly with local officials to bring you the kind of professional service only a local expert can.. Connect with Potter County Abstractors, Public Record Retrievers, Historians, Genealogists and Legal Service Professionals. You'll find Potter County Clerk, Potter County Appraisal District, abstractors, county record retrievers, and real estate in Amarillo, Bishop Hills, Ady, Boden, Bushland, Chunky, Cliffside, and Gentry Texas.
| | | |
| --- | --- | --- |
| Potter County Clerk | 806-379-2250 | Amarillo, Tx |
| | 806-358-1601 | Amarillo, Tx |
Books about Potter County Texas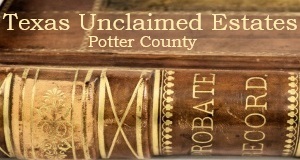 Texas is holding over $400,000 for the rightful heirs to these Potter County estates. Know the Heirs? Let them know. See the List


Potter County Abstractors and Courthouse Researchers
When law firms, lenders, energy production companies and national title companies need public record information that is accurate and official they rely on local abstractors, document retrievers and landman who physically inspect the Potter County records at the courthouse.
Get Email Updates

Davick Services
Title Abstracting and courthouse records research direct to you from 111 Rural Texas Counties since 1989. $ 1000,000 Errors & Omissions Protection. Qualified, professional abstractors with years of experience. Ph (806) 832-4349 Email www.DavickServices.com
Compare Potter County Texas with Other Counties
Potter County Specials - Amarillo Tx
Featured Item from Potter County Texas

Rare Artifacts, Books, Memorabilia and Historical Documents from Amarillo, Bishop Hills, Ady, Boden, Bushland, Chunky, Cliffside, and Gentry.