Look Who's Talking about Texas History
Davick Services recommends the Facebook Group "West Texas History & Memories" for history, famous people, old photos, stories, unclaimed estates and genealogy of the Western Half of Texas . . . Check it out and join the conversation
Life in Potter County Tx 1899 to 1943
Potter County, Texas from 1910 to 1943 as pictured in archived government photographs, vintage postcards, old school yearbooks and newspapers in Amarillo, Bishop Hills, Ady, Boden, Bushland, Chunky, Cliffside, and Gentry Texas.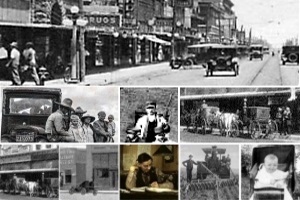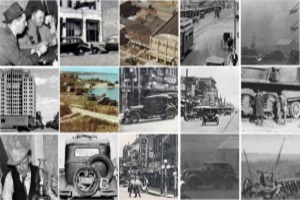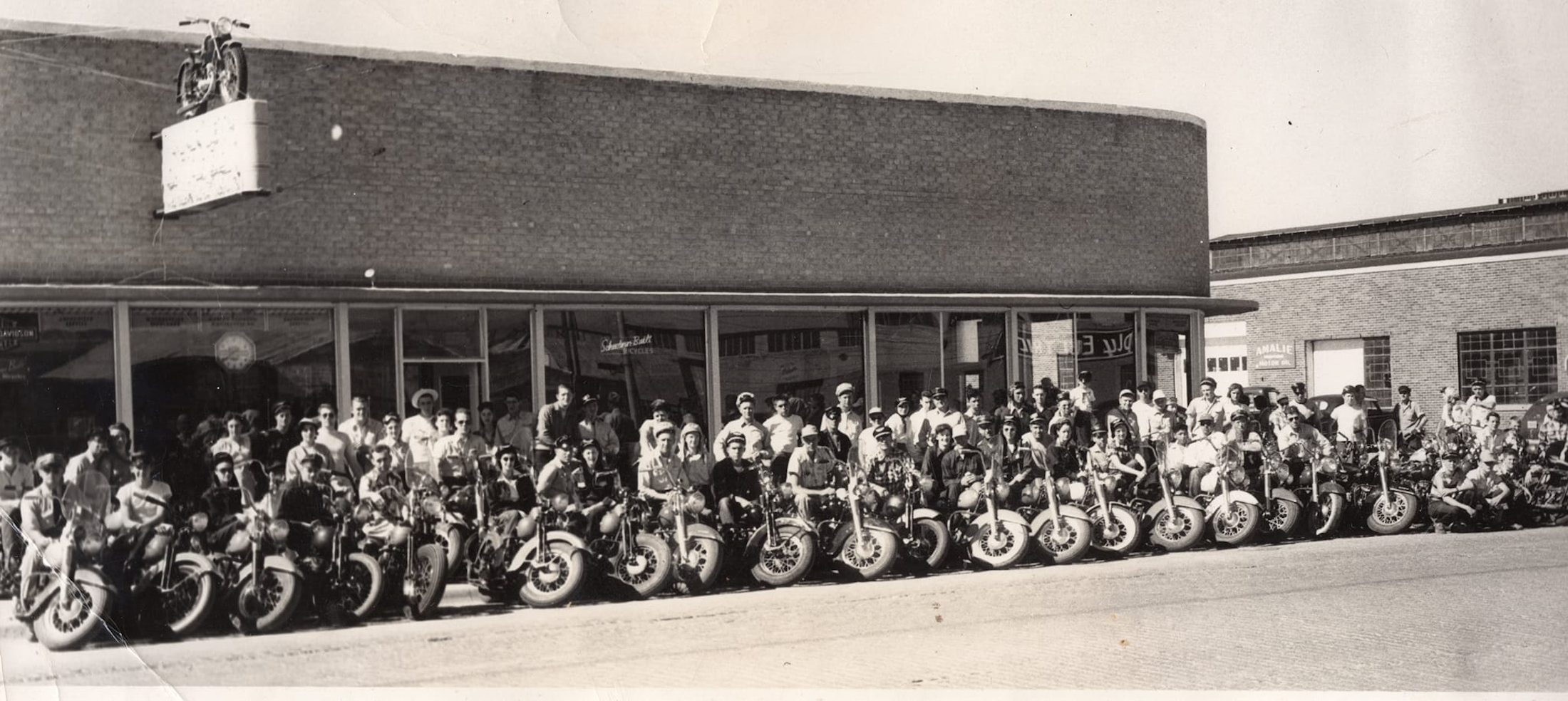 Motorcyclists Gather in Amarillo 1940s
Sometime in the late 1940s a large group of motorcycle riders gathered in Amarillo Texas to pose for this huge highly-detailed image.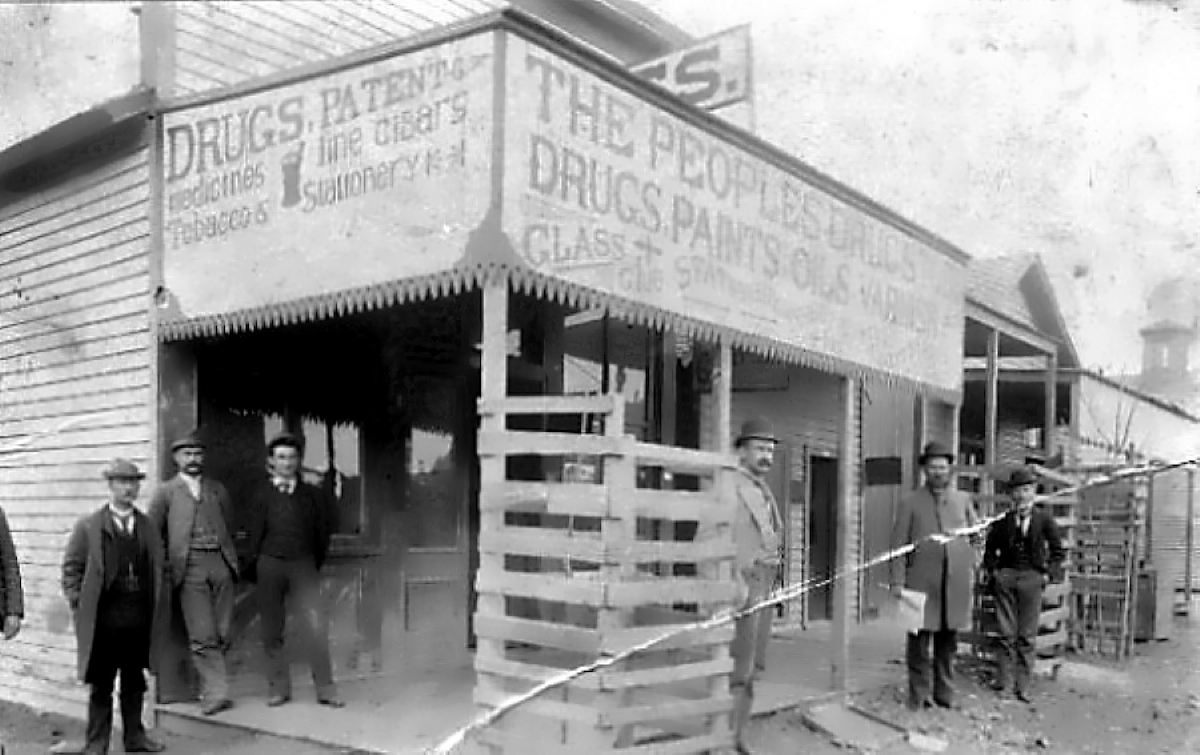 Peoples Drug Store in 1800s
The Peoples Drug Store on Polk Street in Amarillo Texas in the 1800s offered much more than patent medicine. You could buy cigars, tobacco, paint, oils, glass and more ...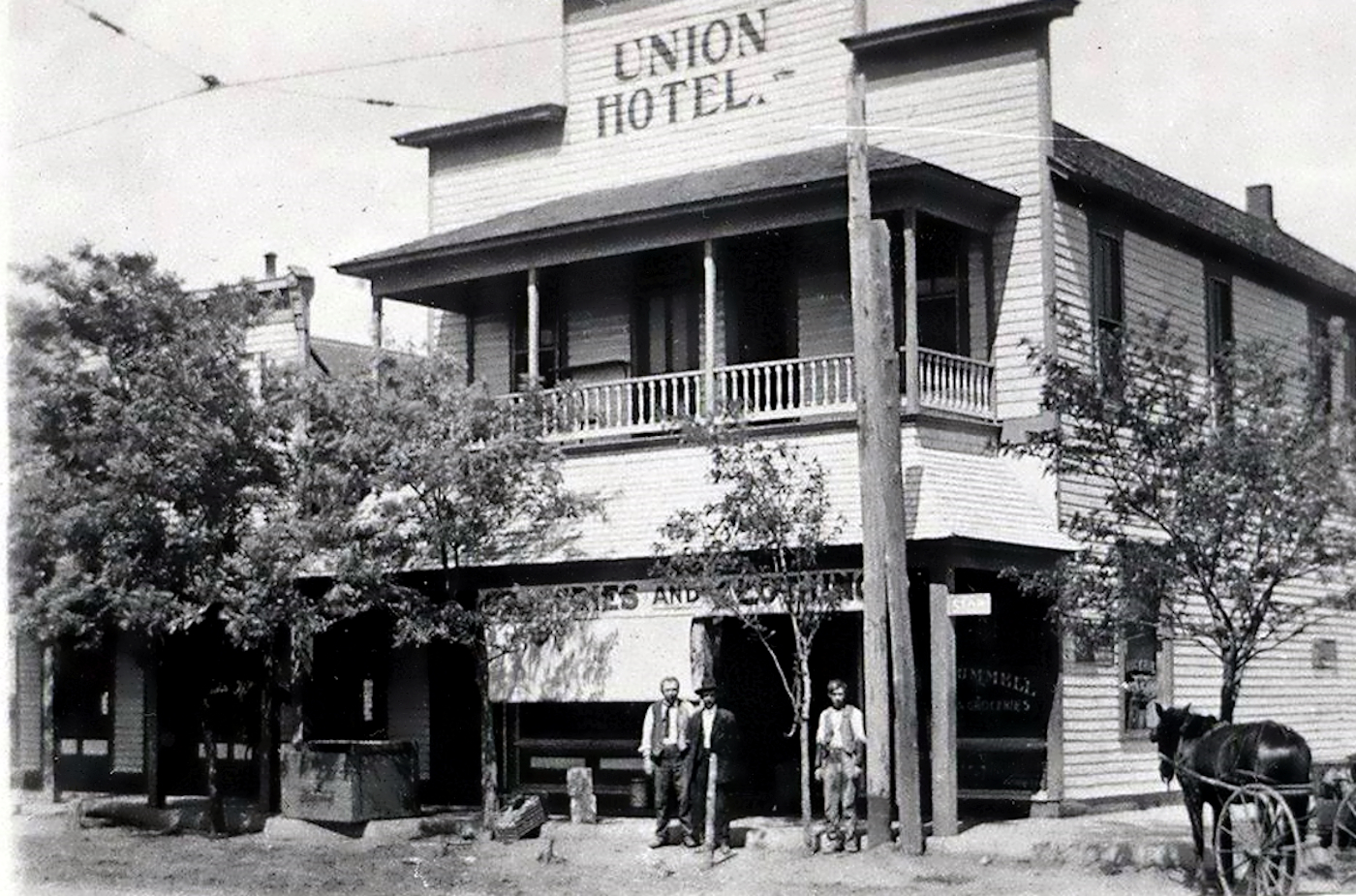 Union Hotel in Amarillo in 1910
Huge photo of the Union Hotel in Amarillo Texas in 1910 where you could get a good nights rest and buy groceries and clothing . . .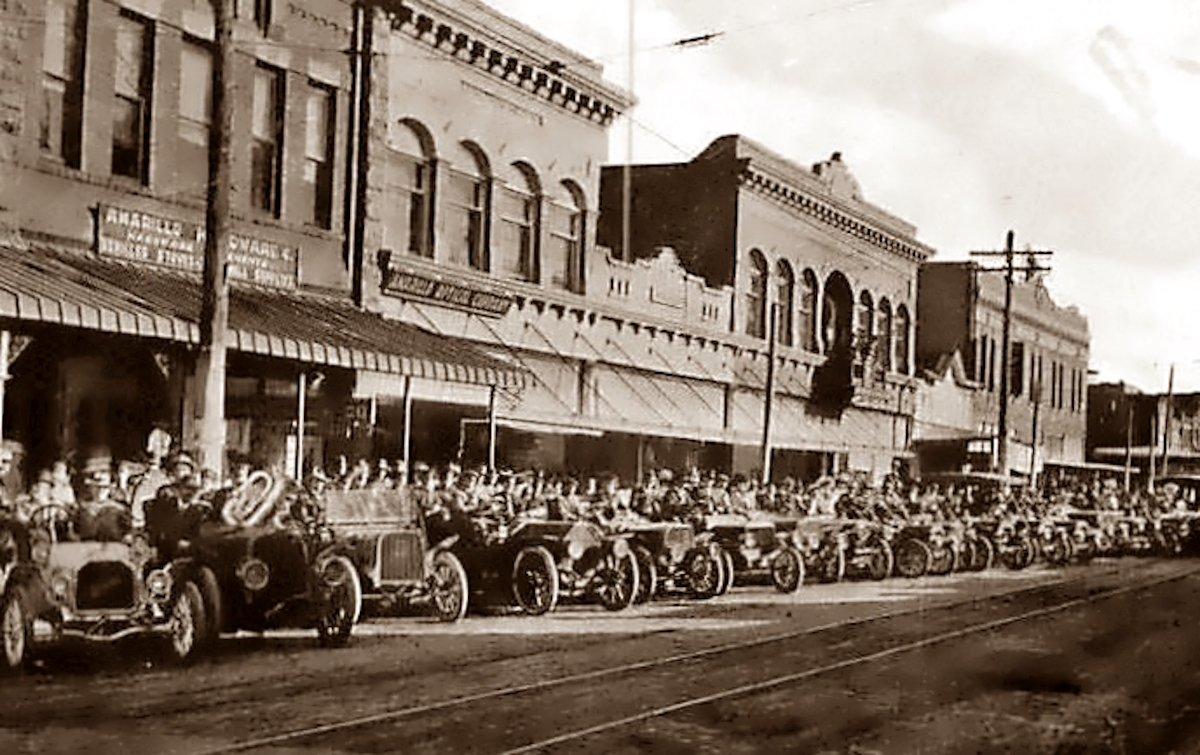 Auto Day in Amarillo in 1909
On a day designated "Auto Day" in Amarillo Texas hundreds of cars lined the street in front of the Amarillo Hardware Company and the Amarillo Office Company in 1909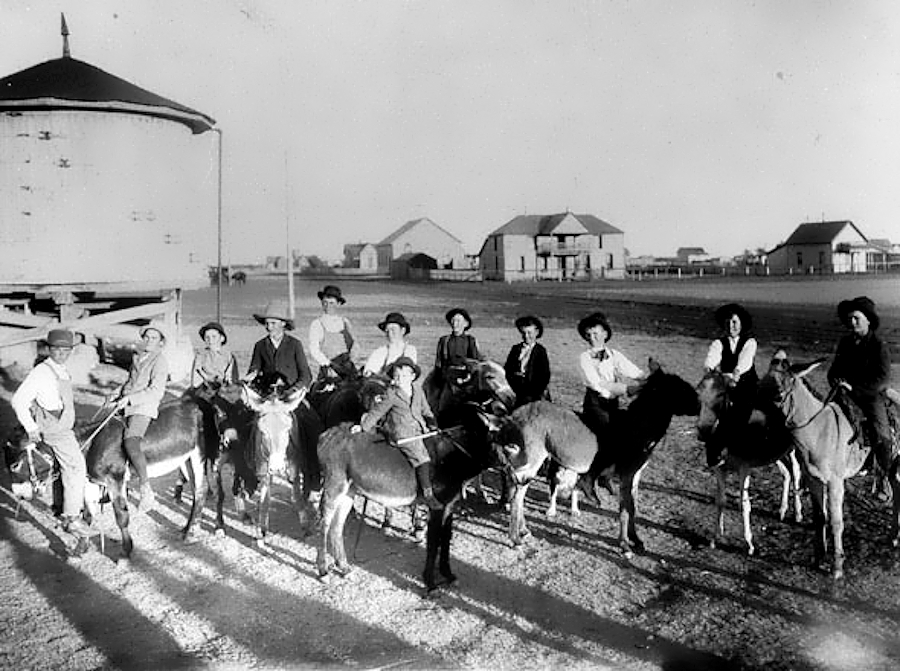 Boys on Donkeys in Amarillo Texas
In 1897 twelve boys on their donkeys gathered at a water tank in Amarillo Texas to pose for this great old photo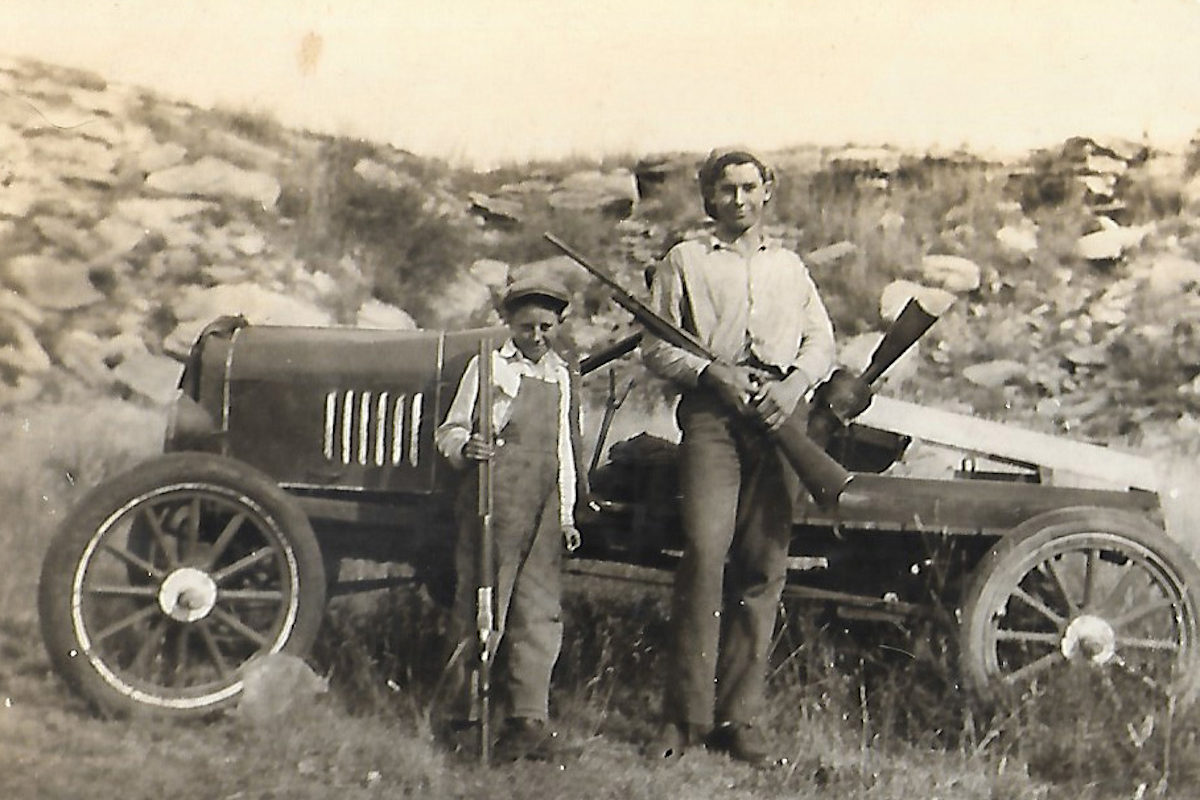 Hunting in Potter County in 1925
In 1925 Finley Kane (Lee) Martin was hunting with his little brother, Ross E. Martin somewhere northeast of Amarillo in a car they named "Old Battleaxe" when this great old photo was captured.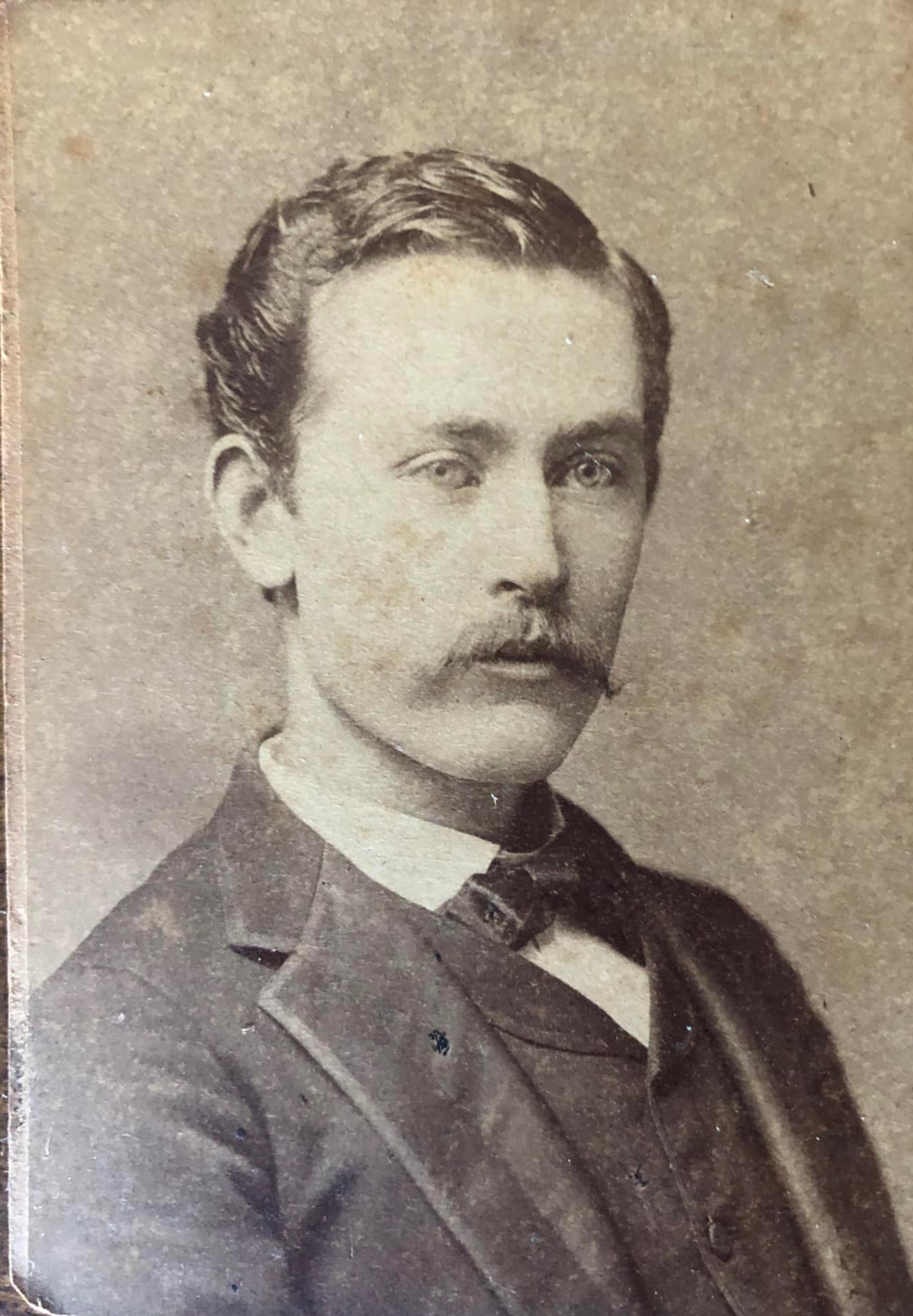 Edgar Augustus Jones, Amarillo's First Doctor
When Edgar was 12, his family moved westward and settled in Audubon, a small town 12 miles north of Decatur. His Uncle, Dr. Bone, another Texas pioneer doctor would visit Papa Jones's family, telling of his many interesting experiences and the idea of becoming a doctor stayed with Edgar until he was grown ... Read more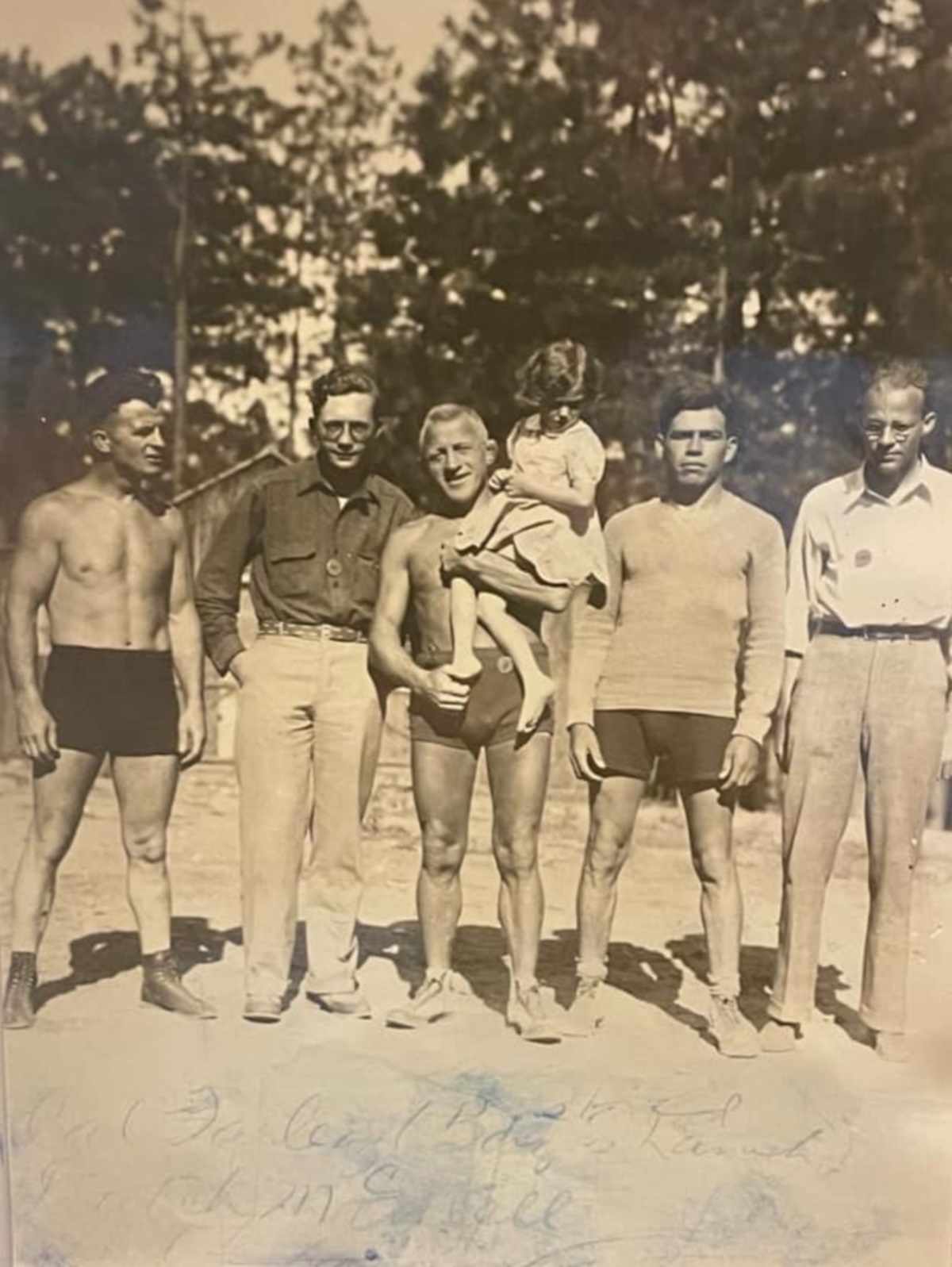 Cal Farley, Dutch Mantell and Jerry Malin
In 1928 Cal Farley, Dutch Mantell, Jerry Malin and two unknown men posed for this amazing photo. Shown left to right: Cal Farley is on the left in boxing shorts and shoes. Malin (wearing glasses), Dutch is holding four-year old. Patricia Malin Keffer followed by two unknown men. Photo taken at Cal Farley's training camp in New Mexico. Photo courtesy of Dan Keffer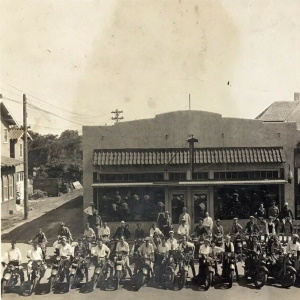 Gypsy Motorcycle Club in Amarillo Texas in 1929
In 1929 the Gypsy Motorcycle Club was on tour and posed for this huge old photo in Amarillo Texas. . . . See it full size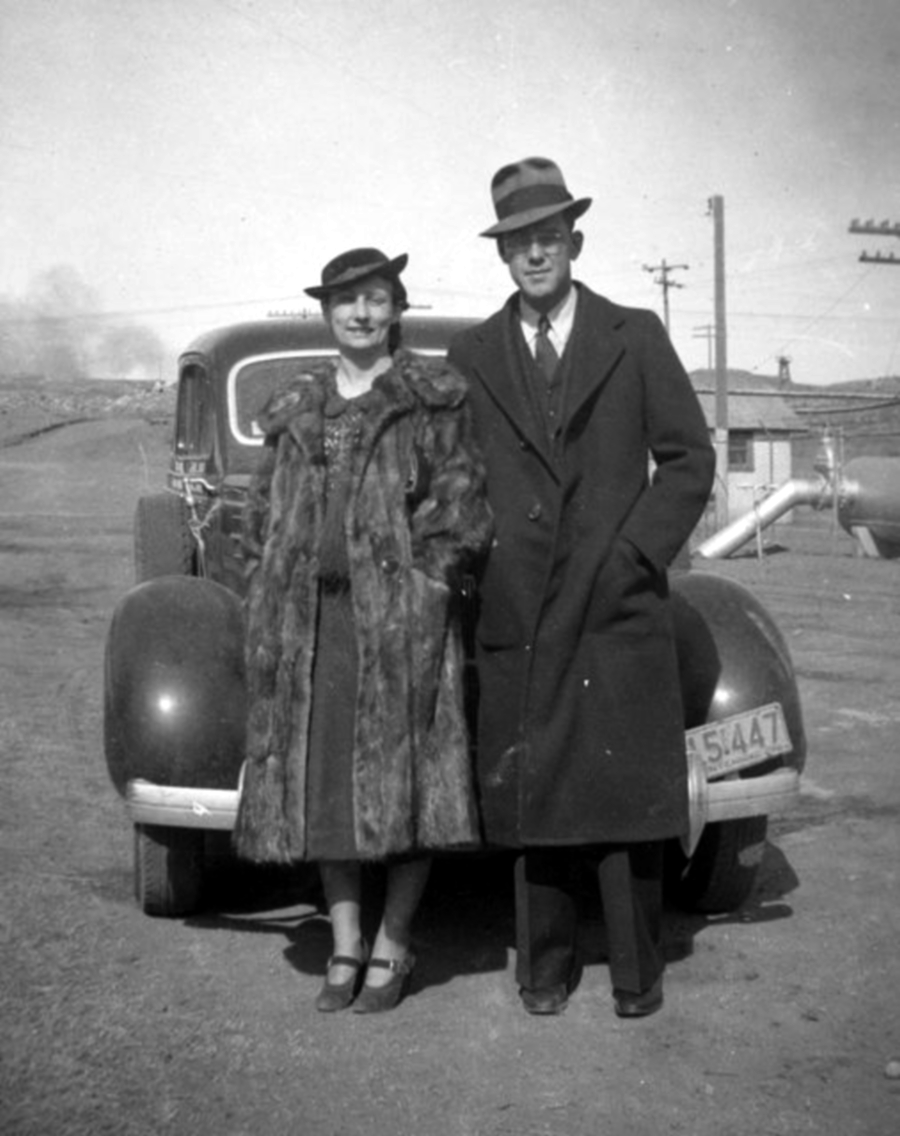 Imogene and Walter DeVaney
In 1937 Amarillo residents Imogene and Walter DeVaney posed in front of their car for this large highly defined image during a visit to the Panhandle gas plant near Borger, Texas Photo provided by their nephew Hal DeVaney.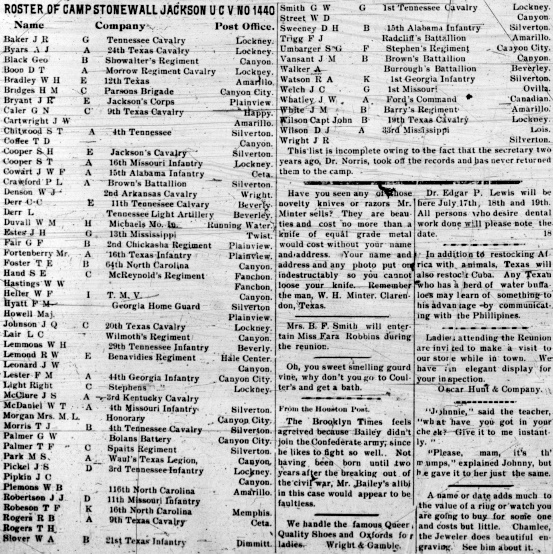 Roster of Camp Stonewall Jackson Veterans 1902
July 1902 The Stayer in Canyon Texas published the roster the Camp Stonewall Jackson Camp. The list includes former soldiers from across the Texas Panhandle including, Lockney, Canyon, Amarillo, Silverton and Plainview and complains the list is incomplete due to the fact Dr. Norris took off with the records in 1900 . . . read this valuable tool for historians and genealogists

Things To Do in Amarillo Texas in 1899
Toss down some medicinal liquor at the XL Saloon, Eat some hot tamales at the New Chile Stand, get a bath and a haircut at J.T. Parks Tonsorial Parlor, get your wagon fixed at Ridings & Co Blacksmithing, get a furnished room for 25 cents at The Old Reliable in the Bush Building above Turner's Drug Store . . . more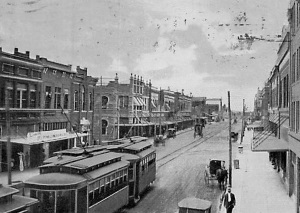 Street Car on Polk Street in 1912
By 1912, Polk Street was central to the bustling center of commerce in Amarillo. Many visitors relied on one of the first motorized street cars in Texas . . . view full size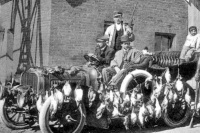 Duck Hunting in Potter County in 1909
Duck hunting in the area around Amarillo was more than a popular sport in 1909 . . . continued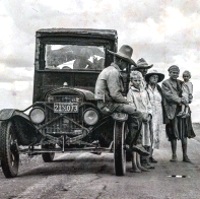 Out of Money, Out of Gas, Running Low on Hope
Amarillo was a crossroads for families fleeing the dust bowl and depression. This family was on the way to New Mexico but ran out of gas somewhere in Potter County . . . View Larger and Read More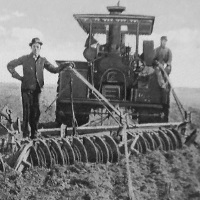 Steam Tractor Plowing Farm Near Amarillo Tx around 1910
A. M. Archambault & Company developed the first farm steam engine in 1849. The steam engine was later expanded into the steam traction engine with powered wheels and steering capabilities . . . view full size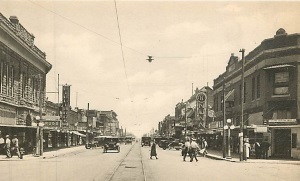 Polk Street in 1914
Street Scene showing Dillard's, Drug Store, Nunn's Store, and shoppers dodging Model A's and T's to cross the street . . . full size image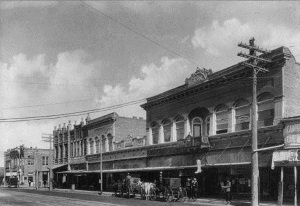 Amarillo Street Scene Late 1800's
Showing horse drawn wagons and boot shop. zoom in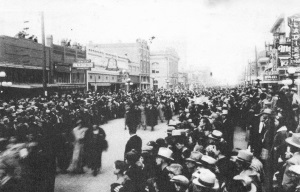 Amarillo Invented Mother-In-Law Day in 1934
Mother-in-Law Day was first observed on March 5, 1934, in Amarillo Texas, where it was started by Gene Howe, editor of the local newspaper and publisher of the "Tactless Texan" newspaper column after he somehow offended his mother-in-law Nellie Donald . . . read more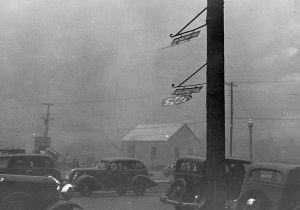 Dust Storm Amarillo Tx 1936
Amarillo was no stranger to the horrible dust storms of the dust bowl days of the 1930's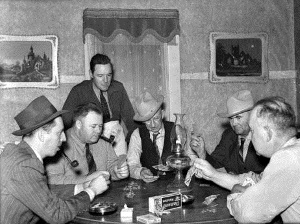 Poker game in Amarillo Tx 1939
Poker game in Amarillo Texas in 1939 using match sticks for chips. Don't let the match sticks fool you. Some of these games could be extremely high stakes. Amarillo Slim made a fortune as gambler at games like this.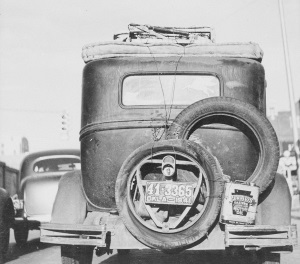 Oklahoma Car Arrives in Amarillo Texas in 1941
Oklahoma car arrives in Amarillo in 1941 with all the family's belongings tied to the car with baling wire. Zoom in on this "Okie Car"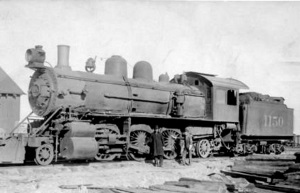 Steam Locomotive in Amarillo Texas 1910
Industry in Amarillo began with railroads, cattle and merchandising. The first Fort Worth & Denver City passenger train arrived in Amarillo in March of 1888 from Clarendon, which was the former terminal . . . more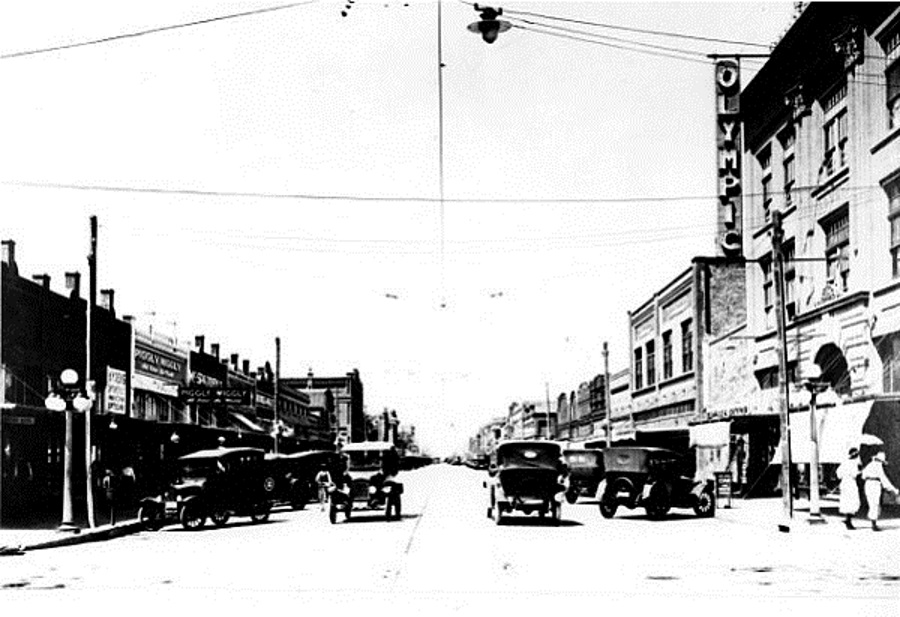 Amarillo's Olympic Theater 1919
The Olympic (formerly the Grand Opera House) was located on the NE corner of 7th and Polk Streets across the street from the Piggly Wiggly grocery store. The Olympic had one screen and 1800 seats . . . see more photos and history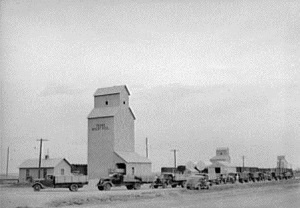 Grain elevator in small town in Potter County, Tx 1939
Almost every small town in the panhandle had a grain elevator dominating the skyline. This one is in a small town in Potter County shows trucks lined up to unload freshly harvested wheat in 1939. The elevator would lift the entire truck . . . continued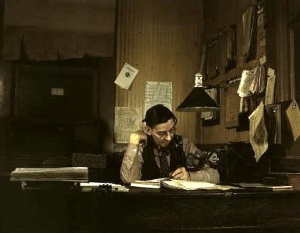 Railroad Yardmaster in Amarillo Tx 1943
Amarillo Yardmaster at work in 1943. Yardmasters review train schedules and switching orders and coordinate activities of workers engaged in railroad traffic operations, such as the makeup or breakup of trains and yard switching.view full size
Postcards from the Panhandle (Facebook)






Books about Potter County People and Places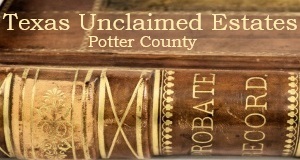 Potter County Unclaimed Estates
These Deceased Residents of Potter County Left a total $795,228 in Unclaimed Money for their heirs. Know the Heirs? Let them know they can collect from the Texas Comptroller's Office. See the List
Rare Artifacts, Memorabilia, Ancestry and Historic Records from Amarillo, Bishop Hills, Ady, Boden, Bushland, Chunky, Cliffside, and Gentry Texas.
What's your Favorite Book about a Texas County, Town, Person or Place? Here's our best reads list County by County