Panhandle Residents Ponder Polygamist's Move

June-11-07

Hale and Floyd County Texas -- Residents and officials of the small Texas community of Lockney are concerned about the declining population experienced since the 1980 but even more concerned about the impact polygamist Samuel Fischer's family will have on their community.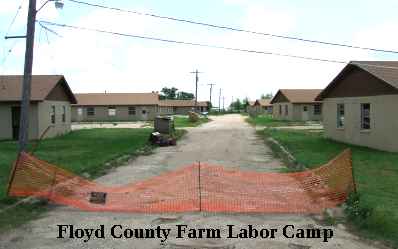 Warren Jeffs' followers plan to move Fisher's Utah cabinet making company, two wives and twenty four children to west Texas and local residents are worried others will follow. Fischer's supporters claim the polygamist would bring as many as 100 much-needed jobs to the area but many here say Fischer is no godsend, and the economic boost he promises the community is not worth the cost.
Fischer is a member of the Fundamentalist Church of Jesus Christ of Latter Day Saints, a renegade offshoot of the Mormon Church. The FLDS is ruled by their prophet, Warren Jeffs, who was recently arrested in Las Vegas, Nevada, on warrants out of Arizona and Utah on four total counts of Rape of a Child, stemming from his practice of arranging child marriages to older men. Jeffs was on the FBI's 10 Most Wanted List and featured on America's Most Wanted TV show.
In Lockney, people worry that Fischer is paving the way for thousands of Jeffs' followers now living in Utah and Arizona. Fisher already has a contract on the Tye Company's 176,000-square-foot industrial complex that once produced farm implements.
Now Fisher is shopping for housing. He has closed on one house in nearby Plainview (Hale County) and has contracts on three others there. He is reported to be checking out the migrant labor camp twelve miles away in Floydada. The camp, which was originally subsidized by the U.S. government, contains accommodations for 156 family units in fourteen buildings.

Fischer's company, Westwood Products, currently employs about 20 people in Hildale Utah to make custom cabinets for high-end homes. He says he will rename it Techsun when it moves to Texas.
When asked if FLDS members might follow him to Texas, Fischer said he didn't know. "I'm not here to pave the way," he said. "I don't know if any of them will. I don't know if a bunch of them will. . . . I am not here to build a compound."
In an extraordinary departure from the silence with which members of the Fundamentalist Church of Jesus Christ of Latter Day Saints normally guard their lives and beliefs. Fischer spoke about his life, his faith, his family and the reason he has two "ladies" for about 90 minutes at a town meeting he requested last month.
Fisher requested the meeting in a letter to the Floyd County Hesperian after it published a column about him and his association with Jeffs. In his letter to the newspaper, Fischer wrote that he wants residents to get to know him and to seek jobs at his cabinet factory. He said he settled on Lockney after getting stranded by an ice storm in January in Amarillo and seeing an economy that appeared on the "upswing."
The meeting was standing room only as concerned future neighbors queried Fisher on his intentions for their community. When pressed, Fischer told them that Jeffs was his spiritual leader but that the FLDS does not have a stake in his business. Those who attended the meeting in Lockney say Fischer, 53, promised he would not build a compound. He also said he did not know who would be living in the houses he will soon own.
When asked if he practiced polygamy, Fischer said "I don't practice it, I live it". He said he has two "ladies," using the preferred FLDS term for their legal and spiritual wives.
Fischer said he and his first wife had 13 children, including two they adopted. He then "adopted" his second wife and her then-nine children after her husband was ousted from the faith for adultery. He now has 24 children, 12 of whom still live at home.
Many FLDS members like Fischer, are settling elsewhere after a court takeover of properties in their historical home in Utah and Arizona. Fischer said he is leaving Hildale because Utah authorities took control of the sect's scandal-plagued trust that controls all the property in the two neighboring towns. Jeffs' group — based in the adjacent towns of Hildale, Utah, and Colorado City, Arizona — numbers about 10,000. Hildale, Utah, the community associated with Jeffs. In 2005, a judge took control of the FLDS Church's financial arm, the United Effort Plan Trust. The trust controls nearly all the land in the polygamist enclaves in Hildale, Utah, and Colorado City, Ariz., and has assets estimated at more than $100 million.
Hildale and Colorado City, separated by an imperceptible state line, have been home to fundamentalist Mormons since the 1930s; the sect considers polygamy a religious tenet. The sect is cloaked in secrecy and widely known for marrying off teenage brides and banishing men and boys who disagree with Jeffs. The Mormon Church renounced polygamy in 1890 and has disavowed any connection to the sect.
Jeffs' followers are already in Texas, living outside the small town of Eldorado, about 230 miles south of Lockney. Three years ago, a resident of Eldorado, Texas, showed up at a hastily arranged press conference in the Schleicher County Sheriff's Office parking lot with a sign that read, "The Devil is Here."
It didn't help that David Allred, the FLDS member who bought the 1,691-acre property on the small town's outskirts, said it would be used as a hunting preserve.
Instead, the FLDS has built a compound on the hillsides of Eldorado in Schleicher County that some are calling Warren Jeffs' New World Headquarters. The city has large houses, a concrete plant, and even its own waste-water treatment plant.
"They're building like crazy out here" says Randy Mankin with the El Dorado Success Newspaper. Among the buildings erected by the sect is an 80-foot tall, gleaming white temple. Commenting on Fisher's claim that he will use the Tye building in Floyd County to produce furniture, Mankin said "it could be a cover story".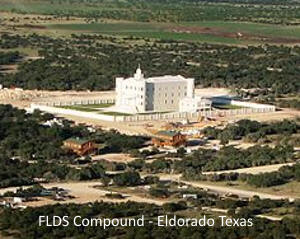 Until a few weeks ago, few people in Floyd County had heard of the FLDS church. Now, almost everyone in the rural county knows about the sect's peculiar practices - arranged marriages, exiled men and boys, teenage brides - and its beleaguered prophet, Warren S. Jeffs, who awaits trial on charges of rape as an accomplice for conducting an unwanted marriage.
Floyd County is long on Christian faith but short on jobs, so Fischer's arrival has triggered both hope and despair. Some of those who attended the meeting said Fischer didn't seem forthcoming.
"Multiple wives in Utah may be acceptable, but it's not here," Lockney Economic Development Corp. president Phil Cotham told the Deseret Morning News. "We're part of the Bible Belt and people are very serious about their faith around here."
Lockney shopkeeper Ginger Mathis is suspicious. "He wouldn't be looking at houses if he didn't have some others coming," she said.
"He didn't tell us anything," Mathis said. "He evaded some (questions) and even the ones he answered I didn't feel he was being truthful."
"All this is new to us," said Warren Mathis the morning after the meeting, sitting with three fellow farmers at the D&J Gin office. "We don't like it. We've lived over all this time and we've been getting along fine without bringing all these people into it."
Alice Gilroy, editor of The Floyd County Hesperian-Beacon and member of the Lockney Economic Development Board said many residents fear that if Lockney becomes known as an FLDS town, no one else will want to move there.
"I have no idea how many families will move to the area, but I do know that this business will not bring new jobs for local people-not unless you happen to be a member of one of the FLDS families", Gilroy said.
Dwight Thomason, the Coldwell Banker Realtor who will collect a commission for brokering the sale of the Tye building disagrees. He said Fischer's plan for the property was "the best thing in the world that's happened to Lockney." "He's going to clean it up and going to hire about 100 people, which is going to help the economy of Lockney." Fischer paid $750,000 for the old farm-implement company in May.
UPDATE: The family moved into the area and stayed for a few years without incident before quietly packing up and moving out.
. . . for more like this please see Texas Church History