Offbeat, Shocking, Bizarre or Just Plain Interesting
Reservoir 'Monster' Baffles Officials
Officials are baffled but a Connecticut woman's photos show something strange may be lurking in the West Hartford reservoir...
NBC Video report
Privacy Rights, Identity Theft Spark Increase in County Web Shutdowns

Jarrod A. Clabaugh, Reprinted with permission from www.sourceoftitle.com

Following complaints from local citizens who realized that their sensitive information was available on the Internet as a result of the counties' online Public Records initiatives counties are restricting online access to the real estate documents they maintain ...
Investigators say human remains found near a park in Virginia belong to former Missouri Clerk John Dunivan who disappeared last year after he was charged with sexually assaulting a child. Hikers first found a human skull...
Free Speech And The Hypocrisy Of Government
By Robert A Franco
reprinted with permission from http://www.sourceoftitle.com/blog
We have all known for a long time that our public real estate records appearing on county web sites contain Social Security numbers. So, the big question is... Can the government do that and then pass a law prohibiting anyone else from doing the same thing? ...
Hit Man by Email Scam Persists
The FBI continues to receive thousands of reports of emails claiming the sender has been hired to kill the recipient ...Don't get 'knocked off' by these cyber criminals
Court Rules Against Bulk Transfer of Instant Searches For Profit
Jarrod A. Clabaugh, Reprinted with permission from www.sourceoftitle.com
The Superior Court of New Jersey's Appellate Division recently ruled that privacy interests outweigh the interests of companies that gather massive amounts of public real estate records from county government for profit....
Governor Tells Website to Remove Images Immediately!
Reprinted with permission from www.sourceoftitle.com
The governor of Iowa, informed IowaLandRecords.Org that it should immediately remove private information from its Website after learning the site provides Social Security numbers belonging to several state officials including his own ...
America's Foreclosure Epidemic
County Sues Deadbeat Banks
by Robert Franco Reprinted with permission from www.sourceoftitle.com
Foreclosures are through the roof and banks are taking back homes everywhere. Once the lender takes the home, they become responsible for the upkeep and maintenance on the home and paying the property taxes. But some banks are simply ignoring rules that apply to every homeowner ...
County Sues Deadbeat Bank
Fighting Crime
Simple Title Search Could Have Saved Two Lives
Reprinted with permission from www.sourceoftitle.com
Carmel Valley, California, is a beautiful place. I was fortunate enough to spend a year in nearby Monterey in the early 1990's. Sadly, last year it made headlines for a tragic double homicide that could probably have been prevented with a simple title search...
Offbeat
The creature is said to have prowled the dusty back roads of Texas for years, sometimes attacking livestock and pets. Last week, DeWitt County deputies were startled to see the "Texas Chupacabra" casually loping down the road in front of them...
Voter & Election Issues
Voting Machine Maker Blames Anti-Virus Program
Voter machine vendor Premier Election Solutions Inc. formerly known as Diebold Election Systems recently blamed a popular virus protection program counties have installed on their computers for glitches that triggered a lawsuit ...
100 Counties Most Likely to Benefit Most From New Housing Grants
The Housing and Economic Recovery Act of 2008 will not distribute all grants equally but provides for $3.9 billion in bonus grants to some areas. Here's our pick for the top 100 counties most likely to get the lion's share -- and why.
Housing Bill and Online Tool Offers Hope to Families Facing Foreclosure
August 6, 2008
The Housing and Economic Recovery Act of 2008 creates a new program to help hundreds of thousands of families save their homes from foreclosure and a new online tool will tell you in an instant if you're eligible.... Lean how
Reprinted with permission from Robert A Franco
Officials in Michigan say it's just too hard to kick the dangerous habit of posting Social Security numbers online. In this article, a leading Public Records expert shows county officials the easiest way to go "cold turkey" and return county websites to the clean and sober condition constituents expect ... Get the story
America's Foreclosure Epidemic
Former County Official Says Mortgages Are Illegal
Reprinted with permission from www.sourceoftitle.com
Is your mortgage legal? Not according to former Ohio County Recorder Bonnie Scott. Earlier this year she took her battle against the bank to court ... Read the Story
Allegations of Government And Vendor Blunders
Disappearing Documents
by Robert Franco | August 01, 2008
... If this can happen with the online records, how can we be sure that the records we access in the courthouse, maintained by the same companies, are not subject to the same inconsistencies?
Petition Asks Congress to Protect Military Identities
Federal intelligence agencies have long known that terrorists use identity theft to facilitate and fund attacks on US citizens at home and abroad. Unfortunately, the Department of Defense may be unintentionally providing critical information about military personnel to terrorists...
U.S. Congressman Judge Ted Poe (TX-02)
It's official! Iran is now capable of firing long-range missiles into southern Europe, Israel, and at U.S. troops in the Middle East ... So the question is: Does the United States have a plan, or are we going to have to wait for Iran to deploy a nuclear missile before we wake up.
575 Homes To Be Auctioned In Michigan Next Week
In a feeble housing market, where foreclosures continue to skyrocket and home prices steadily dip, investors and home buyers can grab some great deals on Michigan real estate next week ...
Federal Agents Raid, Close County Auditor's Office
Agents from both the Internal Revenue Service and several offices of the Federal Bureau of Investigation descended upon the offices of Cuyahoga County's auditor and one county commissioner in Ohio today...
Washington, Jul 17, 2008

Fifteen years ago in 1993 there were two young teenage girls by the name of Jennifer Ertman, 14, and Elizabeth Pena, 16, headed home as the sun set in Houston, Texas... Next month, the state of Texas will execute their killer.
Data Missing from "Official" Websites
If you think your county vendor is providing true and accurate online records that reflect the reliability of records maintained at the courthouse -- Think again. Many of the documents that exist in the county's courthouse database are mysteriously missing from the online indices.
Why The Foreclosure Epidemic Is Even Worse Than It Seems

There is no doubt the foreclosure problem is getting worse; we haven't seen the bottom yet. CNNMoney.com is reporting that foreclosure filings in the second quarter of this year are up 120% over the same period last year! . . . And, there is more bad news.
Tragedy for Some, Opportunity for Others
Hundreds of Texas Homes Hit Auction Block This Week
Hundreds of foreclosed homes in Texas are scheduled to be sold to the highest bidder in the next five days at public auctions scheduled all across Texas and on the Internet. From a cozy bungalow in Amarillo to a lavish 5500 square foot, 5-bedroom, 9-bath mansion in Houston, the banks say they all have to go – Now!
Border Security and Illegal Aliens
New Tech for Policing Immigrants
A new homeland security program equips police and sheriff departments with the ability to detect illegal immigrants... NBC Video report
Fake Landlords Renting Foreclosed Homes

Imagine losing your home to foreclosure and then having criminals steal the deposit money you paid to rent a new home. It's a new twist on an old scam that is being facilitated by today's foreclosure crises.
4 numbers that stand between you and your criminal clone
Almost everyone living in America today has a Social Security number. But you may not realize that only four digits uniquely identify you as the legitimate owner.
Offbeat, Fun, Bizarre or Just Plain Interesting
Officials Crack Down on 'Gum Control'
A downtown improvement agency is deploying a new weapon in its battle against wads of discarded chewing gum piling up on city sidewalks . . .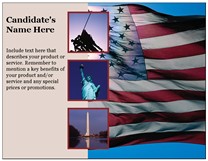 Campaign Postcards - Will They Open the Envelope?
As with any marketing initiative, the most important achievement is gaining the voter's attention. Even something as simple as a postcard must overcome the natural tendency to "ignore the message"...
America's Foreclosure Epidemic
Foreclosure: Three Questions Every Homeowner Should Know
Here's three three questions every homeowner should know to keep their home and avoid ruining their credit rating.
Justice Department Moves to Revoke Former Nazi's U.S. Citizenship
The Department of Justice has requested that a federal court in Seattle revoke the U.S. citizenship of a Bellevue, Wash., resident based on evidence of his role in a Nazi unit that participated in the mass murder of more than 17,000 Serbian civilians during World War Two ...
Special Report
Criminal Links to Government Web Sites
By David Bloys / News for Public Officials / June 30, 2008
Scammers, stalkers, terrorists and murderers have been feeding on information served to them by local, state, and federal Web sites for more than twenty years. . . .
America's Foreclosure Epidemic
Top 10 Counties For Real Estate Investment in 2008
The majority of states may be facing real estate depressions with property values declining - but not everywhere.
Here's Ten Counties and Eight States Where Home Values are Rising...
US Border Agent's Killer Released
U.S. Representative Judge Ted Poe (TX-02)
Wednesday, July 9, 2008

In January, Border Patrol Agent Luis Aguilar was tracking drug smugglers on the Mexican-U.S. border. A Hummer apparently carrying drugs crossed into the United States and tried to flee back to Mexico when Aguilar and other Border Patrol agents gave pursuit....
Allegations of Official Misconduct
FBI Arrest Mississippi Mayor, Bodyguards
A federal grand jury in Jackson, Miss., returned a three-count indictment against Frank E. Melton, the mayor of Jackson, Miss., and his two bodyguards, Jackson police officers Michael Recio and Marcus Wright. The three men were charged in connection with a conspiracy to tear down a private home...
Offbeat, Fun, Bizarre or Just Plain Interesting
Homeowner Counters High Taxes with Worm Farm
A New Jersey suburban homeowner is taking on high property taxes and a bearish economy with an unusual agricultural product. Like millions of homeowners nationwide, the taxes on Ken Chiarella's Middlesex County suburban home were outrunning his ability to pay...
Fraud Alert
... new scam hitting Ohio counties, and probably other states as well, that is causing major headaches for lenders and title companies. An email was sent to all of the county recorders in Ohio alerting them of the scam involving forged mortgage releases filed with the counties. What can you do to protect yourself?
Officials, Advocates Pull Plug on County Web Site
After outraged citizens and privacy advocates notified authorities that the county web site was disseminating their private information to the world and following discussions with
Arkansas
Attorney General Dustin McDaniel
, Pulaski County Clerk
Pat O'Brien
shut down portions of the taxpayer funded site Friday
...

Lawsuit Debates Who Can Display Social Security Numbers Online
Maybe you've never heard of B.J. Ostergren, but she knows plenty about you. She knows where you live and how much you pay to live there. She has your driver's license number, your signature, credit card and bank numbers and she has your Social Security number. Likely as not, she has the goods on your parents and children as well. She gathered it all from government websites. She wants the state to stop displaying your private data online but a new law in Virginia says government agencies have an exclusive right to display private data contained in Public Records online. Now Ostergren is taking her battle to federal court...
Electronic Filing Blamed for Corrupting County Records
Ohio County's Records Lead to Headaches for Title Professionals
Source of Title 6/23/2008 reprinted with permission
Many real estate professionals, particularly title examiners and abstractors, have expressed concerns that they are woeful when checking information maintained in the clerk's office ....
Study by Thinkscan.com provides concrete evidence that political attack ads have a significant and measurable impact on voter opinion, and work by affecting unconscious associations, regardless of what people consciously report...
by Robert Franco
Reprinted with permission June 23, 2008
There are good reasons for requiring a buyer to make a down payment - finding creative ways around the requirement has consequences that HUD is finally realizing. If buyers can't afford a reasonable down payment and closing costs, they should not be buying a home.
Renee Sedgwick found herself in the middle of a terrifying situation. After losing her job as an Operations Manager in the building industry in April 2007, she accepted a position at a local church. This new position came with a 60 percent decrease in income...
Finally, A Sensible Public Records Policy
Bulk Public Records requests have gotten out of hand. The Freedom of Information Act (FOIA) has become a tool for modern day gold mining... or perhaps more fitting... data mining. Companies have been using FOIA to obtain documents for fractions of a cent each. Finally, one county has set a sensible policy - get it yourself!
Woman Indicted On Charges She "Cyber-Bullied" 13-Year-Old Who Later Committed Suicide
...49-year-old woman posed as a teenage boy who feigned romantic interest in a 13 year-old girl, who later committed suicide after the "boy" spurned her and told her, among other things, that the world would be a better place without her...
Allegations of Official Misconduct
Andy Mateja bought his home for $320,000 in 2001 and has made all of his mortgage payments on time, but a typo in the Muskingum County Recorder's index may cost the Mateja family their home.
Banning Citizen Cameras

Kansas counties are looking for ways to deal with visitors using digital cameras to escape copy fees in registers of deeds offices. Abstractors, and other title professionals, are experiencing a weak market right now and as they try to control costs, steep copy fees may be an easy expense to cut with a little bit of technology and creativity. Of course, the lost revenue to the county may present a new problem for the county offices.
So what is currently being done to regulate the use of cameras in the courthouses?
California Cops Convicted for Robbing Drug Houses
Law enforcement officers from the Los Angeles County Sheriff's Department the Los Angeles Police Department, the Long Beach Police Department, , and the California Department of Corrections have been convicted of federal crimes in connection with the robbery and burglary of as many as 40 alleged drug houses. . .
Suits, Charges Against Government Vendors
Whistleblowers may collect $411K in Fraud Case Involving Government Vendor
Two men who blew the whistle on a government vendor may soon receive nearly half a million dollars for the role they played in reporting fraud involving government contracts...
May-21-08
WASHINGTON — The Department of Justice announced today the filing of a lawsuit in the U.S. District Court for the District of New Mexico against Doña Ana County New Mexico, alleging the county discriminated against five female employees by subjecting them to sexual harassment . .
America's Foreclosure Epidemic
Your Credit, Your Money, Your Life.
Special Report About Credit And How It Effects You!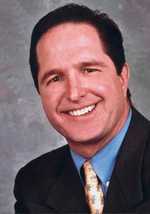 Allegations of Official Misconduct
County Recorder Resigns, Takes Federal Plea Deal
Cuyahoga County Recorder Patrick O'Malley has a problem with women. He says they ruined his life and destroyed his career. He also had a problem with Web sites - those he visited and the one he created. O'Malley's guilty plea last Thursday is shedding light on the arrogant official's 20-year career and how problems with women, web sites and patronage brought it all to an abrupt end.. . . .
America's Foreclosure Epidemic
$5 Million in Mortgages On $49,000 A Year
Poor Ms. Webster owns three homes worth over $5 million and she only makes $49,000 annually. She never lived in any of the homes and she can't afford to pay the mortgages . . .
Area sees increase of over 240 percent from same time last year. . .This is the highest number of Notice of Trustee Sales Default Research has ever recorded in one month in the Phoenix area . . .
America's Foreclosure Epidemic
Mysterious Website Granting Wishes to Homeowners Facing Foreclosure
PHOENIX, May 9 /PRNewswire/ -- Nationwide help -- Ask thousands of American homeowners to name their single greatest wish this year and many would tell you they would like to save their homes from the grips of foreclosure. According to this press release, some fortunate homeowners may have their wishes granted.
Is this the work of a Web saint or just a creative scam?. . . You decide
Report Examines Why Texas Ranks High for Identity Theft
Identity Theft 911 ,an industry leader in identity management, released a new report today that finds this problem is reaching epidemic levels in many areas of Texas . . .
Political Campaigns, Advocacy and the Law in the Internet Age
Online political advocacy campaign has transformed electoral politics. By lowering the financial barriers setting aside traditional grassroots tactics and community strategies to enter into the national and local political election debates . . .
Allegations of Official Misconduct
District Clerk Resigns after Arrest for Child Support Funds Theft
A district clerk in Texas resigned her elected post after she was arrested on charges she stole more than $15,000 from the child support account she oversees . . .
Choosing the right local Political, Personal or Business Coach

Coaching has become a very popular way for people to get the ongoing support they need to accomplish their goals. However, choosing a coach can be tricky . . .
Online Reputation Management Service Protects and Defends Politicians
For those engaging in political races, the open structure of the Internet poses a particularly precarious challenge as blogs and other web-based postings are frequently used to smear reputations . . . Now politicians can fight back with a network of bloggers.
Tax Revolt! City May

Secede From County
A suburban community is considering a radical protest of the sales tax increase in Cook County Illinois. Palatine is looking into the possibility of breaking away from Cook County entirely and forming its own county or joining another county . . . Watch Two CBS Video reports
$50,000 Reward for "Peppy" the Minnesota Sea Monster
A Minnesota businessman is offering a $50,000 reward for anyone who provides photographic or scientific evidence of a monster creature that legend says has prowled the depths of Lake Peppin since the 1800's . . . Video Reports
Columbian Drug Cartels Using Fiberglass Subs
Manufactured in the jungles of Columbia, the 100 foot long submarines are made out of fiberglass and designed to carry approximately $300 million worth of cocaine and a crew of five to the US coast. . .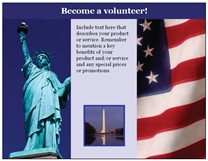 10 Mistakes to avoid when campaign marketing with postcards
Whether you are running for president or the local school board, postcard marketing is a cost effective way to create positive name recognition and generate votes for your election campaign IF you avoid these ten common mistakes made by campaign managers and small business.
America's Amazing Border Sheriffs
by U.S. Congressman Ted Poe
The United States is intending to send $1.4 billion in taxpayer money to Mexico to fight the cartel drug criminals on the border. The money would be better spent on this side of the border by giving our amazing border lawmen the tools they need to protect America.
Allegations of Official Misconduct
Bogus-Degreed County Clerk Clashes with Judge over Web Site

A Texas County Clerk who has exposed tens of thousands of local citizens to possible identity theft via her Web site while obscuring her own identity behind a bogus degree faces a challenge to the legality of her authority to expose citizens to possible harm . . .
The Dark side of the Sunshine Law
We become mere road kill on the information superhighway.
BY JOHN M. CARBONE
BERGEN COUNTY, NEW JERSEY County Clerk Kathleen Donovan initially thought it was an innocuous Open Public Records Act request: "Provide copies of all institutional liens for the last 22 years." . . .