Martin Ruby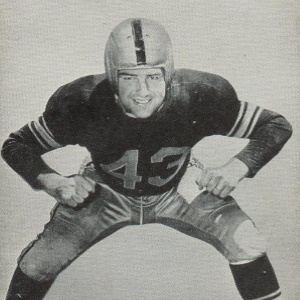 Martin Ruby was born in Lubbock, Texas June 9, 1922. The 6' 4" 255 lb Ruby was an offensive and defensive tackle for the New York Yanks and the Brooklyn Dodgers in the All-America Football Conference and the Saskatchewan Roughriders of the Western Interprovincial Football Union. He resided in Waco, Texas, while he was a professional player.
In July 1951 Yanks' owner, Ted Collins, initiated legal action against Ruby and guard George Brown. Both had signed contracts to play in Canada.

One of Ruby's opponents, Edmonton Eskimos quarterback Jackie Parker, was a rookie out of the University of Tennessee. He reflected about his fear of Ruby in a 1972 Winnipeg Free Press article. Parker's coach, Pop Ivy, instructed his staff to study film in hopes of finding a weakness in Ruby's game. The coaches found a tendency in the way Ruby positioned his left foot when he lined up in a three point stance. When he intended to come straight ahead the tackle placed his left foot forward. When he wanted to cut left he positioned his left foot back. One of Parker's teammates, Johnny Bright, did not think the advance scouting of Ruby helped the Eskimos very much. After getting smashed for a loss by Ruby, Bright grumbled in the huddle, "I guess we gotta learn to live with him".

Ruby was ejected from a September 1951 game with the Winnipeg Blue Bombers for slugging Dick Pinkston near the end of the first half.

He was selected as one of six Roughriders named to the 1956 Canadian Press Western Interprovincial Football Union All-StarTeam. Players were chosen by football writers and coaches in the league cities. Ruby and a teammate, defensive back Larry Isbell, barely missed taking an ill-fated Vancouver to Montreal Trans-Canada Airlines plane which experienced engine failure above Hope, British Columbia, on December 10, 1956. They had tickets on the following flight to Montreal after passing on the earlier flight.

He was inducted into the Canadian Football Hall of Fame in 1974.
In January 1965 Ruby was named head line coach by the University of Tulsa. He had coached earlier at Baylor University and Texas A&M University.
Ruby died January 3, 2002 in Salmon Arm, British Columbia in a tragic plane accident. The missing plane's pilot turned back at Princeton, British Columbia, while facing snow and ice. The Trans Canada airliner, carrying 62 people, went down in the Chilliwack Mountain region of British Columbia.