Lucy Dean Record, "Queen of Western Swing Pianists"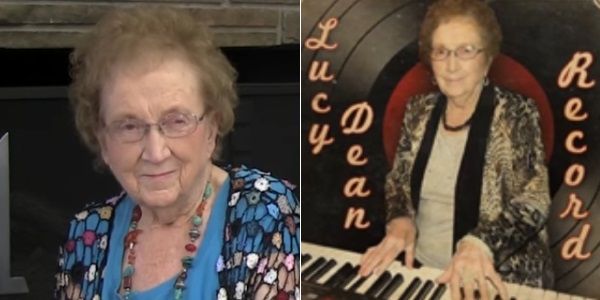 Lucy Dean Record acclaimed as the "Queen of Western Swing pianists" and has been inducted into multiple music Hall of Fame lists including the Western Swing Society of the Southwest Hall of Fame and Instrumentalist of the Year at the Will Rodgers Awards, by the Academy of Western Artists.
Born June 1, 1924, in Lockney Texas, Record began playing piano by ear at age 4 and started taking lessons at age 5. By age 7, she was the organist for First United Methodist Church in Lockney. She has been teaching piano lessons in Lockney since 1946 and has probably taught more people how to play than the entire population of the small West Texas, town.
Record started giving piano lessons while she was still in high school. She attended Texas Tech and Draughon's Business College. Later she received her piano teaching certification from the St. Louis Institute of Music.
In 1942 she married Charles L. Record and put her secretarial skills to use at the Army Air Corps in Garden City, Kan.; Monroe, La.; and the Aviation Cadet Center in San Antonio as she followed her husband during World War II.
After the war, Lucy Dean came back to Lockney with her husband, who wasn't well. Bills had to be paid, so she used her talents to support her family and began teaching piano for $1 per lesson. Seventy one years later and Mrs. Record still has her passion for teaching. "My aim is to give them something to do to fill lonely moments; hopefully some will become concert material and play for the love of themselves," she told KCBD in a 2011 interview.
"It Had To Be You" is Record's theme song, and the one she most enjoys performing. In 1992, she started playing keyboard with Texas In the Swing band along with Jimmy Burson. They played with Shirley Goodness and Mercy in Vienna, Austria. Texas in the Swing played for the Western Swing Barn Dance in Silver Dollar City, Mo., for 13 years.
Record is active and recently performed at the Palace Theater in Spur Texas on May 14, 2022. The event was presented by the Dickens County Historical Commission and is supported by a grant from Humanities Texas.




Books about Floyd County People and Places
What's your Favorite Book about a Texas County, Town, Person or Place? Here's our best reads list County by County