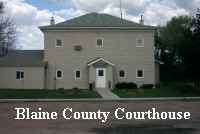 Blaine County, Nebraska
Population: 482
Seat: Brewster (Pop. 22)
As of 2013 the U.S. Census Bureau estimated the population of Blaine County at 492 making it the 6th least populated county in the country.
The county lost 15.1 percent of its population in the period between April 1, 2000 to July 1, 2006.
According to the Bureau there are 482 people, 238 households, and 168 families residing in the county. Of the 238 households, 20.5% had children under the age of 18 living with them. The average household size was 2.45.

The median income for a household in the county was $32,259 compared to $42,166 for the state as a whole in 2004.