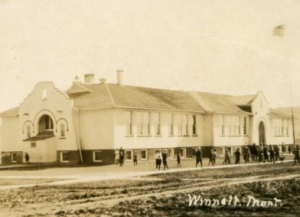 Petroleum County, Montana
Population: 506
Seat: Winnett
Petroleum County's population fell from 493 in 2000 to an estimated 474 in 2006. By 2013 population had risen to 506, according to Census Bureau estimates. The median household income for the county in 2004 was $23,951.
In April 2007, for only the third time in a decade the sixth least populated county in America convened a jury.
Least Populated Rural Counties in Montana
About 20 spectators crowded into the courtroom at the end of a one and a half day trial to learn the fate of former Petroleum County Sheriff John W. Taylor.
Jurors deliberated for an hour and 20 minutes before finding the 30-year veteran lawman guilty.
In the summer and fall of 2006 Taylor was the only full-time law enforcement officer in the county's 1,654 square miles when he took an 18-foot custom trailer from Dennis Carmony's backyard, hid it at an abandoned homestead and then pretended to investigate its disappearance.
Judge E. Wayne Phillips allowed the former sheriff to remain free on $25,000 bond pending sentencing. Taylor faces up to $50,000 in fines and 10 years in prison for the crimes.