More Square Miles Than People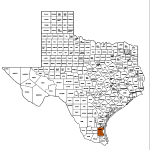 Kenedy County, Texas
Population: 412
Seat: Sarita
Kenedy County has the distinction of being the fourth smallest county (by population) in the United States, following Kalawao County, Hawaii, Loving County, Texas and King County, Texas . It is also the easternmost county in the United States to have more square miles than people.
In 1875, vigilantes and outlaws from Corpus Christi raided the area, killing virtually all of the adult males on four ranches-La Atravesada, El Peņascal, Corral de Piedra, and El Mesquite-and burning the stores and buildings; many of the remaining Mexican rancheros were forced out. One vaquero who witnessed the raids later recalled that "there were many small ranches belonging to Mexicans, but the Americans came in and drove them out....after that they fenced the ranches...[including] some land that wasn't theirs."
Today, 77% of the residents are of Hispanic or Latino descent according to United States Census Bureau estimates.
Although Kenedy County was a ranching area from the advent of the Spanish to the early 1990s, there have never been more than twenty-five ranches in the county, and most of the land still remains in the hands of just four ranches; Armstrong, King, Kenedy, and Yturria.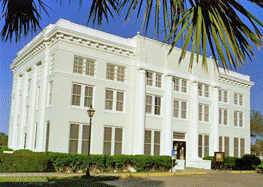 Today, Sarita, the county seat, is home to a Catholic church, a school, several homes, and a post office, but no businesses are active other than the Kenedy ranch. The 1921 Kenedy County Courthouse is a two-story white Beaux-Arts structure on a large green and the most prominent building in town (many county employees actually live in Kleberg County, just to the north). Across the street sits the whitewashed, two-story headquarters of the Kenedy Pasture Company, which owns most of the land in the county and employs many of county's citizens.