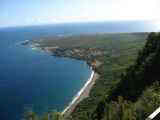 It can be reached by sea or mule train but if you intend to visit Kalawao County, leave your children behind. State law prohibits anyone under the age of sixteen from living in or visiting the least populated county in America. Visitors are only permitted as part of officially-sanctioned tours.
According to the latest census bureau estimates. Kalawao County, Hawaii is now the least populated county in the US with a population count of just 90 people remaining in this island paradise where children are not allowed.
Kalawao County is Kalaupapa Peninsula, on the north coast of the island of Molokai. The small peninsula of Kalaupapa is isolated from the rest of Moloka'i by sea cliffs over a quarter-mile high — the only land access is a mule trail.
The county is coextensive with the Kalaupapa National Historical Park, and encompasses the Kalaupapa Settlement where the Kingdom of Hawaii, the territory, and the state once exiled persons suffering from leprosy (Hansen's disease) beginning in the 1860s. The quarantine policy was lifted in 1969, after the disease became treatable on an outpatient basis and could be rendered non-contagious. However, many of the resident patients chose to remain, and the state has promised they can stay there for the rest of their lives.
It is a county without local government, with the exception of a sheriff who is selected from local residents by the State Department of Health, which administers the county.
The population of Kalawao County, Hawaii remained steady in 2013 leaving the total to 90 people living in 113 homes and apartments spread across 11.99 square miles. The new estimate moves Kalawao County to number one in our list of least populated counties in the US.
People who live in Kalawao County have an annual income of $50618 which is $21391 more than the statewide average for Hawaii. The average per capita income nationwide is $28051. Kalawao County ranks number one for highest income in sparsely populated counties.
The US Census Bureau reports 22.7% of the county's residents are foreign immigrants who have settled in one of the most remote places in America.