King County is located in the Rolling Prairie region of Northwest Texas and has the distinction of being the third smallest county (by population) in the United States.
The area that is now King County was occupied by Apache Indians until the early eighteenth century, when Comanche moved into the region. Comanches of the Wanderers band controlled the area until the late nineteenth century. The material culture of the Wanderers reflected the tribe's nomadic habits.

Today, the 912 square miles that comprise King County are home to ranches that were formed in the 1880s and 1890s--the Four Sixes, the Pitchfork, the Matador, and the SMS ranches.
King County is truly a county with many more horses and cattle than people. Most residents live in housing provided by the ranches or the school district.
A majority of King County voters supported Democratic candidates in virtually every presidential election from 1892 to 1968; the single exception occurred in 1928, when county voters backed Republican Herbert Hoover. In all but one presidential election between 1972 and 1992, however, the voters of King County went Republican. In 1976 Democrat Jimmy Carter took the county over Republican Gerald Ford.
The population of King County, Texas fell by 1 in 2013 bringing the total to 285 people living in 186 housing units spread across 911 square miles.
The US Census Bureau reports 6.6% of the county's residents are foreign immigrants who have settled in one of the most remote places in America. The new estimate moves King County to number 3 in our list of least populated counties in the US.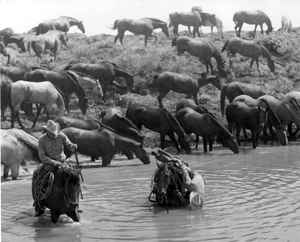 Four Sixes Ranch, King County, Texas ca 1960
People who live in King County have an annual income of $32356 which is $6547 more than the statewide average for Texas. The average per capita income nationwide is $28051. King County ranks number 15 for highest income in sparsely populated counties.
Homes are cheap here with the median value of home being $90700 compared to $181400 nationwide. 59.2% of housing units in King County are occupied by their owners.