Thomas County, Nebraska
Population: 699
Seat: Thedford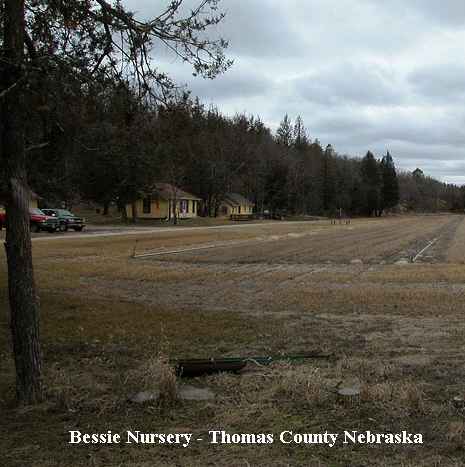 Founded in 1887, Thomas County is one of the most sparsely populated counties in America today. As of 2006, the U.S. Census Bureau estimated that there were 629 people living within the county. 2013 estimates raised the population to 699 making Thomas County the 13th least populated county in the United States.

The Nebraska National Forest, Bessie Ranger District is located in Thomas County. The area includes 90,444 acres of gently rolling Sandhills and 20,000 acres of man-planted trees. Dunes in the Sand Hills may exceed 330 ft (100 m) in height. The average elevation of the Sand Hills region gradually increases from about 1800 ft (600 m) in the east to about 3600 ft (900 m) in the west.
The area is open for recreation. Camping facilities, showers, shelter house, tennis courts, canoeing down the Dismal River and softball diamond available. Scott Lookout Tower provides a view of the Sandhills scenery. Tower open afternoons from Memorial through Labor Day. For more information: call (308) 533-2257.

The 713 square miles that make up Thomas County take in Thedford, Halsey and Seneca. In 2000 the census bureau reported the total county population as 729. By 2005 the population had dwindled to 631.
Thedford, as the county seat, houses county. state and federal offices with four churches as well as K-12 schools. Thedford is a community of nearly 400 with quite a variety of businesses and entrepreneurs for the size of the population. There are full service gas stations with convenience stores, a diesel repair shop, motels, lounges, a grocery store, lumber and hardware store, construction companies, a veterinary clinic, an art gallery, and newspaper office.
Preservation of the town and community pride are revealed through a sense of identification with a neat, respectable and conservative atmosphere. In addition, people living here have a perception of individuality and uniqueness not often seen in more metropolitan areas. This ideology has carried forward from the past as has the value of continuing to perform traditional skills and heritage crafts.
Thomas County is a place where the people, geography, beauty, diversity, and heritage have resulted in an often overlooked place that is comfortable to live in and enjoyable to visit.

Researchers, genealogists and journalists can reach Thomas County officials at (308) 645-2261.