A Line in the Sand: Confronting the Threat at the Southwest Border
HOUSE COMMITTEE ON HOMELAND SECURITY - Interim Report
Texas Border Security Initiatives
In response to the increasing criminal activity and violence along the Southwest border, on February 9, 2006, the State of Texas, in partnership with the Federal government, launched Operation Rio Grande. The strategy focuses on four key areas: 1) increased patrols and law enforcement presence; 2) centralized of command, control, and intelligence operations; 3) increased State funding and deployment of State resources for border security; and 4) enhanced utilization of technology to fight border crime.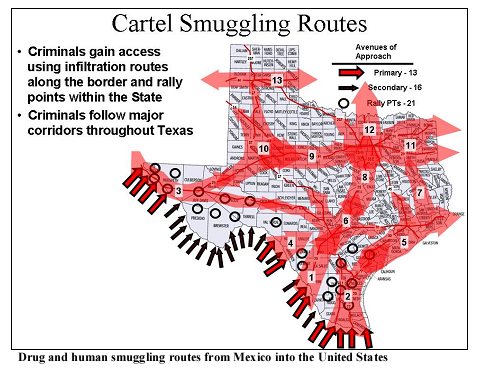 By concentrating on these areas, Texas has mounted an aggressive defense to significantly reduce crime in areas of operations. When executed, these operations have significantly impeded transnational drug and human smuggling enterprise activities between the Ports of Entry.
As part of Operation Rio Grande, a series of targeted, short duration, high intensity operations were conducted in a fully integrated local, State, and Federal construct. These operations were designed to target international criminal enterprises and reduce crime and violence along the entire south Texas border region. The operations were named for the principal county and surrounding counties in which they were conducted. These operations included:
Operation Del Rio – 2-27 June
Operation Laredo – 8-20 July
Operation El Paso – 3-17 August
Operation Big Bend – 18-31 August
Operation Valley Star – 8-21 September
Each operation utilized a number of new tactics and strategies to achieve a reduction in crime on the border. A cornerstone of this new strategy has been the use of Joint Operations Intelligence Centers (JOIC) and a Border Security Operations Center (BSOC). Six JOICs were dispersed throughout the state to assist in Operation Rio Grande. Located in Amarillo, Corpus Christi, El Paso, McAllen, San Antonio, Tyler and Waco, the JOICs receive operational reports from law enforcement agents in the field, as well as intelligence reports from all source intelligence centers and the BSOC. The JOICs then analyze and plan deployment of law enforcement assets in response to real time threats.
One of the key cornerstones of Operation Rio Grande is the increased cooperation among Federal, State, and local law enforcement. During the duration of each regional operation, U.S. Border Patrol and border sheriffs received the support of various and key State resources. For example, the Department of Public Safety (DPS) reinforced law enforcement patrols with fixed-wing and rotary aviation assets, the Department of Transportation assisted operations with specialized equipment such as road barriers, the National Guard dedicated resources for training, and DPS Trooper Strike Teams dispatched covert surveillance units to the border.
In Val Verde County, which was the focus of the Operation Del Rio law enforcement effort, experienced a 76% reduction in major crime when compared to the same 30-day period last year. The operation brought together the sheriffs from Kinney, Maverick, Val Verde, Zavala, and Dimmit counties, the police departments of Del Rio and Eagle Pass, U.S. Customs and Border Protection, the Department of Public Safety, the Texas National Guard, the Texas Parks and Wildlife Department, the Civil Air Patrol, and the Governor's Division of Emergency Management.
As a result of Operation Del Rio, drug smugglers temporarily closed down their operations in the affected areas as the risk of being caught became too great. Indeed, major felonies—homicides, burglaries, and thefts—were down in Val Verde County by three-quarters during Operation Del Rio. Neighboring Maverick County reported a one-quarter drop in crime. The other three counties—Dimmit, Zavala, and Kinney—also experienced significant reductions. According to law enforcement officials, Operation Laredo resulted in a 65% to 75% reduction in all crimes across five counties.
Generally, for all the regional operations, officials reported crime in the border regions decreased anywhere from 30% to 75% in the targeted areas. This reduction was sustained even after the operation ended. Indeed, joint Federal, State and local agencies continue to share information and coordinate operations, and the procedures that were put into place during operations are continuing. Each operation built upon the best practices from previous operations.
The net effect of these operations is that Texas is developing the capability to address illegal activity at the border and the related criminal enterprises. The Texas example clearly illustrates that increased law enforcement presence and resources can be highly effective in eliminating, or at least diminishing criminal activity along the border.