Davick Services on Facebook
True Stories of Amazing People and Places in Texas
Life in Texas from the 1800's to 1950
Life in Tom Green County Texas from 1900 to 1950
Tom Green County, Texas from 1900 to 1950 as pictured in archived government photographs, vintage postcards, old school yearbooks and newspapers.
Click on the photos below to view full size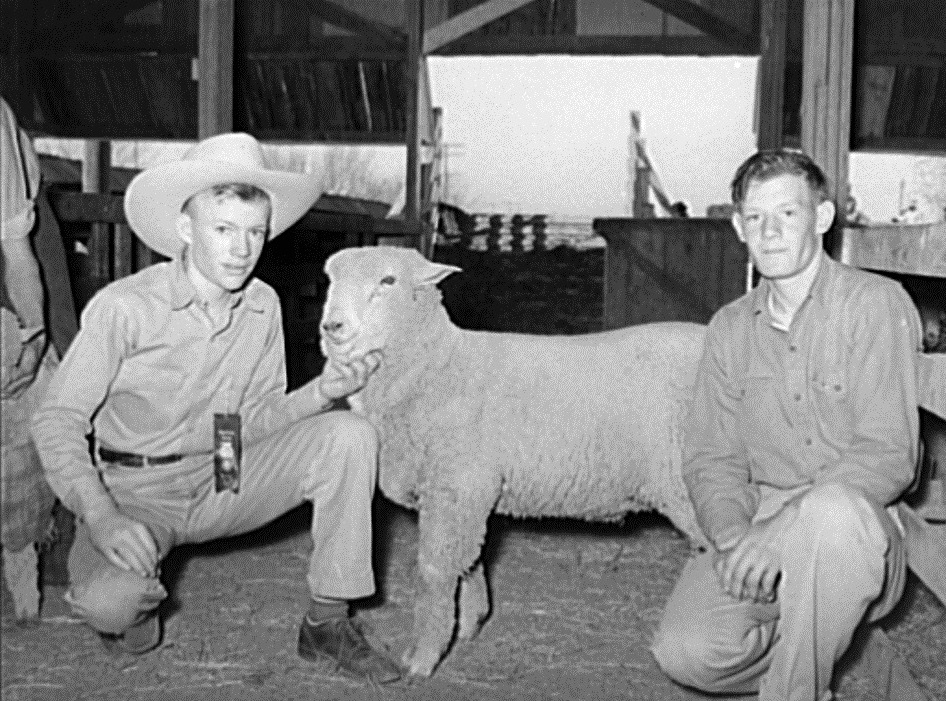 4H boys with sheep in San Angelo Tx 1940
Two teen-aged boys proudly show off their prize lamb in 1940. . . . Zoom in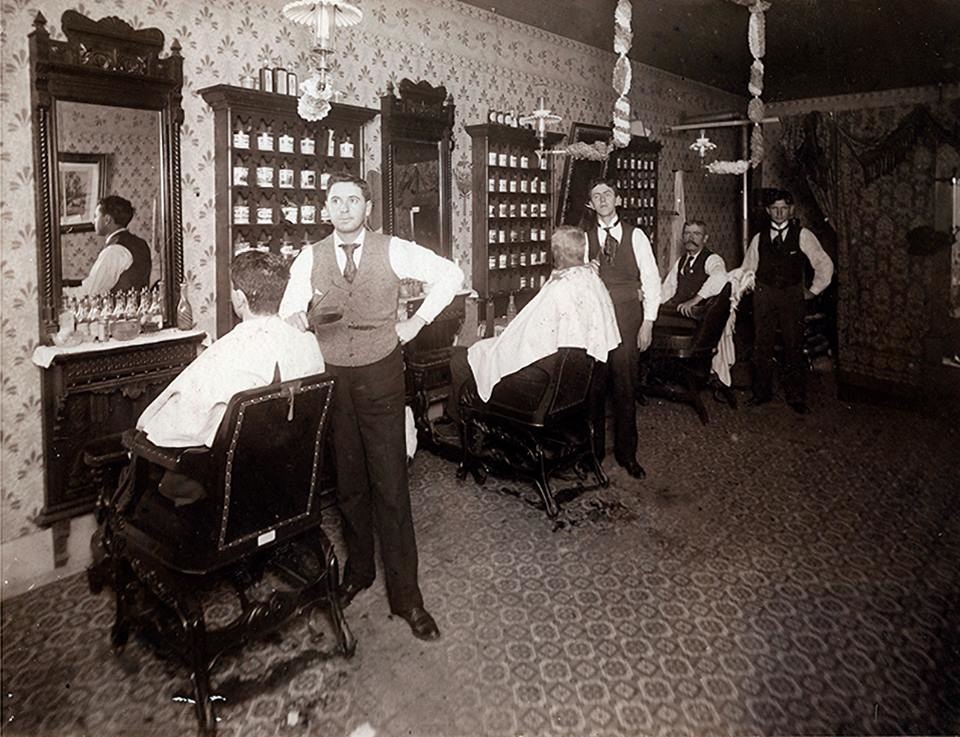 Barber Shop in San Angelo, 1908
Barbers in vests and ties stand ready to cut patrons' hair with various tonics lining the shelves in background in this photo from 1908. see full size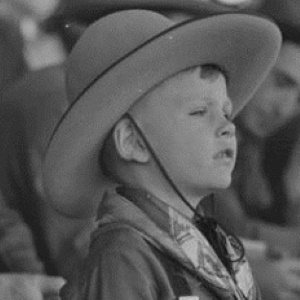 Boy Watches San Angelo Rodeo in 1940
All dressed up in cowboy hat and bandana this young boy looks forward to the day when he can join the rest of the cowboys in the rodeo arena. He would be about 84 today. Do you recognize him? Take a closer look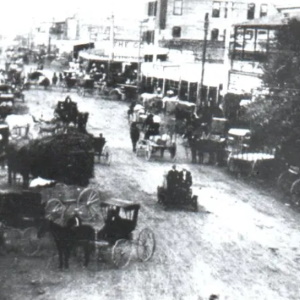 Chadbourne Street in San Angelo in 1900

Busy day on Chadbourne Street in San Angelo as buggies, wagons and a few very early cars fill the dirt street in the early 1900's. View full size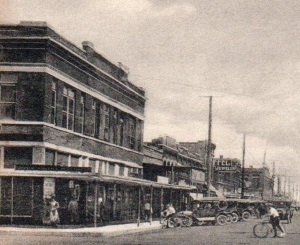 Chadbourne Street Scene San Angelo in 1919

By 1919 horse drawn buggies have been replaced by early cars on the now paved Chadbourne Street and a big welcome sign has been stretched across the street. View Full Size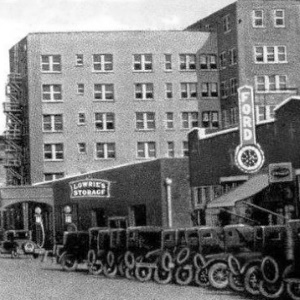 Chadbourne Street San Angelo 1930's

The 1930's saw Chadbourne street transformed into an auto center with businesses on both sides offering cars and service to the model A's and T's that lined the street. The Auto Company, Highway Garage and Ford Tire Store can be seen. See the full image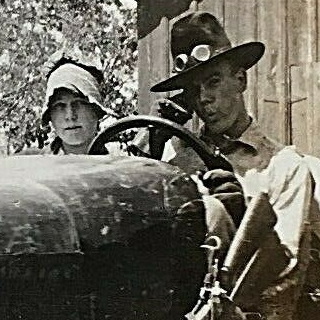 Old Car Converted into Truck near San Angelo Texas in 1920
In 1920 a farmer and his wife posed for a picture in their old car they converted into a truck complete with rifle mounted on side. look closer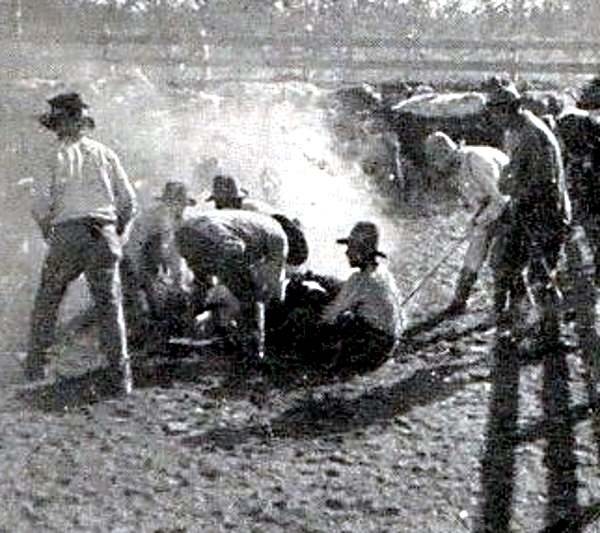 Branding Cattle in Tom Green County in 1907
The Iron is hot for these cowboys near San Angelo in 1907. Branding was necessary to help ranchers identify new calves and to protect against rustlers.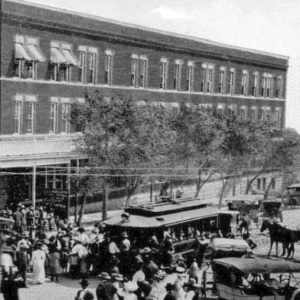 Landon Hotel San Angelo, Texas in 1909
The Landon Hotel was a busy place in 1909 San Angelo. Pedestrians and buggies cause traffic jam as trolley unloads passengers . . . see full size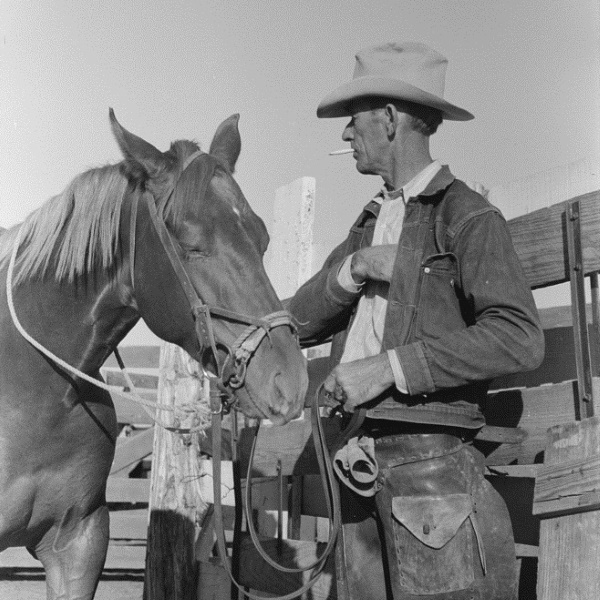 Cattleman with His Horse at 1939 San Angelo Auction

Cowboy stands with his horse at the coral of the San Angelo cattle auction in 1939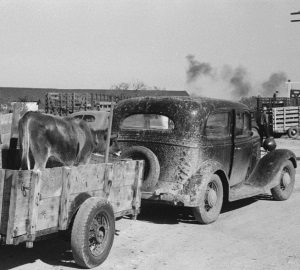 Cow in Trailer Towed by Car in San Angelo 1939
Man takes family milk cow to market in low sided trailer. Many families kept kept milk cows in their back yards in 1939 often staking them them out to graze in vacant lots.
Resources: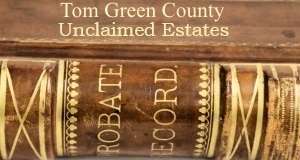 Tom Green County Unclaimed Estates
These Deceased Residents of San Angelo, Grape Creek, Knickerbocker and Christoval Texas Left a total $300,957 in Unclaimed Money for their heirs.
Know the Heirs? Let them know . . . See the list
Famous People from Tom Green County


Books about Tom Green County People and Places


What's your Favorite Book about a Texas County, Town, Person or Place? Here's our best reads list County by County