Lawsuit Alleges Deputies Needlessly Killed Pets
Jun-11-07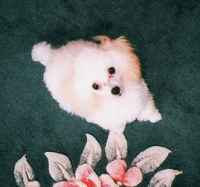 Gigi, a teacup poodle, was among the dogs allegedly killed by authorities after their owners were forcibly evacuated during Hurricane Katrina. A lawsuit says an animal rescue worker found Gigi shot in the head.
A lawsuit has been filed and is seeking class action status claiming sheriff's deputies wantonly killed pets that Hurricane Katrina evacuees were forced to leave behind. Suburban New Orleans pet owners claim their animals were needlessly slaughtered by sheriff's deputies in the days after the storm. Hundreds of people were separated from their pets as flood waters rose many would never see their beloved companions again.
In an interview with ABC News last week, Sal Gutierrez, who represents the St. Bernard Parish Sheriff's office, defended the department's handling of a clearly difficult evacuation. He denied allegations that orders to kill the dogs came from superior officers.
Gutierrez said that if the investigation turned up any wrongdoing by deputies, the St. Bernard sheriff would take appropriate disciplinary action. He said that he and the sheriff were animal lovers. He added that if something false has been alleged in the lawsuit, he would consider filing countercharges for defamation of character.
Two deputies have already been indicted by a grand jury in New Orleans on charges of felony, aggravated cruelty to animals. The Louisiana attorney general's office is investigating and this morning lawyers for a group of owners will file a comprehensive complaint in federal court in Louisiana seeking class action status for their clients.
Mike Minton, one of the two deputies indicted in December on animal cruelty charges acknowledges shooting dogs but says it was done for humane reasons. Gutierrez told reporters that Minton was "let go" from the department and was "no longer an employee."
"It was a massacre. It was a shooting gallery," said Mark Steinway, co-founder of the animal rescue group Posada Safe Haven. Steinway was among those who discovered the animals' bodies at three school evacuation centers, gathered evidence and urged the Louisiana State Attorney General's Office to launch an investigation.
John Bozes, a plaintiff in the lawsuit said, "It was a mandatory evacuation -- we either go to jail or get shot, or we leave our pets behind."
He added that as officers forced them to leave, he and other pet owners heard a deputy say, 'Man, once everybody's gone, we're going to have target practice tonight.'
Source: ABC News