Famous People from Midland County Texas
Laura Bush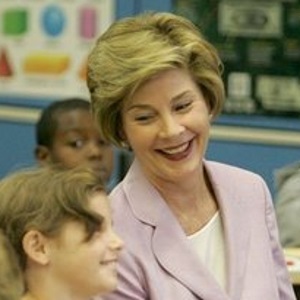 Laura Lane Welch was born on November 4, 1946 in Midland, Texas, the only child of Harold Welch and Jenna Louise Hawkins Welch. Her father was a house builder and later successful real estate developer, while her mother worked as the bookkeeper for her father's business.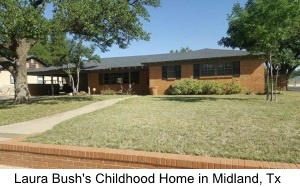 Laura attended James Bowie Elementary School, San Jacinto Junior High School, and Robert E. Lee High School in Midland and graduated from Lee HS in 1964. She graduated from Southern Methodist University in 1968 with a bachelor's degree and achieved her master's degree in library science at the University of Texas at Austin.
After graduating from SMU, she began her career as a school teacher at Longfellow Elementary School in the Dallas Independent School District. She then taught for three years at John F. Kennedy Elementary School, a Houston Independent School District school in Houston, until 1972.
She met George W. Bush in July 1977 when mutual friends Joe and Jan O'Neill invited her and Bush to a backyard barbecue at their home. He proposed to her at the end of September and they were married on November 5 of that year at the First United Methodist Church in Midland, the same church in which she had been baptized. The couple settled in Midland.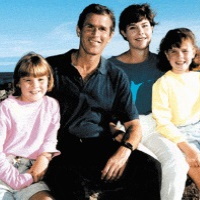 The year after their marriage, the couple began campaigning for George W. Bush's 1978 Congressional candidacy. According to George Bush, when he asked her to marry him, she had said, "Yes. But only if you promise me that I'll never have to make a campaign speech. "She soon relented, and gave her first stump speech for him in 1978 on the courthouse steps in Muleshoe, Texas.
George W. Bush credited his wife with his decision to stop drinking in 1986. She reflected that she thought her husband "was drinking too much" amid her knowing it was not his desired way of living. Approaching him, she related that her father had been alcoholic and it was not a pattern she wished to repeat in their family.[33] She is also credited with having a stabilizing effect on his private life. According to People magazine reporter Jane Simms Podesta, "She is the steel in his back. She is a civilizing influence on him. I think she built him, in many ways, into the person he is today."