Kozy Kottage Kamp in Adrian Texas in 1940s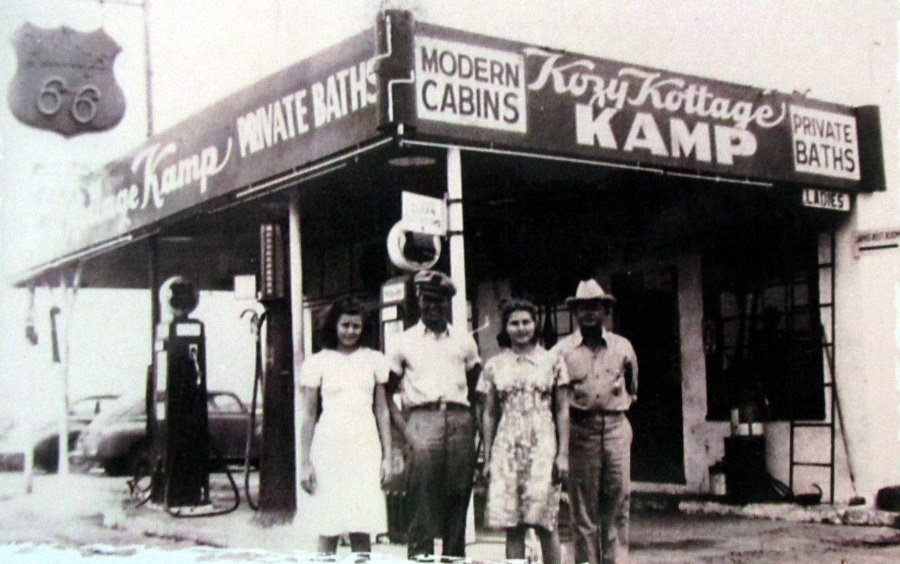 In the 1940s Manuel Loveless, owner of the Kozy Kottage, posed with his employees in Adrian Texas on Route 66. One of the two women pictured is his cousin, Stella Mosteller Horton. This building burned down December 1947. Mr. Loveless rebuilt it and the family stayed in business in Adrian from from 1935 to 2011. In addition to the Kozy Kottage, the Loveless family owned and operated Loveless Oil And Butane Company, Bent Door Cafe, Adrian Courts, Adrian Garage, Tommy's Cafe, later after purchasing I-40 property they opened Tommy's Restaurant and Larry's Service Center. Larry Loveless served as Director of Civil Defense in Adrian, Oldham County and Mayor of Adrian when the Water Tower was erected claiming Adrian as Midpoint 66.
Many thanks to Tommy Loveless for providing information on this photo and his family.