Kevin Alejandro was born April 7, 1976 in San Antonio. From age eight he was raised in Snyder Texas. He is an actor best known for his roles as Nate Moretta in the crime drama Southland, Jesús Velásquez in the supernatural thriller True Blood, Sebastian Blood / Brother Blood in the superhero series Arrow, and as Daniel Espinoza in the comedy-crime drama Lucifer. Alejandro was voted #7 in Entertainment Weekly's "15 Smartest, Sexiest Crime-fighters of '09.

In 2006, he appeared in the NCIS episode "Driven" as character Jamie Jones. He made an appearance, along with fellow Ugly Betty actor Eric Mabius, in the CSI: Miami episode "One of Our Own", and another as a gay hustler in HBO's Big Love. He appeared on an episode of Charmed season 7 as Malvock, a cunning demon. He also appeared in the first few episodes of 24's fourth season, as a terrorist henchman, in which he also stars with Tony Plana, fellow Ugly Betty actor. Alejandro was a regular on the now defunct drama Shark as Deputy District Attorney Danny Reyes and had a small role on The Cleaner, an A&E television series.

In 2011, he appeared in the movie Red State, opposite John Goodman, as well a horror film Cassadaga. He also played Tony Arroyo, a homicide detective in the 2013 television show Golden Boy. Alejandro portrayed Sheriff Tommy Solano in the ABC / A&E series The Returned

Together with his best friend, Stephen Monroe Taylor, Alejandro started the Jerry P. Worsham scholarship fund, which is meant to cover the costs of college for theatre students from an underprivileged background. Jerry P. Worsham refers to a much-respected educator at Snyder High School, whose influence spread far beyond a single school through his role in the UT Summer Theater Workshop for high school students.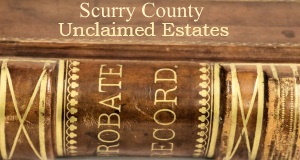 Scurry County Unclaimed Estates
These Deceased Residents of Snyder, Hermleigh and Fluvana Texas Left a total $85,126 in Unclaimed Money for their heirs. Know the Heirs? Please share this with your friends and family.There is a link in the article to the Texas comptroller's page where you can make a claim . . . see the list