FEATURED TEXAS PROPERTY AUCTION
Important: Tap or click the title (not the photo) for details on the items listed below.
Kerr County Experts
Kerrville, Texas
No one knows Kerr County real estate, title search and court records better than the people who are in the courthouse everyday working directly with local officials to bring you the kind of professional service only a local expert can.. Connect with Kerr County Abstractors, Public Record Retrievers, Historians, Genealogists and Legal Service Professionals. You'll find Kerr County Clerk, Kerr County Appraisal District, abstractors, county record retrievers, and real estate in Ingram and Kerrville.

| | | |
| --- | --- | --- |
| Kerr County Clerk | 830-895-5223 | Kerrville, Tx |
| | 830-895-5223 | Kerrville, Tx |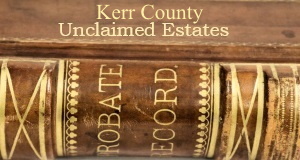 These Deceased Residents of Kerrville, Center Point, Hunt, Ingram and Mountain Home left a total $319,786 in Unclaimed Money for their heirs. Know the Heirs? Please Tag or Share this with your Family and Friends to Let them know they can collect it from the Texas Comptroller's Office . . . see the list
Books about Kerr County People and Places


Kerr County Abstractors and Courthouse Researchers
When law firms, lenders, energy production companies and national title companies need public record information that is accurate and official they rely on local abstractors, document retrievers and landman who physically inspect the Kerr County records at the courthouse. Get Email Updates
Cornerstone Title Research
For accurate title research and document retrieval all work is completed at the courthouse.
Phone 210-354-7102 | Send Message
Compare Kerr County Texas with Other Counties
Read these popular articles and find out how Kerr ranks for seclusion, growth, foreclosures, investment and other issues.
Kerr County Specials - Kerrville Tx
Historical Treasures from Kerr County Texas

Find unique artifacts, memorabilia, historical and ancestry records in these treasures from Center Point, Hunt, Ingram, Kerrville and Mountain Home Texas.