John Kimbrough
John Alec Kimbrough "The Haskell Hurricane"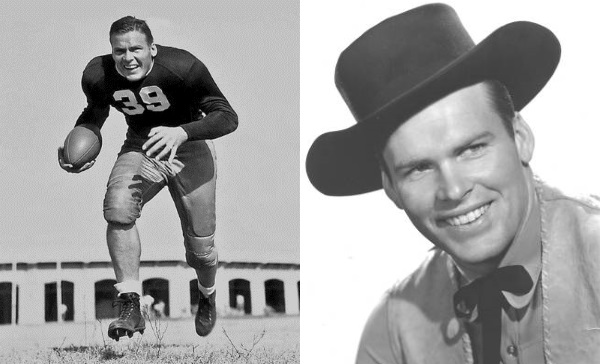 Born in Haskell Texas June 14, 1918, Kimbrough was a Texas A&M fullback, Member of Texas Legislature, and star of two western movies.
He was known as the "Haskell Hurricane" when he played Texas A&M Aggies football team. The Aggies were an undefeated 1939 national championship team when he played fullback. In 1940 he finished second to the University of Michigan's Tom Harmon in Heisman Trophy balloting. According to his College Football Hall of Fame biography, Jarrin' John was a punishing 6 ft 2 in tall 210 lb running back known for breaking tackles with his high knee action who was honored with induction into that organization in 1954.

In 1941, he started along Tom Harmon in the New York Americans backfield in the third American Football League and became the team's primary running threat after Harmon left the team for military service.
After the AFL folded in response to the Japanese attack on Pearl Harbor, Kimbrough parlayed his gridiron fame and athletic good looks into a Hollywood contract, though he only appeared in two western motion pictures, Sundown Jim and The Lone Star Ranger, both released in 1942.
Kimbrough played for the Los Angeles Dons of the All-America Football Conference. As a rookie, he led the league in rushing touchdowns with six. Unfortunately, his second run at a professional football career was cut short by a series of heart attacks that started when he was only 30 years old. He was forced to leave the game in 1948 after three seasons with the Dons.
He served one term in the state legislature (1953-55) before becoming a rancher in Haskell.
John Kimbrough died May 8, 2006 in Haskell Texas Haskell County Texas