Famous People from Motley County, Texas.
Gunfight at Cotton Mott Line Camp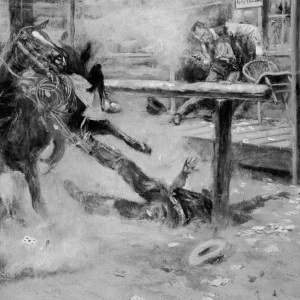 Photo: from 1908 Charles Russell painting "Smoke of a .45"
by David Bloys
The names Jim Barbey and Jim Harkey might have faded into obscurity if not for an altercation over Harkey singing "Yankee Doodle" at the Cottonwood Mott Line Camp in February 1878. Line camps are used as sites where cowboys could resupply before riding the line between ranges and driving herds towards ranch headquarters. Cottonwood Mott was an isolated camp in Motley, County, Texas with a log cabin shared by cowboys from the Jinglebob and Hall Ranch.
At the camp, Barbee took exception to Harkey singing "Yankee Doodle". No one seems to know why but this so enraged Barbee that he drew his gun and shot the singing cowboy. Although mortally wounded, Harkey returned fire and killed Barbee before succumbing to his own wounds. The gunfight was witnessed by two men hauling supplies to the camp. The freighters notified authorities and used an ax to bury Harkey and Barbee side by side in a common grave only 16 inches deep in the hard rocky soil.
Eight years later a second Harkey was killed in a shootout at Cottonwood Mott when Postmaster Frank M. Drace became enraged at Mose Harkey and drew on him. The two men exchanged fire and Harkey died the next day.
Author's Note: I first wrote about Jim Barbee and Jim Harkey and their famous gunfight at Cotton Mott over a decade ago. Last night I learned the rest of the story in a book written by Harkey's brother, Dee Harkey. MEAN AS HELL gives a complete, detailed account of events leading up to the gunfight; a shot-by-shot account of the fight, and how he (Dee) traveled 350 miles to recover his brother's body when he was 12-years-old. I've added to Books about Motley County People and Places.
Resources:
Motley County, TX History and Genealogy Facebook
Mean As Hell: The Life of a New Mexico Lawman
by Dee (Daniel R.) Harkey
Dee gives a detailed account of his brother, Jim Harkey, and the gunfight at Cotton Mott.
"In February, 1878, Jim was killed up there by Jim Barbee. They were living together in a log cabin with a stick and dirt chimney ...These boys were cowhands, and they rode drift line and ate together, though they were working for different companies. The day of the killing, they both got back to camp early and lay around the camp. Barbee told Jim that day the reason he was out there was because he had had a difficulty with his father and had tried to stab him with a butcher knife. Jim had been chiding Barbee about attempting to stab his father, and . . . . . . Read more Look inside
. . . for more like this please see Texas Cowboy History
Books about Motley County People and Places




Texas Cowboy History stories, photos, books, legends
Motley County Treasure on eBay

Rare Artifacts, Books, Memorabilia and Historical Documents from Matador, Roaring Springs, Tee Pee City and Whiteflat Texas
What's your Favorite Book about a Texas County, Town, Person or Place? Here's our best reads list County by County