James Gill from Tahoka and San Angelo Texas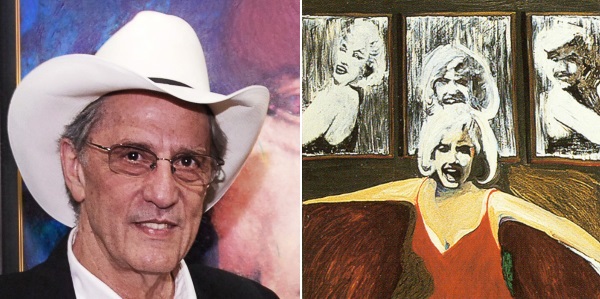 Pop Art icon James Gill was born in Tahoka Texas December 10, 1934 as James Francis Gill. He grew up in San Angelo where he attended San Angelo High School. In high school, Gill and some friends started a rodeo club to pursue their first dream of being cowboys. His mother, an interior decorator and entrepreneur, encouraged him to have an artistic interest.
During his military service, Gill worked as a draftsman and designed posters. Back in Texas, he continued his education at the San Angelo College and continued working for an architectural firm. From 1956-1960 Gill studied architecture and worked as an architectural designer in Midland, and Odessa Texas. From 1960-1961 he studied at the University of Texas, Austin, TX on a painting scholarship. He left Texas in 1962 and moved to Los Angeles, California.
In 1967, the 'Sao Paulo 9 Biennale' in Brazil showed Gills works with artists such as Andy Warhol, Robert Indiana, Jasper Johns, Roy Lichtenstein, Robert Rauschenberg, Claes Oldenburg and Edward Hopper. This exhibition led to Gills breakthrough in the international art world.
Gill's honors for his artwork include, an Art fellowship at the University of Texas in 1959 an Awarded Purchase Prize, Sixty-seventh Annual American Exhibition, The Art Institute of Chicago in 1964. He has pieces in the permanent collections of the Museum of Modern Art, New York, The Whitney, The Smithsonian Institute, Art Institute of Chicago and the National Portrait Gallery.