Hale County Rancher and Farmer who at age 55 became a famous international manhunter and captured a gang of conmen who had swindled him out of $45,000 in 1919.

J. Frank Norfleet, rancher and self-appointed detective was born on February 23, 1865, in Lampasas County Texas, the son of a rancher and Texas Ranger. Growing up, Frank spent part of his youth on his father's free range ranch north of San Angelo. In 1879, when he was 14, he joined a buffalo hunt to the Llano Estacado. For a while after that he worked as a cowboy and drover for various outfits.

In 1886 Dudley H. and John W. Snyder hired him to help drive 5,000 cattle from Central Texas to the High Plains in the vicinity of present Muleshoe. Impressed with his work, the Snyders cut out fourteen horses for him and he was left alone with the cattle on June 22, 1886. Norfleet remained under the Snyders' employ until 1889, when Isaac L. Ellwood hired him as foreman of the newly acquired Spade Ranch in Lamb and Hockley counties. During his time on the Spade he built the main headquarters and supervised the fencing.

While on a visit to Plainview in 1894, Norfleet met and fell in love with Mattie Eliza Hudgins from Hale Center. They were married on June 23, 1894 and became the first couple to live on the Spade Ranch. Norfleet remained with the Spade until 1904, when he started his own ranching operation on a 2,000-acre tract in western Hale County. He settled his family in a homestead on Catfish Draw near the site of future Cotton Center where he developed the famous "Five Dollar Strain" of race horses from a scraggly pony he had bought for that amount.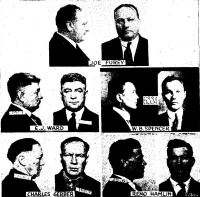 Norfleet's journey to becoming a legendary detective began when he was on a business trip to Fort Worth in 1919. He intended to sell one of his farms in order to buy ten thousand acres of ranchland from Edgar Dick Slaughter. Instead, he was swindled out of $45,000 by conmen Joe Furey, E.J. Wared, W.B. Spencer, Charles Gerber and Reno Hamlin in Dallas.
Determined not to let the crooks get away, 55 year old Norfleet began a solo manhunt which eventually took him throughout most of the United States, Canada, and Mexico, often donning a disguise to make contacts. After several weeks of pursuit he apprehended three members of the swindling ring in Los Angeles, one in Salt Lake City, and two in Georgia. Frank Norfleet, the rancher had become Norfleet the Manhunter.
Norfleet then trailed Joe Furey (alias J. B. Stetson) from California to Florida. After a bloody brawl in a cafe, Norfleet captured Furey and brought him back to Fort Worth, where it had all begun two years earlier. Furey was the ringleader, the one who mattered most to Norfleet. Now only W. B. Spencer (alias Charles Harris) remained at large. Norfleet tracked Spencer to Canada, but Spencer escaped after a bloody fight in the snow. Eventually Norfleet found Spencer in jail in Utah. Spencer said, "I'd rather go to hell tonight than live as I have since I met Norfleet. Every knock on the door, every telephone bell, every stranger in the night has raised hell with my nerves."
Norfleet's fame as a detective rapidly spread, and he was besieged with requests nationwide for his services. In all, between 1919 and 1935, Norfleet brought in over 100 confidence men and other lawbreakers. His small stature and uncanny ability to track down criminals earned him the nickname the "Little Tiger from Hale Center". His exploits became the subject of several magazine articles and a full-length book, Norfleet.
Although he carried a gun and more than once was tempted to use it, he never did. He had promised his wife he would always bring them in alive. Frank Norfleet and his wife spent their later years quietly at their home in Hale Center. He died on October 15, 1967 at age 102 and is buried in Lubbock Resthaven Mausoleum.
. . . for more like this please see Texas Cowboy History