Campaign Tips, Tricks, Strategies and Resources
Internet Injects Sweeping Change Into U.S. Politics
What the parties and the candidates are undergoing now is in many ways similar to what has happened in other sectors of the nation — including the music industry, newspapers and retailing — as they try to adjust to, and take advantage of, the Internet as its influence spreads across American society. To a considerable extent, they are responding to, and playing catch up with, bloggers who have demonstrated the power of their forums to harness the energy on both sides of the ideological divide.

Certainly, the Internet was a significant factor in 2004, particularly with the early success in fund-raising and organizing by Howard Dean, a Democratic presidential contender. But officials in both parties say the extent to which the parties have now recognized and rely on the Internet has increased at a staggering rate over the past two years.
The percentage of Americans who went online for election news jumped from 13 percent in the 2002 election cycle to 29 percent in 2004, according to a survey by the Pew Research Center after the last presidential election. A Pew survey released earlier this month found that 50 million Americans go to the Internet for news every day, up from 27 million people in March 2002, a reflection of the fact that the Internet is now available to 70 percent of Americans.
This means, aides said, rethinking every assumption about running a campaign: how to reach different segments of voters, how to get voters to the polls, how to raise money, and the best way to have a candidate interact with the public. In 2004, John Edwards, a former Democratic senator from North Carolina and his party's vice presidential candidate, spent much of his time talking to voters in living rooms in New Hampshire and Iowa; now he is putting aside hours every week to videotape responses to videotaped questions, the entire exchange posted on his blog.
"The effect of the Internet on politics will be every bit as transformational as television was," said Ken Mehlman, the Republican national chairman. "If you want to get your message out, the old way of paying someone to make a TV ad is insufficient: You need your message out through the Internet, through e-mail, through talk radio."
Michael Cornfield, a political science professor at George Washington University who studies politics and the Internet, said campaigns were actually late in coming to the game. "Politicians are having a hard time reconciling themselves to a medium where they can't control the message," Professor Cornfield said. "Politics is lagging, but politics is not going to be immune to the digital revolution."
If there was any resistance, it is rapidly melting away. . .
Read it all. Return to Strategic Campaign News
We have found Constant Contact to be our best method of consistent communication.
P.A. d'Arbeloff
The Boston Public Library Foundation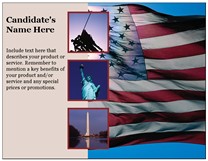 CAMPAIGN TOOL CHEST
Our readers asked us to search the Internet for the best campaign tips tricks and techniques on the Web. Look what we found