Hale County Unclaimed Estates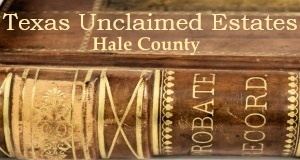 Unclaimed estates in Hale County, Plainview, Abernathy, Hale Center, Petersburg, Edmonson, and Cotton Center Texas have $39,049 due heirs and beneficiaries.
The list below may include estates listed more than once due to multiple claims, misspelled names and incorrect addresses. Check this list carefully to discover money from unclaimed property that may be due your family. There is a link at the bottom where you can search by individual deceased name and file a claim for unclaimed property with the Texas Comptroller.
| | |
| --- | --- |
| Know the Heirs? Let them know | |
| | | |
| --- | --- | --- |
| Estate Of Steve A Weller | $6,973 | Plainview |
| Estate Of James D Holt | $3,471 | Plainview |
| Doris M Actkinson Estate | $1,993 | Plainview |
| Estate Of Nina J White Decd | $1,975 | Plainview |
| Norma Hernandez Estate | $1,944 | Plainview |
| Charles Abbott Estate | $1,792 | Plainview |
| Florence Abbott Estate | $1,792 | Plainview |
| Estate Of Roscoe Belyeu | $1,453 | Plainview |
| Estate Of James D Holt | $1,452 | Plainview |
| Cynthia Dickey Estate | $1,254 | Plainview |
| Estate Of Gene B Louder | $1,170 | Plainview |
| Rose Delbur C Estate | $1,042 | Plainview |
| Eddie F West Estate | $1,000 | Hale Center |
| Estate Of Martha A Braly | $1,000 | Plainview |
| Estate Of Ronald Austin | $1,000 | Plainview |
| Estate Of Ira Roy The | $1,000 | Abernathy |
| Fidencio Ramos Estate | $965 | Abernathy |
| Estate Of Lena Strain | $791 | Plainview |
| Estate Of Etta L Mulkey | $771 | Plainview |
| Estate Of Harry A Ragland | $611 | Plainview |
| Estate Of Owassa Landis | $565 | Plainview |
| Estate Of Mavis Mcclain | $356 | Plainview |
| Estate Of Jose Carlos Velasquez | $346 | Petersburg |