News for Public Officials
County Clerk with Bogus Degree Clashes with Judge over Web Site
From our archives
by David Bloys
May-05-08

The legality of a County Clerk posting personal information like social security numbers, driver license numbers and bank account numbers is again causing problems for a clerk in Texas who has exposed tens of thousands of local citizens to identity theft while obscuring her own true identity behind a bogus degree.
Dianne Wilson, the same Fort Bend County clerk who for years practiced identity deception with her own identity by claiming a PhD from an online diploma mill is again defying the wishes of her constituents and local judges by posting personal information about citizens on her taxpayer-sponsored Web site.
Wilson no longer claims the title "Dr." after News for Public Officials exposed the bogus degree two years ago and KHOU-TV exposed her public and illegal deception earlier this year. Now the discredited "Dr. Wilson" is facing a challenge from County Court-at-Law Judge Bud Childers who questions her authority to recklessly publish unprotected information about Fort Bend residents to anyone – anywhere in the world.

The issue first garnered national attention in 2003 when the county-court-at-law judges asked Wilson to stop posting social security numbers on the Internet. Wilson refused and instead asked then County Attorney Childers to seek an opinion from the office of Texas Attorney General Greg Abbott.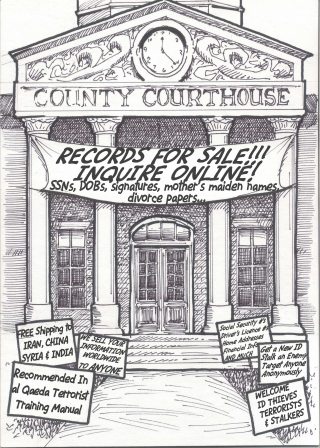 As a county court-at-law judge, Childers has asked Wilson not to post a certain probate document that contains bank account numbers on the Internet. Texas law does not require county clerks to post "public documents" online but requires only that the documents are available to the public at the courthouse repository. Wilson refused Judge Childers request stating that any document filed with her office is a public document and will be posted to her Web site regardless of negative consequences for those whose information is contained in the document.

Wilson has already posted thousands of probate documents containing federally restricted information on her Web site. Even Wilson's own family isn't exempt from the dangerous practice. The documents posted on the site include the Social Security numbers, medical history, and account numbers of Wilson's own family members in dozens of 1986 probate records transferred by Wilson from nearby Harris County. Harris County does not publish sensitive documents about their citizens on the Harris County Website.

Childers believes that Wilson could keep the original document without any redaction, but post on the Internet redacted documents or wait until the court completes the process and finally post the whole document after the case is settled.

Childers wanted Wilson to hold the original document in her office where it could still be available for the public to view, but not posted on the Internet making it available to anyone - anywhere in the world who may want to see it for criminal purposes..

According to Wilson, her office scans every document filed in her office within 24 hours and posts them on the Internet and sells the document images in bulk to data miners worldwide. In a 2005 email to News for Public Officials, Wilson admitted to selling 'about 20 million documents' to Florida-based data miner Red Vision for two thousand dollars. When the Fort Bend Herald questioned Wilson about this massive transfer of a taxpayer asset she responded by stating that such bulk electronic transfers are an everyday occurrence for her office.
But documents, such as receipts issued by Wilson's office that would reveal who makes the discounted back-door purchases are not published online or readily available without a formal open records request. (See Courthouse for Sale – Cheap!)
Also missing from Wilson's Web site documents is the 2006 independent audit conducted by HIPAA Solutions, LC that sheds light on possible federal privacy law violations stemming from Wilson's office. Open Records requests by the media for copies of the audit, produced at taxpayer expense, are consistently denied by Fort Bend County officials.

In the absence of Childers last week, his case seems to have been resolved with the direction of County Court-at-law Judge Sandy Bielstein. The court probate auditor got the bank account numbers redacted and filed it in the court, while the originals are with the attorneys, according to the Fort Bend Independent.

Childers is not happy with the outcome, but he plans to take up the issue with the State Judicial Commission. Ironically, Wilson has served on several state committees as "Dr. Dianne Wilson, PhD" and advocated what she calls her "aggressively progressive policy" for online records access. With Childers raising the issue again, the State Judicial Commission may not be so easily deceived.
Childers says the attorney-general's opinion is not the law and there are times when a document should not be placed on the Internet. A judge has the power to issue such an order, he says.

Meanwhile tens of thousands of documents displaying unaltered social security numbers, bank account numbers and driver license numbers can be seen on Wilson's Web site. Recently News for Public Officials visited Wilson's site and quickly gleaned social security numbers belonging to more than 500 Fort Bend County residents. The documents include Wilson's official seal displaying her illegal alteration of her own identity into a Dr. with a PhD.