Floyd County Unclaimed Estates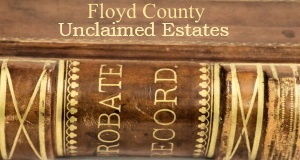 Unclaimed estates in Floyd County, Floydada and Lockney Texas have $6,726 due heirs and beneficiaries.
NOTE: This report is provided free with the sincere hope the rightful heirs will claim their inheritance. It is not an offer for housing or credit. The word estate as used here, refers to assets left by deceased people to their heirs and is not a reference to real estate. There is a link at the bottom where you can search by individual deceased name and file a claim for unclaimed property with the Texas Comptroller.
Know the Heirs? Let them know
| | | |
| --- | --- | --- |
| Estate of Billie Cook | $1,321 | Floydada |
| Estate of Sarah M Ballard | $1,241 | Floydada |
| Charles Fortenberry Estate | $1,232 | Lockney |
| Estate of Gladys R Badgett | $700 | Floydada |
| Boyd R Willett Estate | $646 | Floydada |
| Estate of Georgia Gallaway | $475 | Lockney |
| Lawanda J Assiter Estate | $358 | Floydada |
| Estate of Truman Zachary | $210 | Lockney |
| Tommy Assiter Estate | $112 | Floydada |
| Cynthia L Ford Estate Trust | $94 | Lockney |
| Estate of Barbara Marshall | $69 | Floydada |
| Castro Estate of Richard | $53 | Lockney |
| Estate of Kenneth Jackson | $37 | Lockney |
| Lilieus Owens Estate | $35 | Lockney |
| Estate of Beth A Marlar | $32 | Floydada |
| Estate of Elizabeth Johnson | $30 | Floydada |
| Brady Estate | $27 | Floydada |
| Brady Estate | $27 | Floydada |
| Brady Estate | $26 | Floydada |