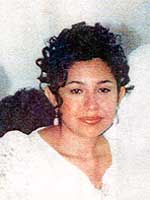 Photograph taken in 1999
DESCRIPTION
Date of Birth Used:
June 24, 1975
Hair:
Black
Place of Birth:
Mexico
Eyes:
Brown
Height:
5'4"
Sex:
Female
Weight:
Unknown
Race:
White (Hispanic)
NCIC:
None
Nationality:
Mexican
Occupation:
Dietician
Scars and Marks:
None known
Remarks:
It is of the opinion of various law enforcement entities that Liliana Lucero Mercado Gonzalez has entered the United States illegally and is living under an assumed identity. Additionally, a valid United States Visa does not exist for her. While in Mexico, both Liliana and her husband Francisco Javier Lopez Gonzalez attended meetings and associations with Gnostics. (Gnosticism is the teaching based on Gnosis, where the knowledge of transcendence is arrived at by way of interior, intuitive means.) Additionally, Liliana enjoys baking breads and pastries, as well as giving classes on the methods of cooking and preparing foods with little or no fat. She also enjoys making ribbons and hair pieces for little girls and young ladies.
CAUTION
Liliana Lucero Mercado Gonzalez and her husband, Francisco Javier Lopez Gonzalez, are wanted for murder. On November 12, 1999, in the state of Aguascalientes, Mexico, the body of an unidentified male child, approximately 4 years old, was discovered in a trash container. The body appeared badly beaten and it was reported that the boy had suffered physical abuse his entire life. The unidentified child was dubbed by the news media as the "Nino del Contendor," which from Spanish translates to "the container boy". In June of 2001, it was determined that the unidentified victim was the son of Liliana Lucero Mercado Gonzalez and the stepson of Francisco Javier Lopez Gonzalez.
On July 2, 2002, a state arrest warrant was issued by the state of Aguascalientes, Mexico, after charging Liliana Lucero Mercado Gonzalez with felonious homicide.
IF YOU HAVE ANY INFORMATION CONCERNING THIS CASE, PLEASE CONTACT YOUR LOCAL FBI OFFICE OR THE NEAREST AMERICAN EMBASSY OR CONSULATE.