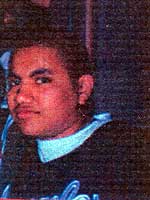 Photograph taken in 1999
| | |
| --- | --- |
| Aliases: | Usiel Mora Gayossoalberto, Usiel Mora, "Lil Triste" Mora |
DESCRIPTION
Date of Birth Used:
January 6, 1983
Hair:
Black
Place of Birth:
Mexico City, Mexico
Eyes:
Brown
Height:
5'3"
Sex:
Male
Weight:
135 pounds
Race:
White (Hispanic)
NCIC:
W280085430
Nationality:
Mexican
Occupation:
Unknown
Scars and Marks:
None known
Remarks:
Gayosso is believed to have been in the Incline Village area near Reno, Nevada, in 2000.
CAUTION
Usiel Mora Gayosso and an accomplice, Jorge Emmanuel Torres-Reyes, are wanted for their alleged involvement in a murder and attempted murders which occurred in Carson City, Nevada. On August 6, 1999, Gayosso and Torres-Reyes allegedly got into a confrontation with four men which resulted in shots being fired. One of the victims died at the scene from a single gunshot wound and the other victims were hospitalized with serious gunshot wounds.
On August 7, 1999, a state arrest warrant was issued by the Carson City Justice Court in Nevada after Gayosso was charged with being a principal to murder with use of a deadly weapon and attempted murder with use of a deadly weapon. Torres-Reyes was charged with open murder with use of a deadly weapon and attempted murder with a deadly weapon, and a state warrant was issued for his arrest. Both Gayosso and Torres-Reyes were subsequently charged with unlawful flight to avoid prosecution, and federal arrest warrants were issued by the United States District Court, District of Nevada, on August 13, 1999.
REWARD
A reward is being offered for information leading to the arrests of Usiel Mora Gayosso and Jorge Emmanuel Torres-Reyes.
SHOULD BE CONSIDERED ARMED AND DANGEROUS
IF YOU HAVE ANY INFORMATION CONCERNING THIS CASE, PLEASE CONTACT YOUR LOCAL FBI OFFICE OR THE NEAREST AMERICAN EMBASSY OR CONSULATE.