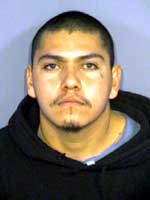 Photograph taken in 2002
| | |
| --- | --- |
| Aliases: | Fernando Arenas-Collosa, Fernando Arenas-Colloza, Fernando Arenas-Colloso, Fernando Arenas-Collaso, Fernando Arenas, Fernando Collosa, Chato Arenas, Pelon Arenas, Fernando Collosso, Fernando Collazo, Fernando Colloza, "Chato", "Pelon" |
DESCRIPTION
Date of Birth Used:
January 30, 1982
Hair:
Black
Place of Birth:
Mexico
Eyes:
Brown
Height:
5'7"
Sex:
Male
Weight:
180 to 190 pounds
Race:
White (Hispanic)
NCIC:
W656093679
Nationality:
Mexican
Occupation:
Unknown
Scars and Marks:
Arenas-Collazo has the following tattoos: a teardrop under his left eye; a pitchfork with a crown on his neck; and the name "Arenas" in fancy script on his left arm.
Remarks:
Arenas-Collazo has ties to Adames, Aguascalientes, Mexico.
CAUTION
Fernando Arenas-Collazo is wanted for his alleged involvement in the murder of a man in Nevada on May 30, 2004. Following a reported fight, the victim's body was found with multiple stab wounds in the front yard of a residence in Reno, Nevada.
On June 2, 2004, a state arrest warrant was issued by the Justice Court of Reno Township in and for the County of Washoe, State of Nevada, after Arenas-Collazo was charged with murder with a deadly weapon. Arenas-Collazo was charged federally with unlawful flight to avoid prosecution by the United States District Court, District of Nevada, and a federal warrant was issued for his arrest on June 24, 2004.
SHOULD BE CONSIDERED ARMED AND DANGEROUS
IF YOU HAVE ANY INFORMATION CONCERNING THIS PERSON, PLEASE CONTACT YOUR LOCAL FBI OFFICE OR THE NEAREST AMERICAN EMBASSY OR CONSULATE.