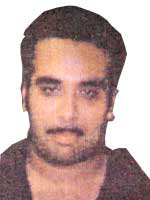 Photograph taken circa 1998
| | |
| --- | --- |
| Aliases: | Tarek El-Zoghpy, Tarek Zogpy, Tarek Alzoghpy, Tarek Ahmed El-Zoghby, Tarek Ahmed Al-Zoghby, Tarek Ahmed, Tarek Al Zoghpy |
DESCRIPTION
Date of Birth Used:
July 4, 1967
Hair:
Black
Place of Birth:
Unknown
Eyes:
Brown
Height:
6'2"
Sex:
Male
Weight:
240 pounds
Race:
White
NCIC:
W133813308
Nationality:
Unknown
Occupation:
Store Clerk
Scars and Marks:
El-Zoghpy has a scar on his forehead.
Remarks:
El-Zoghpy is known to frequent Arabic communities. He may have travelled to New York, New Jersey, or Pennsylvania. He has ties to New Orleans, Louisiana, and Detroit, Michigan. El-Zoghpy reportedly is a heavy drinker.
CAUTION
Tarek Ahmed El-Zoghpy is wanted for the murder of a man in Prichard, Alabama. On January 23, 1999, El-Zoghpy allegedly shot and killed the victim at a service station/convenience store following a feud. The victim was the owner of the store and El-Zoghpy had worked for him. El-Zoghpy was charged with murder by the District Court of Alabama, Mobile County, and a state warrant was issued on February 1, 1999, for his arrest. A federal arrest warrant was issued on February 3, 1999, by the United States District Court, Southern District of Alabama, after El-Zoghpy was charged with unlawful flight to avoid prosecution.
SHOULD BE CONSIDERED ARMED AND DANGEROUS
IF YOU HAVE ANY INFORMATION CONCERNING THIS PERSON, PLEASE CONTACT YOUR LOCAL FBI OFFICE OR THE NEAREST AMERICAN EMBASSY OR CONSULATE.