Thirsty Farmer Drinks from Canvas Bag in 1939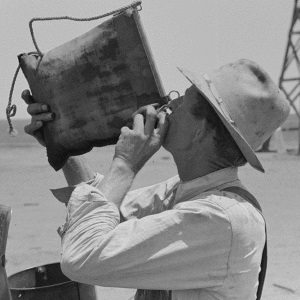 On a hot summer morning on a farm near Ralls Texas in 1939, a farmer pauses for a cold drink of water from a canvas bag. Water drawn from the windmill in the background will seep through the bag all day and keep the contents cool by evaporation. Hung from tractor fenders, car hood ornaments and side view mirrors, military vehicles or from a cowboy's saddle horn, these leaky canvas bags were very popular throughout the desert southwest from the early 1900's to late 1960's.

Produced using cotton or flax canvas, the bags came in a variety of sizes designed for specific uses. Longer bags were designed to be hung in front of radiators of early cars to help keep the engine cool. The bags started out tasting like flax, but a well aged sweet water bag was precious item. Much sought after by collectors, decorators and others for sentimental reasons, they are rare today, but you can still find vintage canvas water bags for sale on eBay.
. . . for more like this please see Texas Farm History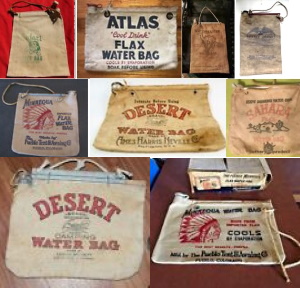 Antique and Vintage Water Bags
Desert water bag, Safari water bag, U.S. Army Military water bag, Egyptian canvas water bag, Minnequa radiator water bag, Burch Climate water bag, Coast to Coast canvas water bag, US Forest Service Canvas water bag