Downtown Snyder Texas in 1920s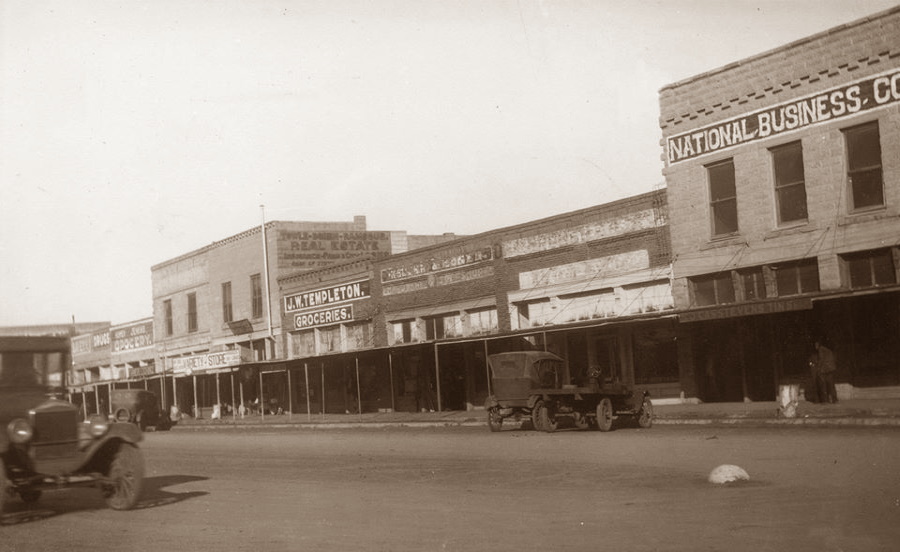 Period cars and trucks on dirt street in front of National Business Co,. J. W. Templeton Groceries, Variety, Drug and other stores in downtown Snyder Texas in 1920s. Snyder had its beginnings in 1878, when a buffalo hunter and trader, William Henry (Pete) Snyder, a native of Pennsylvania, built a trading post on the banks of Deep Creek. Other hunters were attracted to the post, and a colony of buffalo-hide dwellings grew up around it. These dwellings, as well as the occasionally dubious character of their inhabitants, gave the town its first names, "Hide Town," and "Robber's Roost."
By 1892 Snyder had a population of 600, two churches, two banks, a steam gin, a gristmill, and two weekly newspapers, the Scurry County Citizen and the Coming West. Construction began on the Roscoe, Snyder and Pacific Railway in 1907. By 1910, the first year census figures were recorded for Snyder, the town had a population of 2,514.