In September of 1865 thirteen-year-old T. A. "Dot" Babb and his 9-year-old sister Bianca were stolen by Comanches from their home near the present town of Chico in Wise County. The children were surprised while at play one day by a raiding party of 35 to 40 Indians. Their mother was killed and Dot, Bianca, and Mrs. Luster (a visitor) were taken to Indian Territory in present day Oklahoma. After helping Mrs. Luster escape on the way, Dot was very nearly executed, but so stoic was he in facing death that the Indians admiringly spared his life.

For the next several years Dot and Bianca lived, in separate tribes, as adopted Comanches. After a winter as the squaws' flunky, Dot asserted his male rights and thereafter spent his time taming horses. He was taken on raids against other tribes and showed signs of becoming a fine warrior. After two years, the children's father ransomed them and a joyful reunion occurred. Both Dot and Bianca spoke with sympathy, however, of many Indian customs and of kind treatment during captivity.

The Comanches did not fish or even hunt small birds as the dove and quail. Occasionally, very occasionally, a wild turkey or goose varied the buffalo meat menu.
Fruit and vegetables were absolutely unknown. The Indian women did not gather the wild greens, as poke and lambs quarter, or did they pick the wild grapes and plums. Buffalo meat was food.

Dot declared the beds of the Comanches were comfortable. "Most folks imagine the Indians just threw a pile of dirty skins down and burrowed into them. That isn't right. Four poles were fastened together with buffalo sinews, the end poles were pretty heavy and held the frame, about the size of our beds, off the ground. A dried buffalo hide was stretched tight and laced over the frame. That made pretty good springs. Buffalo robes were then spread over the frame with some on top for covers. I've slept in lots worse beds in white folk's houses many times."

Dot spoke of his Indian family with affection. "There was genuine grief when we parted. I loved my Indian brothers and they clung to me, but, oh, I wanted my own father and my sisters."

Dot's Indian brother had one treasure supreme. Placed around his neck by the boy's father as he rode' away on his last raid, the Indian always wore a sinew strung necklace of copper ornaments whose inscription showed Spanish design and bore date s of 150 years ago. A few bright beads, hardened dried berries, a witch's charm tied in a bit of dried skin, some pierced buffalo teeth, and even a bit had been added to the string. The Indian boy wore the necklace constantly; it was the lad's treasure supreme.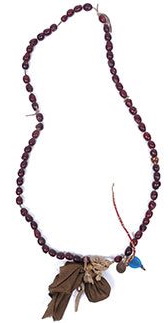 After his release, Mr. Babb was quick to to re-adopt and experience a complete revival of the inherent sentiments and amenities of civilized life. He retained many of the Indian characteristics through his life, but once his friendship was gained, he talked freely of his life with the Comanche. He married Pattie Graham in 1875. They lived in Wichita Falls from 1879 until 1898, with the exception of one year when they moved, at Quanah Parker's invitation, to live with the Comanche on the reservation near Fort Sill.
They moved to Clarendon, Texas in 1898, and to Amarillo in 1906 where they lived for the next 30 years of his life. After becoming settled in his chosen avocation of cattle raising, he was happy and prosperous in the sunset of a thrilling life, whether peacefully pursuing the herds on the broad acres of his Panhandle ranch or extending the proverbial West Texas hospitality of his spacious home in Amarillo. In 1912 he chronicled his story of captivity and recovery in his autobiography, In the Bosom of the Comanches. Though Dot's narrative includes many negative stereotypes of Indians, it also provides great detail about daily life with the Comanche.
Dot Babb passed away at his home in Amarillo on August 10, 1936. He is buried in historic Llano Cemetery in Randall County. According to an article written by his family and published in the Amarillo Daily News at the time of Dot's death, Dot kept the necklace given to him by the tribe as a treasured possession until donating it to the Panhandle-Plains Historical Museum in 1935. There was a tender light in his eyes as he held the beads for a moment and said, "I knew exactly what it meant when that necklace was placed around my neck. It was a bond of friendship between us. It was his dearest possession. I've kept it all these years. I want you to take care of it."
Rare Artifacts, Memorabilia, Ancestry and Historic Records from Amarillo, Bishop Hills, Ady, Boden, Bushland, Chunky, Cliffside, and Gentry Texas.