Blocker was born in De Kalb, Bowie County, Texas December 10, 1928. Soon after his birth, the family moved to O'Donnell, Texas in Lynn County, where they operated a store. The former Blocker Store is now an abandoned building in downtown O'Donnell.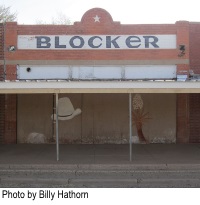 As a boy, he attended Texas Military Institute, and in 1946 played football at Hardin-Simmons University in Abilene, Texas. In 1947, he transferred to and later graduated from Sul Ross State Teacher's College in Alpine, Texas, in 1950, where he was a star football player. Blocker's career as a football player was cut short when he was drafted into the United States Army during the Korean War in 1951. He received a Purple Heart for wounds in combat. After two years of military service, he went on to earn a master's degree in the dramatic arts. While a student, Blocker worked as a rodeo performer and as a bouncer in a beer bar.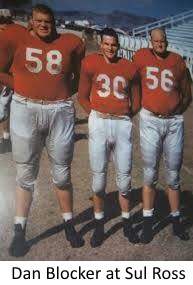 After college, Blocker worked as a high-school English and drama teacher in Sonora, Texas in Sutton County, from 1953 to 1958. Later, he was a sixth-grade teacher and coach at Eddy Elementary School in Carlsbad, New Mexico, and then a teacher in California.

Blocker's acting career started in 1956 when he appeared in a Three Stooges short, Outer Space Jitters, having portrayed the part of The Goon, billed as "Don Blocker". He made two appearances on the long-running Gunsmoke series: the first on August 25, 1956, in "Alarm at Pleasant Valley" and the second on October 18, 1958, in "Thoroughbreds". He also appeared in 1957 as Will in the episode, "A Time to Die" of the ABC/Warner Brothers Western series, Colt .45, starring Wayde Preston.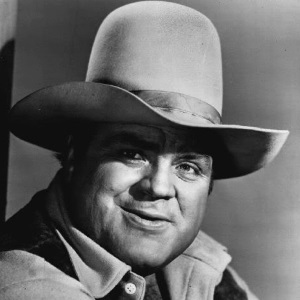 Blocker's big break came in 1959, when he was cast as Eric "Hoss" Cartwright on the long-running NBC television series Bonanza, and played the role in 415 episodes until his death.

On May 13, 1972, Blocker died in Los Angeles at age 43 of a pulmonary embolism following gall bladder surgery. Blocker's remains are interred in a family plot in Woodmen Cemetery, in De Kalb, Texas, although he had lived there only briefly. The common grave site is marked by a plain stone with the name "B. Dan D. Blocker" engraved; two family members are buried beside him.