Allegations of Official Misconduct

Judge Finds County Recorder in Contempt
Jarrod A. Clabaugh, Source of Title
10/3/2007
Reprinted with permission
Nearly a year after the issuance of a mandamus order requiring her office to comply with Pennsylvania law, Judge Keith Quigley of Perry County, Pennsylvania, found Ellie Antoine, the recorder for Berks County, in contempt of court and ordered her to pay the attorney's fees of the organization which brought suit against her. The Pennsylvania Land Title Association is the group that originally brought the suit against Antoine.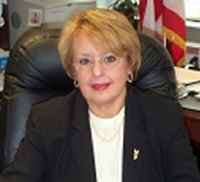 Berks County Recorder of Deeds

Ellie Antoine
According to the language contained in Quigley's contempt order, which was filed September 26, 2007, the judge found Antoine's conduct to be "contemptuous in nature" as a result of her failure to record documents in order and for rejecting otherwise acceptable documents simply because the filers failed to provide a return envelope with the filing.
For several years, the Pennsylvania Land Title Association has fought to compel Antoine to timely record deeds, mortgages and other documents in the order they are presented to her office, as prescribed by Pennsylvania law. The PLTA also begged Antoine to cease creating other arbitrary requirements which denied filers the right to put their documents on record. After a meeting with Antoine in which the PLTA expressed its need for the law to be complied with, Antoine indicated that she would not change her practices, and the association filed suit against her in 2005. This suit resulted in the issuance of a mandamus order in October 2006.
Source of Title has been closely following this story and spoke with Edward Hayes, the attorney from Fox Rothschild LLP in Philadelphia who represents the association in this matter. Hayes admitted that the association found some relief in the judge's finding, but was not considering this a clear victory.
"Ms. Antoine not only refused to comply with the mandamus order by continuing to record documents out of order, she continued to employ additional and arbitrary standards of her own," Hayes said. "Her actions presented our members and other document filers with substantial practical burdens, and more important, with a real risk of material loss during the lag between presentation and recording of documents.
"While I would hope that the finding of contempt will result in a change of Ms. Antoine's approach to her legal obligations, I am not sure what will happen next in light of the fact that I would have hoped the mandamus order would have caused her to recognize that she must comply with the law in her capacity as the recorder and it did not seem to do so. Fortunately, we are not aware of any claims at this point resulting from her conduct," he added.
Dallys Novarina, the president of PLTA, was pleased by the order entered by Quigley. Novarina said that Antoine's continued violation of the mandamus order that she had agreed to, and her continued refusal to address the association's demands that the order be followed left PLTA no choice but to file the contempt action.
"It is essential that documents be recorded in order, since that order determines the priority of interests in real estate," Novarina added. "A recorder of deeds is obligated to record a document which complies with Pennsylvania recording statutes, and she simply was not doing so."
The finding was issued last week after Quigley held a hearing that lasted nearly three hours. He did not impose a sentence or determine the amount of attorneys' fees Antoine will have to pay. Those matters will be decided at a hearing this month. According to Hayes, the next hearing is scheduled for October 30, 2007.
To learn more, please visit Source of Title